Below are the top 10 businesspeople on the Vietnamese stock market 2021: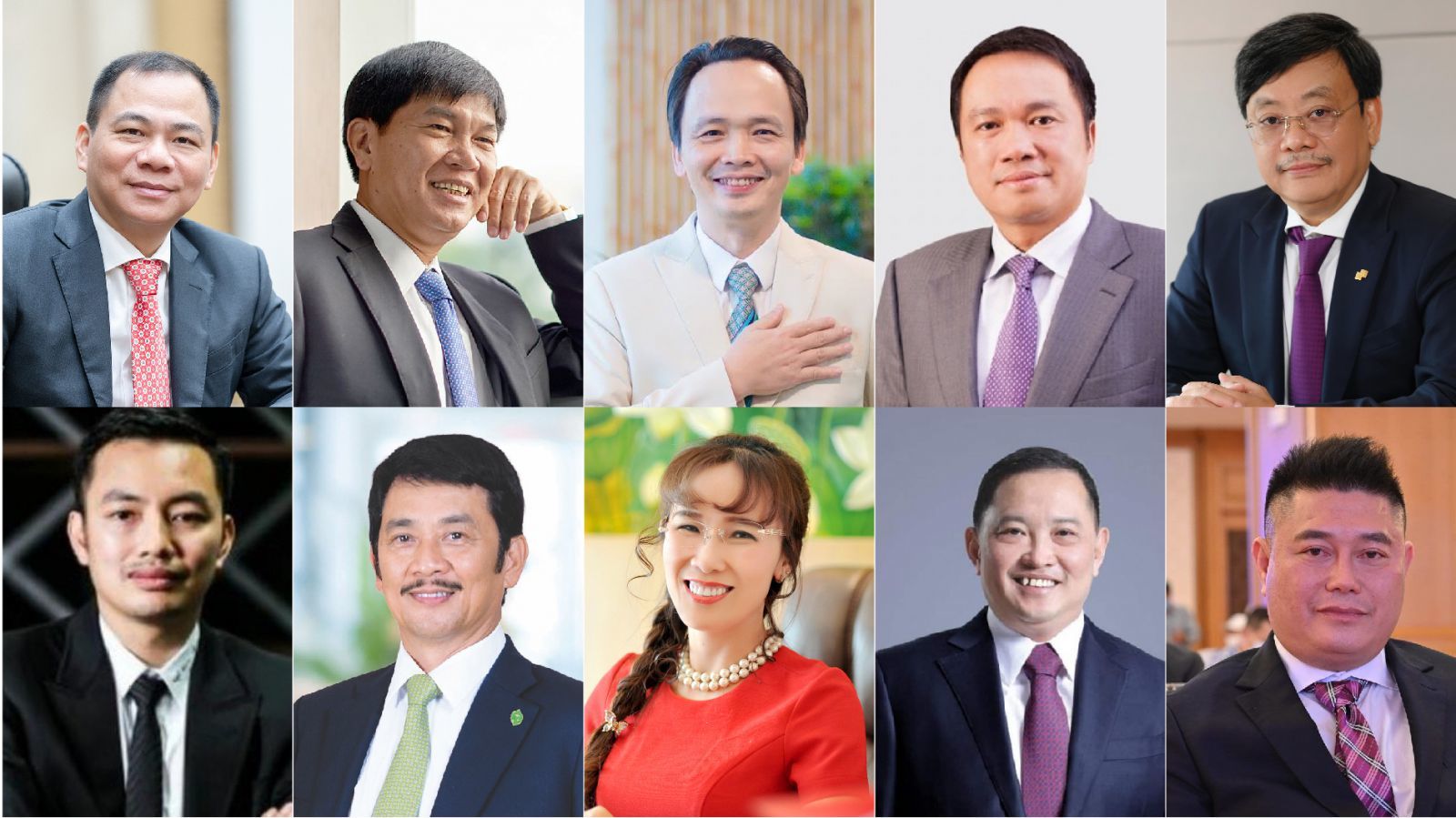 Pham Nhat Vuong
Mr. Pham Nhat Vuong – Chairman of Vingroup Corporation (VIC) – member of the Board of Directors of Vinhomes Joint Stock Company (VHM) – is the richest person on Vietnam's stock market, with an estimated market capitalization of VND 204.8 trillion. Vingroup's chairman currently holds 985.5 million VIC shares directly and indirectly owns 1.17 billion VIC shares through the Vietnam Investment Corporation.
Pham Nhat Vuong has been, for the 9th consecutive year, on the list of world's billionaires as of December 23, according to a recent announcement by Forbes. This magazine also honored Vuong in the list of Asia's top 15 philanthropists in 2021.
Vingroup is currently ranked second in terms of market capitalization on the stock exchange with approximately VND 370,000 billion, after Vietcombank. In addition, Vinhomes and Vincom Retail are also on the list of billion-dollar businesses with a capitalization value of about VND 360,000 billion and VND 70,000 billion, respectively.
Due to the impact of Covid-19, Vingroup's main business activities including real estate rental (Vincom Retail), hotel and tourism (Vinpearl), industrial production (VinFast)… are all affected by the epidemic. However, this group still left its mark in the past year, especially in the international market with billions of dollars in profit in the real estate segment and the launch and handover of electric cars.
Mr. Pham Nhat Vuong.
Tran Dinh Long
Tran Dinh Long – Chairman of Hoa Phat Group (HPG) – is one of the individuals with the strongest increase in market capitalization over the past year. Hoa Phat Chairman directly owns 1.16 billion HPG shares with a value of about VND 53.3 trillion.
In 2021, Hoa Phat's market capitalization hit US$11 billion, up 92% compared to the end of 2020, entering the top 15 most valuable steel companies in the world. The market capitalization of this leading steel company has dropped to about $9 billion.
With a crude steel capacity of 8 million tons/year, Hoa Phat is the largest steel producer in Vietnam as well as in Southeast Asia and is among the world's top 50 steel producers. 2021 was the first year that Hoa Phat's export output exceeded 1 million tons, doubling the previous year.
According to forecasts of securities companies, this year Hoa Phat's after tax profit can exceed VND 35,000 billion. The goal of reaching VND 100,000 billion in revenue set by the "steel king" three years ago became a reality, only after the first nine months of 2021.
In addition to steel, Hoa Phat is researching and developing land to be ready to enter the field of real estate and industrial parks. It has kicked off the Hoa Phat container factory project in Ba Ria – Vung Tau.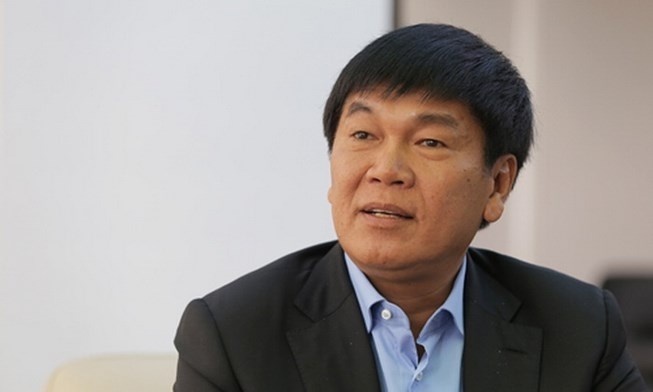 Mr. Tran Dinh Long.
Trinh Van Quyet
Trinh Van Quyet, Chairman of FLC Group JSC; Chairman of Bamboo Aviation Joint Stock Company (BAV), achieved remarkable achievements in 2021, despite difficulties caused by Covid-19 to the resort real estate and aviation sectors.
Bamboo Airways is one of a few airlines in Vietnam and the world that grew in the past year. This firm plans to list BAV shares on the UpCOM exchange in the first quarter this year, with an expected transaction price of not lower than VND 60,000 per share, so that Bamboo Airways' market capitalization may reach VND 111,000 billion. The company will also complete procedures to offer BAV in the US stock market in 2022, with the goal of raising $200 million through the issue of 5-7% of shares.
A subsidiary of FLC – FLCHomes (FHH) – is preparing to list on HOSE in the first quarter of 2022. The listing price is expected to be VND 35,000 per share, equivalent to a market capitalization of VND 14,560 billion.
Quyet's market capitalization increased significantly after a year. He currently holds more than 30% of shares in FLC, more than 51% of shares in FLC Mining Investment & Asset Management JSC (GAB), along with shares in FLC Faros Construction JSC (ROS) and BOS Securities JSC (ART).
He also owns 951 million shares, equivalent to more than 51% ownership at Bamboo Airways, and 218 million shares, equivalent to more than 52% ownership at FLCHomes on the OTC market. It is estimated that the total value of his capitalized assets is about VND 47.9 trillion.
In late September 2021, Bamboo Airways successfully varied out a direct flight connecting Vietnam and the US, and officially announced a direct air route to the US. The carrier also announced direct flights to the UK, Australia and others.
In addition to a number of real estate projects put into operation in 2021, in 2022 FLC plans to deploy over 30 projects: such as FLC Premier Parc (Hanoi); Viet Tri ecological and sports urban area (Phu Tho province); Ma River urban area, eco-tourism (Thanh Hoa province); Ninh Duong – Mong Cai new urban area (Quang Ninh); FLC complex phase 3 (Quang Binh); and FLC Gia Lai eco-urban and resort tourist complex (Gia Lai).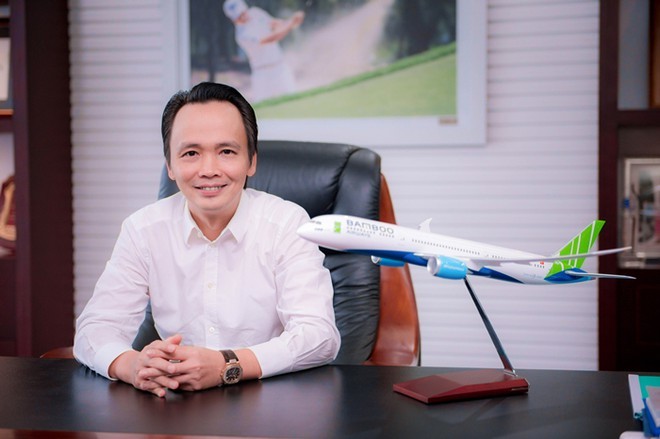 Mr. Trinh Van Quyet.
Nguyen Dang Quang
Nguyen Dang Quang, Chairman of Masan Group JSC (MSN), is also one of the individuals with the fastest increase in market capitalization in 2021.
He currently holds 255.7 million shares of MSN in addition to 9.4 million shares of TCB and a small amount of MCH shares of Masan Consumer. His market capitalization is about VND 44.3 trillion.
Thanks to the breakthrough of MSN stock, Masan Group climbed to the 5th position on the stock exchange in terms of market capitalization with a value of more than VND 200 trillion. Masan Group's members such as Masan MeatLife (MML), Masan Consumer (MCH), and Masan High-Tech Materials (MSR) also have large capitalization.
After successfully improving profits at WinCommerce when the retail chain posted its first quarter of net profit, Masan plans to accelerate the expansion of the mini-mall model. The year 2021 marked a turning point for The CrownX when the retail consumer platform that merges Masan's interests in Masan Consumer Holdings and VinCommerce attracted foreign capital.
Most recently, SK Group invested $340 million to buy back shares of The CrownX, equivalent to 5.5% ownership rate after the issuance. In May 2021, an investor group related to Alibaba Group also signed an agreement to buy shares of this platform with a total cash value of $400 million.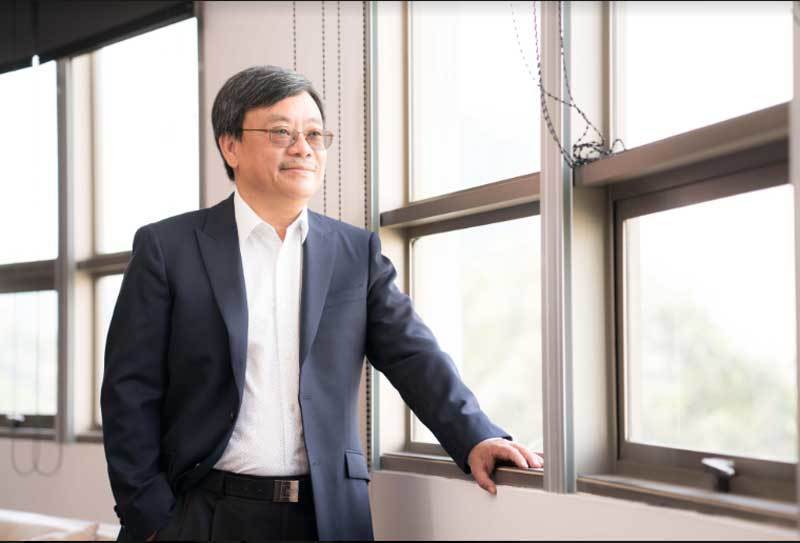 Mr. Nguyen Dang Quang.
Ho Hung Anh
Ho Hung Anh – Chairman of Techcombank (TCB) – directly holds 39.3 million TCB shares and indirectly owns 250.7 million MSN shares of Masan Group. The strong growth of these two stocks in 2021 helped his market capitalization increase significantly, with a market capitalization of about VND 44.9 trillion.
Techcombank is currently the largest non-state commercial joint stock bank on the stock exchange with a market capitalization of about VND 173,000 billion ($7.5 billion). This bank is considered a pioneer in a fintech-style customer approach strategy with a "zero free" policy.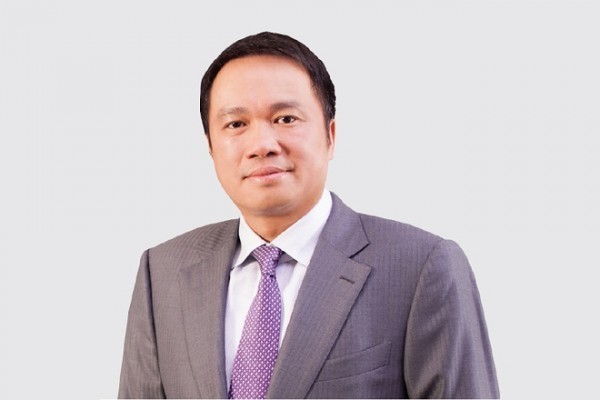 Mr. Ho Hung Anh.
Bui Thanh Nhon
Bui Thanh Nhon, Chairman of Novaland Real Estate Investment Corporation (NVL), was one of the prominent names on Vietnam's stock market last year with a market capitalization of about VND 35.8 trillion.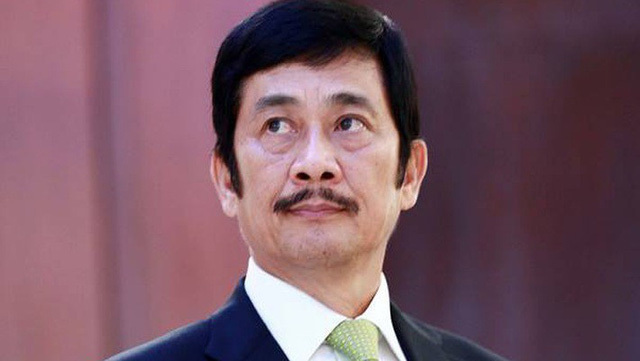 Mr. Bui Thanh Nhon.
Nguyen Thi Phuong Thao
Nguyen Thi Phuong Thao, Vice Chairwoman and General Director of Vietjet Air (VJC), Standing Vice Chairwoman of HDBANK (HDB), Chairwoman of Sovico, has capitalized assets worth around VND 32.6 trillion.
2021 was a difficult and challenging year for the aviation industry due to the impact of Covid-19. However, Vietjet still achieved remarkable results, thanks to the optimal use of equity capital. In the past year, Sovico left a good impression on securities investors when cooperating with FPT to successfully "rescue" HOSE's trading system after a long time of overloading and blocking orders.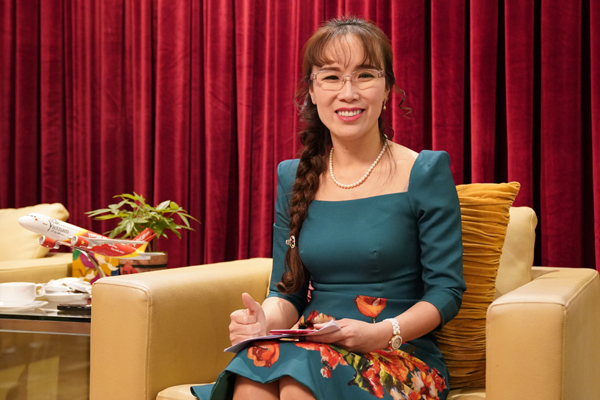 Ms. Nguyen Thi Phuong Thao.
Nguyen Van Dat
Nguyen Van Dat, Chairman of Phat Dat Real Estate Development JSC (PDR), said in 2021, the price fo PDR shares doubled to help Dat's capitalized assets increase significantly to VND 28,000 billion. Despite the prolonged epidemic, Phat Dat carried out many M&A deals to acquire land.
Mr. Nguyen Van Dat.
Nguyen Duc Thuy
Nguyen Duc Thuy, Chairman of Thaiholdings (THD), directly owns nearly 86 million THD shares of Thaiholdings and more than 34 million LPB shares of LienVietPostBank. The market capitalization of these stocks is currently about VND 22.6 trillion.
Thaiholdings is currently the only "billion dollar" business on the HNX with a market capitalization of approximately VND88 trillion. This group has recently approved the investment policy on a tourism wharf in Phu Quoc of its subsidiary, Thaigroup. This VND 30,000 billion project is scheduled for implementation in the period from 2022 to 2026 with the goal of building and developing Phu Quoc into an international tourist service center.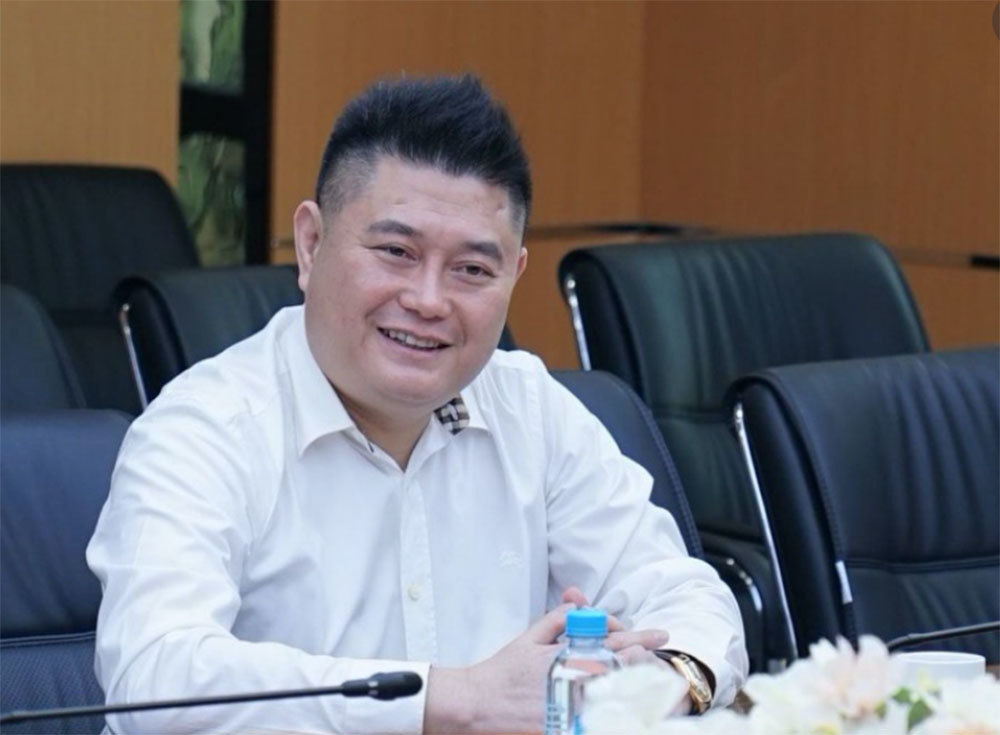 Mr. Nguyen Duc Thuy.
Do Anh Tuan
Do Anh Tuan, Chairman of Sunshine Group, becomes a "rookie" in the list of top billionaires on the stock exchange after Sunshine Homes (SSH), KSFinace (KSF) and SCG, respectively, went public and created a fever. With a large amount of the above shares, his capitalized assets increased to more than VND 38 trillion.
Although it hasn't been listed for a long time, Sunshine Homes quickly entered the list of "billion USD" businesses with a market capitalization of VND 36.6 trillion, while KSFinance's market capitalization approached VND 22.8 trillion.
Sunshine Homes is known as a luxury real estate development brand of Sunshine Group, with main real estate product lines such as: Sunshine Limited, Sunshine Hi-Lux Villas, Sunshine Premier, Sunshine Apartel, Sunshine Boutique.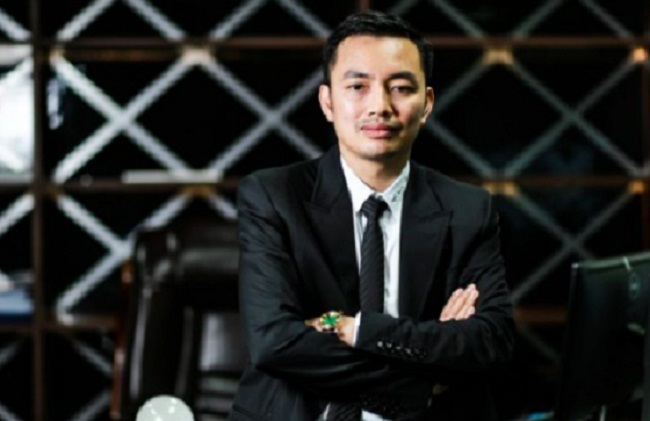 Mr. Do Anh Tuan.
Duy Hung
According to the latest update from Forbes, total assets of the six billionaires in Vietnam as of December 23, 2021 were up to 19.5 billion USD.
If assets are calculated according to the value of the stock market, Vietnam will have more USD billionaires.