If petroleum prices continue escalating, Vietnam will need to cut taxes and fees, in addition to using the petroleum price stabilization fund.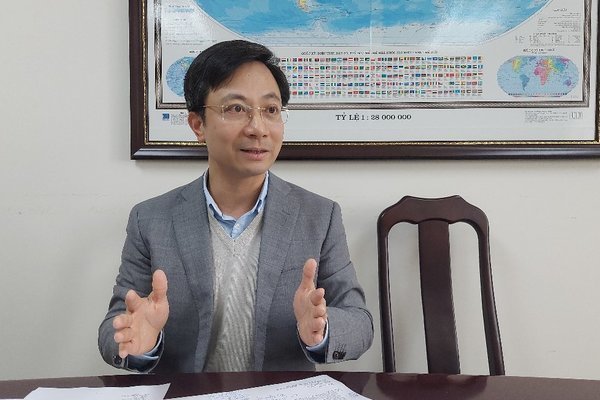 Mr. Tran Duy Dong, Director of the MOIT's Department of Domestic Market.
Asked why on February 11, 2022 (and not February 1 as expected), the Ministry of Industry and Trade (MOIT) adjusted petroleum prices, Tran Duy Dong, Director of the MOIT's Department of Domestic Market, said on January 28, MOIT sent a document to the PM analyzing the situation in Vietnam and the rest of the world.
The ministry proposed that the Prime Minister choose the time for adjusting petroleum prices for the next review under Article No 1 of Decree 95. This meant that MOIT would not have to wait until February 11 to make price adjustments.
This would ease the burden on petroleum distribution enterprises when prices are escalating in the world market. However, the proposal was not applauded by other ministries and branches. One of the reasons behind the disagreement was the fear of high inflation.
The Ministry of Finance (MOF) and MOIT, at the Government's meeting, pointed out that the consumer price index (CPI) rose by 1.94 percent in January and the core inflation rate was 0.66 percent. Petroleum prices always have a great impact on CPI.
"The Government and ministries have to weigh the pros and cons to ensure the interests of people and enterprises, while ensuring macroeconomic stability."

If petroleum prices continue escalating, Vietnam will need to cut taxes and fees, in addition to using the petroleum price stabilization fund.
He said if MOIT had raised petroleum prices earlier than scheduled (before February 11), the move would have faced pressure from the public.
In the past, Decree 83 did not allow adjustment of petroleum prices sooner than scheduled. However, under the Decree, if the petrol prices fluctuate heavily and affects the socio-economic situation, MOIT has the right to ask the Prime Minister to reconsider the dates for price adjustments.
Shortages
Local newspapers have reported that some filling stations have run out of petrol to sell. MOIT affirmed that filling stations still have petrol, but are not selling because they are trying to hoard petrol, waiting for price escalations.
Dong said hoarding petrol for speculation, which causes shortages in some localities, distributors and sales agents will be strictly punished.
The MOIT Minister has signed a decision on setting up three inspection teams which will visit some localities to inspect petrol supply. MOIT has also sent a dispatch to localities, asking provincial people's committees to intensify inspections and monitor petroleum sales.
"It's necessary to share difficulties with petroleum enterprises as the supply was disrupted when the Nghi Son Oil Refinery cut capacity. And import prices have escalated, which causes losses to importers," Dong said.
"Petrol enterprises need to share difficulties with nearly 100 million people and support the state's efforts for macroeconomic stability," he added.
Enterprises have to observe regulations on inventories and sales, and must not hoard petroleum products for speculation, which affects supply.
Asked about the petroleum supply after the review on February 11, Dong said the situation is better than one week ago. However, the shortages in some localities still have not been resolved completely. This is partially because Nghi Son Oil Refinery is still running at 55 percent of capacity and imports have not arrived.
"The supply in the market has become better, but some filling stations in some localities are still lacking petrol for sale," he said.
Most enterprises are still performing their functions and duties by reserving petroleum products and observing the regulations in petroleum trading. Only a few enterprises are not doing this well.
Taxes and fees
Because of geopolitical factors related to Russia and Ukraine, petroleum prices have been fluctuating heavily. This affects domestic prices.
According to Dong, the supply will improve soon when more imports arrive.
If the prices continue escalating and crude oil price surpasses $100 per barrel, Dong said it would be necessary to cut taxes and fees to stabilize the prices, in addition to using the petrol price stabilization fund.
"If the prices are overly high, this will have the effect of neutralizing some tools and policies being applied to help recover the economy, which has been hit hard by Covid-19. This includes the policy on VAT reduction of 2 percent," he said.
MOIT some years ago once proposed tax and fee reductions, but the proposal was rejected by MOF because the revenue from fuel taxes and fees made a big contribution to the state budget.
In an effort to ensure supply, on February 14, MOIT asked distributors to report the volume of products that they have ordered from domestic oil refineries for 2022 and the volume of products they have received since the beginning of the year. They were also asked to update supply plans in 2022 and import plans until December 31, 2022.
The figures will allow MOIT to calculate the total supply, define import quotas, and regulate the market so as to ensure stable supplies.
Luong Bang
Domestic petrol prices hit an 8-year high after the Ministry of Industry and Trade (MoIT) adjusted the retail prices up by around 3.9 per cent on Friday – its third consecutive increase this year and the fourth in a row.
The rising global oil and gas prices will affect domestic production as oil and gas cost makes up around 3.52 percent of the economy's total production costs, thus pushing up product prices.