Traditional blacksmithing in Phuc Sen commune in Quang Uyen district in the northern mountainous province of Cao Bang has existed for more than 1,000 years.
Forging products of the Nung ethnic people have been famous throughout the country for a long time and are mainly exported to China.
Phuc Sen commune currently has about 150 family-sized workshops, evenly distributed in six hamlets: upper and lower Phia Chang, Dau Co, Pac Rang, Tinh Dong and Lung Vai.
Local craftsmen still work manually, mainly based on long-term experience from choosing raw materials, how to forge steel to apply their own know-how to create products such as knives, scissors, hoe, sickle… of premium quality.
Phuc Sen village is located 30km from Cao Bang city, Cao Bang province. The village is filled with the sounds of workers beating and hammering steel as they forge knives using traditional techniques and recycled materials. Currently, the village has 420 households with about 2,000 people.
It is said that this village was established in the 11 th century. In the early days, the villagers produced weapons for the soldiers of Nung Ton Phuc and Nung Tri Cao to fight against the Song army. After the war, they made farm and domestic tools such as ploughs, hoes, knives and scissors. It is also said that the villagers used to cast cannons and grenade casings, especially during the resistance war against French colonialism. Thus, this craft village has a long tradition of forging.
There is also another tale explaining the origin of this craft village. It says that from ancient times, there was an old, strange-looking man walking through the village. He noticed that the local Nung An people lived only by hunting, hence they were always poor.
However, the old man found that the local people were very kind, and they had extraordinary bright eyes because they could walk in the forest at night without any lighting equipment. Therefore, he decided to train the Nung An people how to forge tools. Following that, the old man left Phuc Sen without saying goodbye to anyone, and no one ever knew his name or address.
Today, the Nung An people in Phuc Sen have established a temple to commemorate their ancestor. Every family has its own incense bowl to express their gratitude to the ancestor, who brought the craft to the village and improved their lives.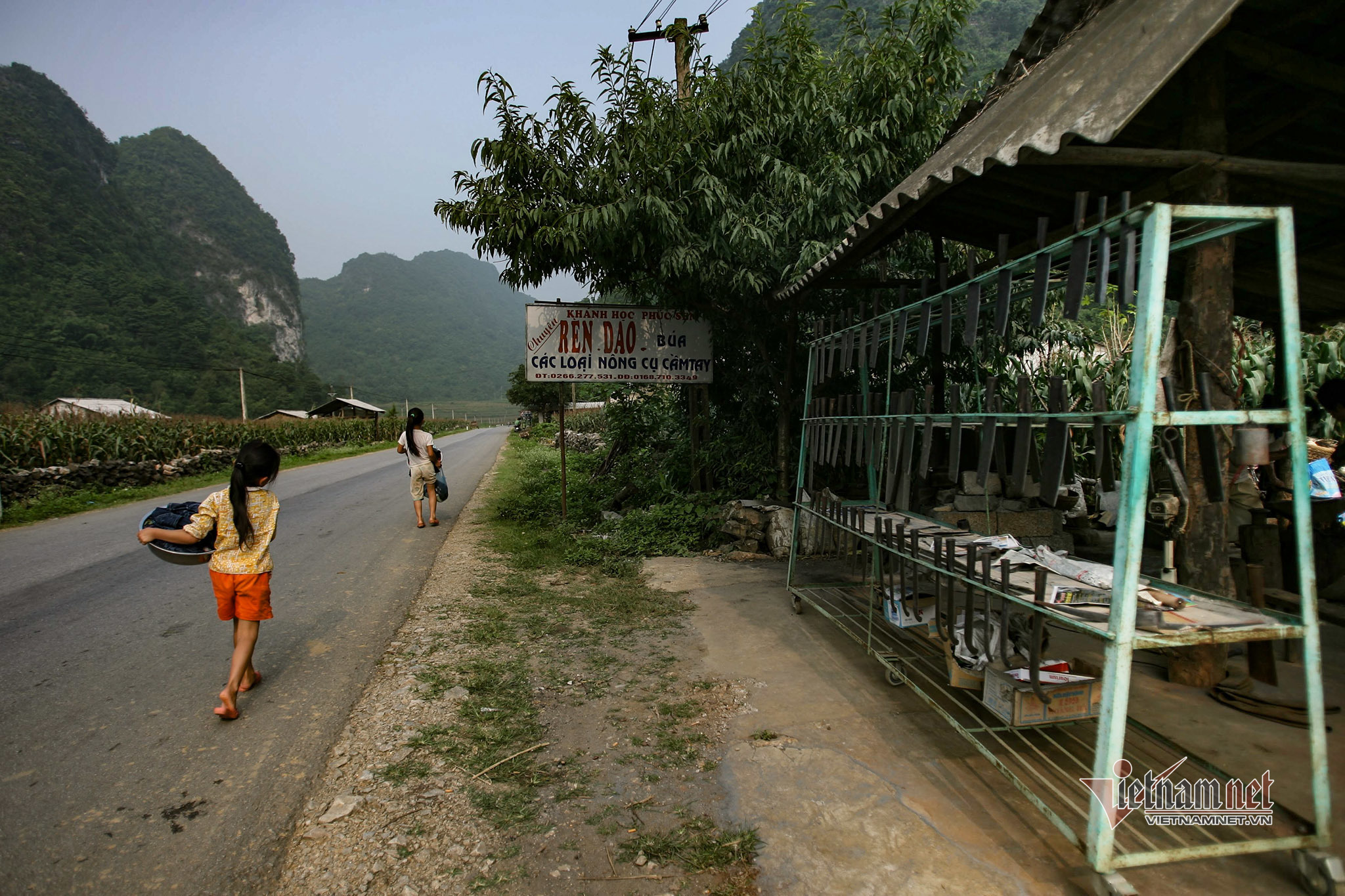 A shop selling agricultural tools made by Phuc Sen people.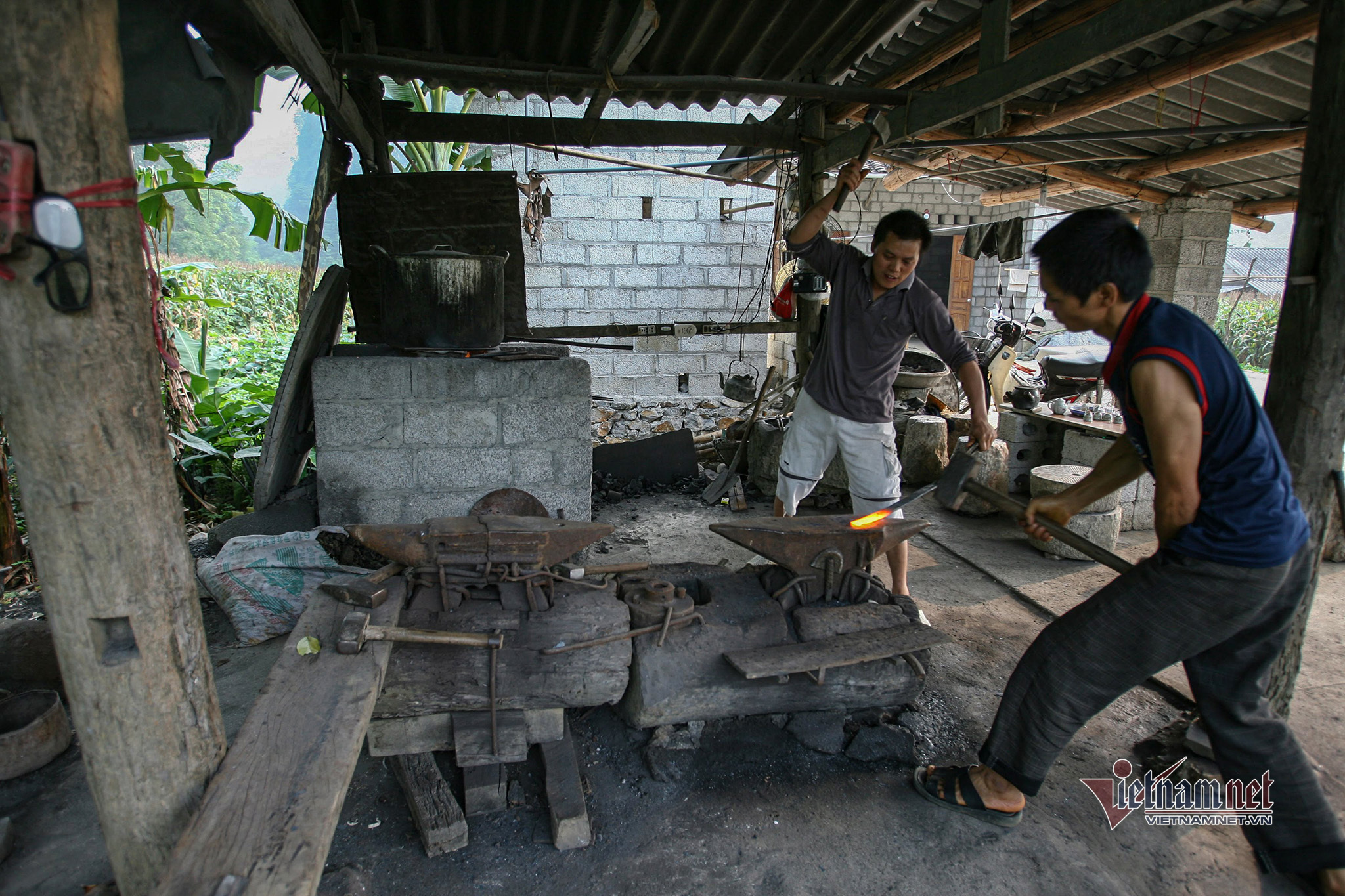 What makes Phuc Sen knives special is the manual forging process. However, some steps done manually previously are now assisted with machineries.
Heating iron in the kiln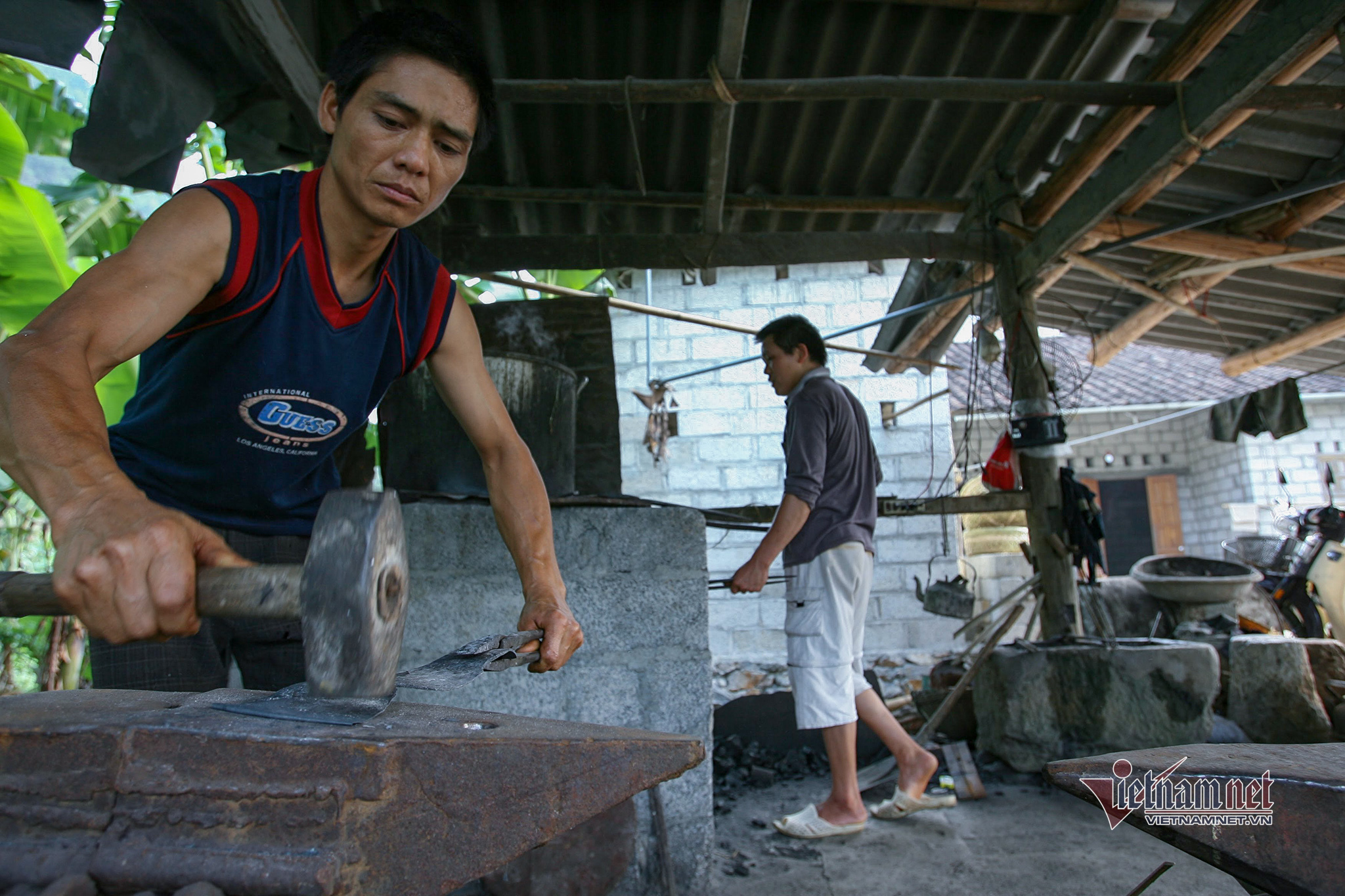 Creating a knife handle.
What makes Phuc Sen knives special is the manual forging process. However, some steps done manually previously are now assisted with machineries.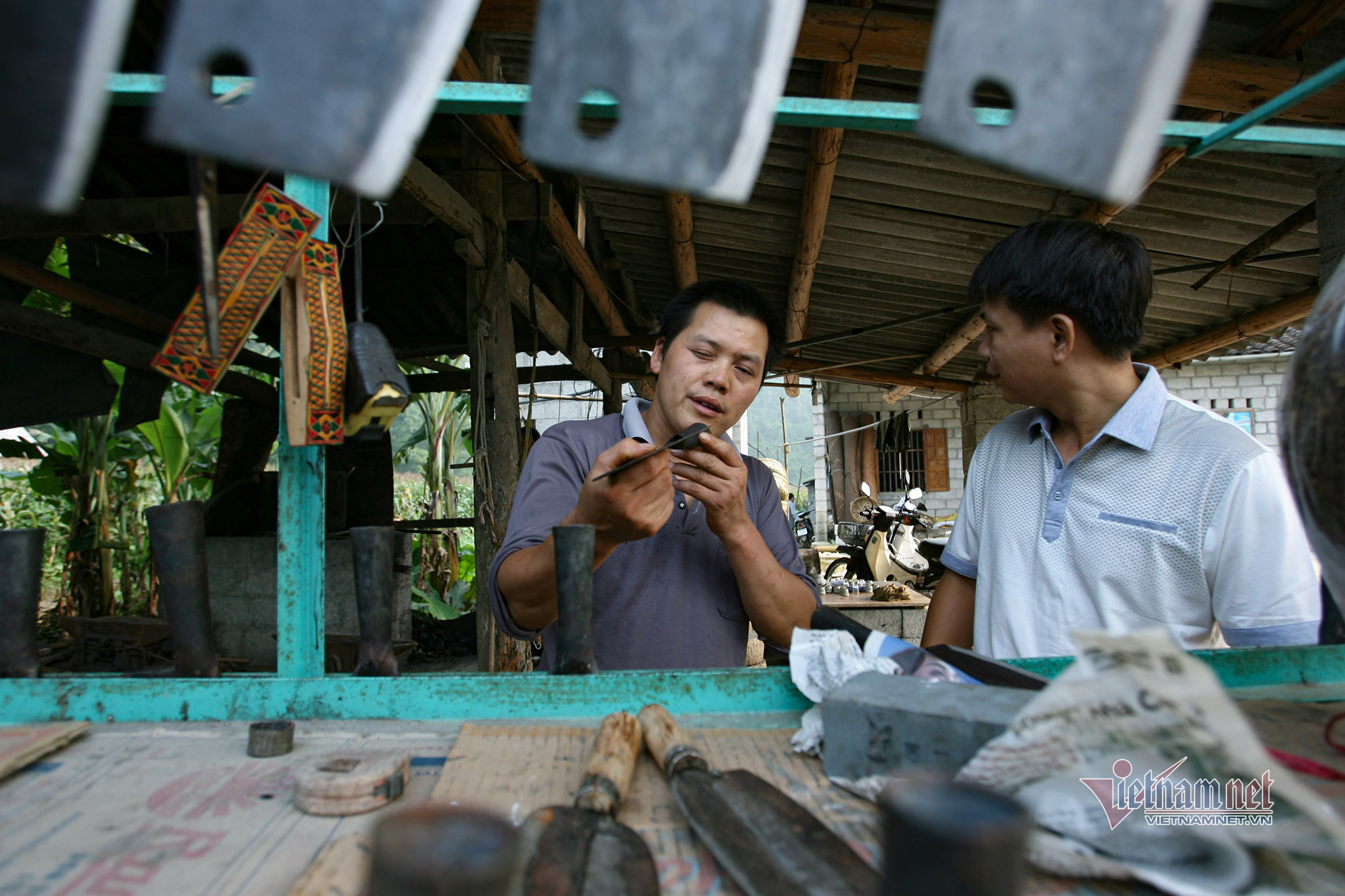 Checking the sharpness of a bush-cutter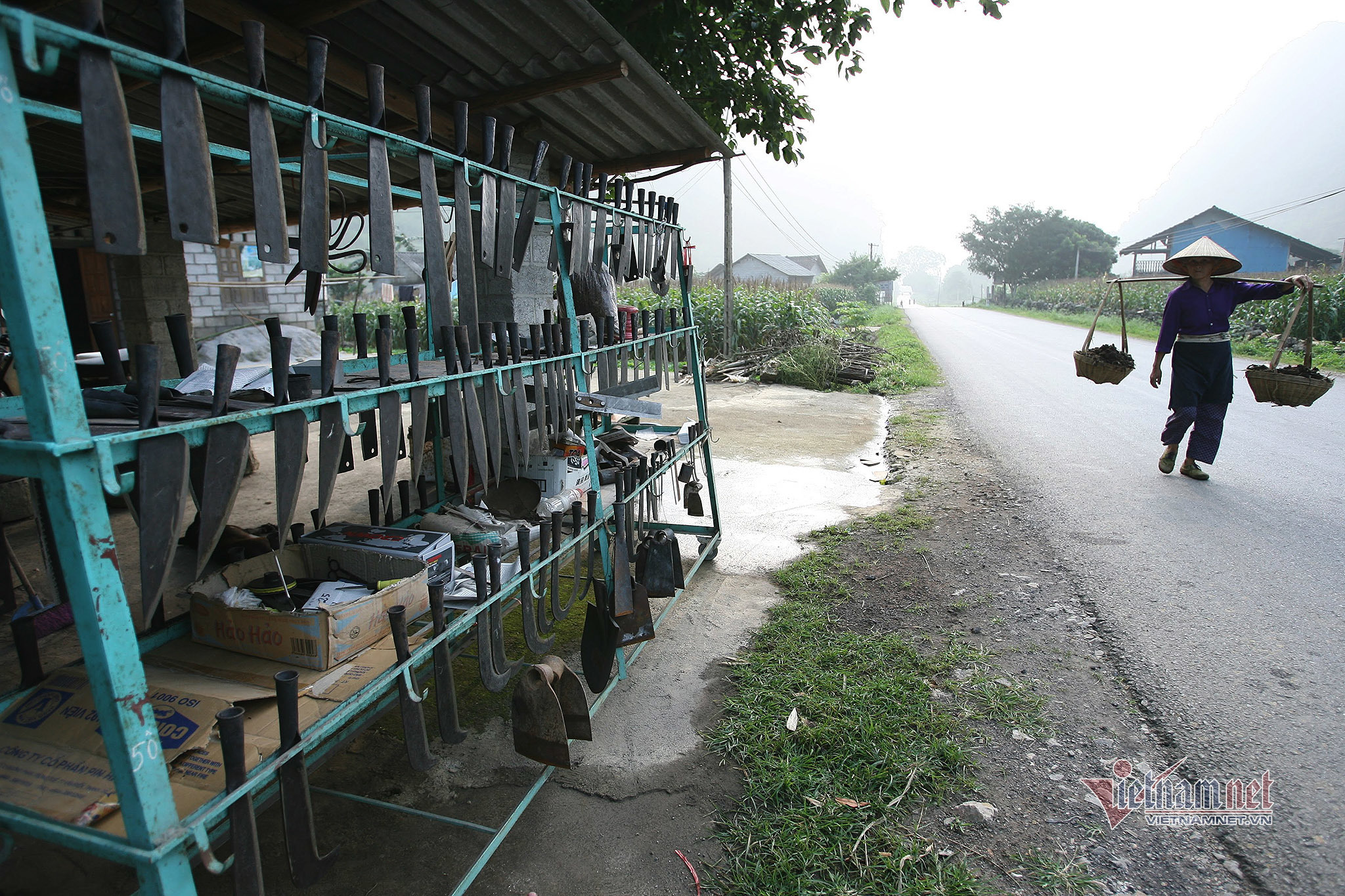 These products are indispensable utensils in the daily life of ethnic people living in mountainous areas
Le Anh Dung
In October 2020, Hoai Khao hamlet was chosen to be a community tourist destination because it had preserved the cultural values and rich lifestyles of the Dao Tien people.