Visiting the pagoda on the first day of the Lunar New Year is a long-term tradition of Vietnamese people. Many people believe that going to the pagoda and praying will bring them a year of peace and luck.
This year, the pilgrimage to the pagoda holds a special meaning to residents in Hà Nội because spiritual sites have been closed for a long time due to the pandemic.
On the first day that such sites were allowed to reopen, thousands of people took the opportunity to visit temples and pagodas.
In Mỹ Đức District, many tourists started coming to the Hương (Perfume) Pagoda Complex since dawn with the desire to be the first to enter the places of worship.
To reach it, pilgrims need to take a boat ride along the four-kilometre-long Yến Stream, and by early morning hundreds of boats were ready to carry them.
Hundreds of boats are ready to carry guests to Hương Pagoda from early morning. VNA/VNS Photo Trần Việt
The pilgrims continued their journey to Trình Temple, Thiên Trù Pagoda, and stopped at Hương Tích Cave after climbing hundreds of steps on rocky mountains.
Many tourists pray for peace and luck in Hương Tích Cave, Hương Pagoda Complex. VNA/VNS Photo
Despite the rain and fatigue, the faces of pilgrims were still full of joy. For them, the trip not only satisfies their spiritual needs but also brings peaceful moments amid current challenges.
At spiritual sites in the centre of Hà Nội such as Quán Sứ Pagoda and the Temple of Literature Complex, many people also come to pray and ask for calligraphy.
Praying at Quán Sứ Pagoda, Hà Nội. VNA/VNS Photo Tuấn Anh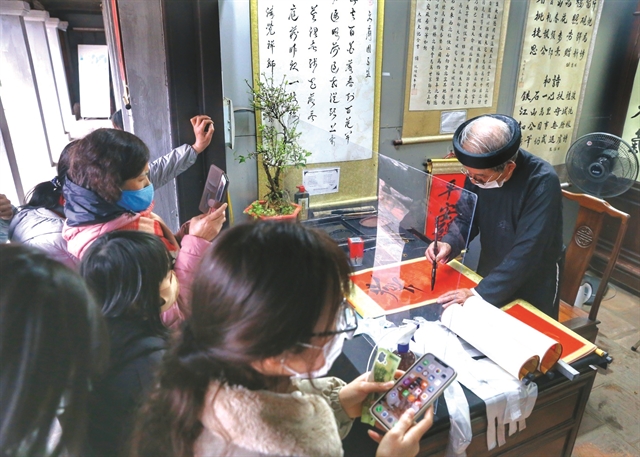 Many people come to ask for calligraphy at the Temple of Literature Complex. VNA/VNS Photo Tuấn Đức
Visitors at Quán Sứ Pagoda are recommended to strictly follow the health rules and have a sense of self-prevention against COVID-19 pandemic to protect themselves and the community. VNA/VNS Photo Tuấn Anh
In order to ensure the safety of visitors, COVID-19 prevention measures have been arranged many days in advance. The organisers emplaced pandemic control teams, reminding visitors to strictly follow the health rules and ensure safety while meeting their spiritual needs. VNS