Nguyen Van Chuc, 65, once lived on a wooden boat. When the boat got seriously damaged, he set up a small house between the old and the new BinhLoi Bridges that helped shield him from the sun and rain.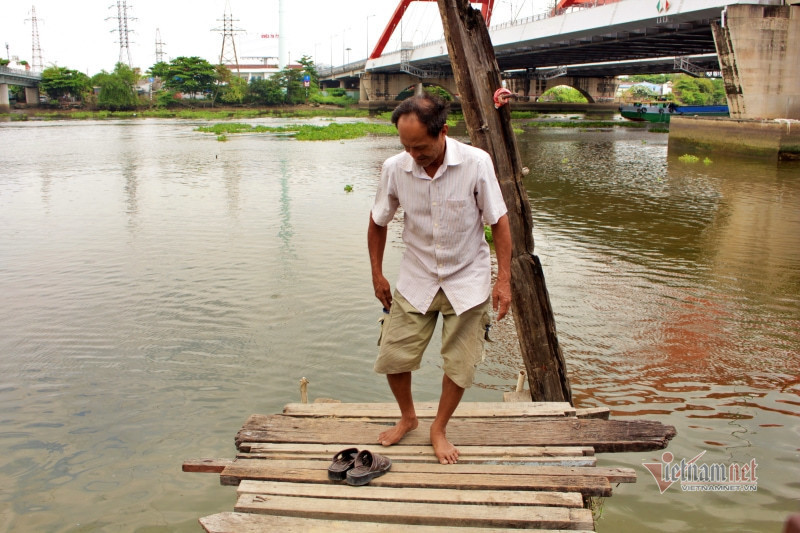 At the end of the day, the water surface of Sai Gon River was sparkling with the afternoon sun. Chuc sat on the wooden bridge and looked towards the foot of the old Binh Loi Bridge. He sadly said that he had just picked up the body of a male student who committed suicide a few days ago.
Searching and salvaging dead bodies on the river is not his profession. But he has been doing this since he was just eight years old.
Chuc's father was a fisherman. When making a living, he accidentally discovered and fished out dead bodies of the river.
Everyone knew that Chuc's father was a good man. Therefore, whenever someone went missing or jumped from the bridge, he was asked to help search for dead bodies. And he sometimes brought Chuc with himself when searching.
Chuc, who was just 8 years old, was very scared. He did not dare to step out of the house and whoever asked why, he would say that he was afraid of 'ghosts'. But when he grew up, he was no longer afraid of 'ghosts', because he understood that this was humanitarian work.
When he was 20 years old, he fished out the first dead body on a day that he would never forget. That day, he overcame invisible fears. He touched the dead body with compassion, longing to bring the dead person to a peaceful resting place.
And then he found the second, third and subsequent dead bodies when fishing. He tried to calm down and bring the unfortunate dead people ashore. After that he reported the cases to the local authorities.
Later, every time when dead bodies were discovered on the river, Chuc was the first person that the relatives of the dead people and local authorities asked for help. To date, he has been doing this work for 40 years, with no salary.
He cannot remember how many dead bodies he has found, but he remembers that he fished out dead bodies of children, youth and old people as well.
"I could not stand the bad odor from the decomposing dead bodies. Then I prayed that the people allowed me to bring them to resting places. And I no longer smelled the bad odor when I came closer to the bodies," he said.
"Every time when I touched dead bodies, my hands would be freezing cold all day, though I tried every possible means to warm hands up. Except the problem, I never have nightmares," he told reporters.
Like his father, Chuc earned his living as a fisherman many years ago. Chuc and his wife lived on a wooden boat floating on Sai Gon River. Later, when he was asked by people to carry them to the middle of the river to set fish free, he decided not to catch fish anymore.
He gave up fishing and became a carrier on the river. He used his boat to carry cargo and people. The boat is both the means of livelihood and the instrument for him to search and fish dead bodies out from the river.
But some years ago, the boat became too seriously damaged. He left the surface water, set up a small house between the two bridges – old and new Binh Loi Bridges.
Chuc's house, in fact, is just a small hut created by old timber sheets. The part of the house that faces the river is just covered by a thin canvas, while there is no wattle. This aims to help him discover those who try to commit suicide so as to save their lives.
Pointing his hand to the old bridge, Chuc said: "Many people commit suicide there. I could not remember how many people I have saved and how many dead bodies I have fished out".
Whenever Chuc sees someone coming to the bridge with sad face, or prostrate themselves, he would call the police because they might jump from the bridge to the river to commit suicide.
He puts off all his work to sit and watch. He dare not leave his house and go to the bridge to advise them, because he knows it would be too late. He often starts the boat engine, ready to rush to the water if someone jumps into the river.
"If I can get to the site quickly, I can save people's lives. After successfully rescuing a person, I ask him why he wanted to commit suicide and advise him to rethink, because life is the most precious thing," he said.
Most of the people who tried to commit suicide and were rescued by Chuc were in difficult situations. In all cases, when they were saved, they regretted their decision.
Many of them who were saved by him burst into convulsive sobbing. They thanked him and said he gave them a second life.
One of the young men he saved has become his adopted son.
"In 2015, I saved a young man from Nghe An. He later adopted me as father. His family invited me to visit Nghe An some years ago. He has invited me to live with him in Nghe An in my old age," he said.
Ha Nguyen
Living alone in the largest cemetery in HCM City over the past 40 years, Nghia accepts the deceased as her parents and adopted children, and volunteers to take care of the graves.