Hoàng Lan
During Tết, Việt Nam's biggest holiday of the year, families from all around the world try to return home for a special reunion and to welcome in the Lunar New Year together. A huge part of the celebration is the traditional Tết dishes that are carefully prepared and cooked.
Main dishes include bánh chưng (square cake), boiled chicken, lean pork paste, spring rolls, pickled onions and bamboo soup cooked with pig's trotters, among others.
A Tết tray of special dishes helps to express Vietnamese wishes for a Happy New Year. — Photo kenh14.vn
"As well as helping express the best wishes of the family, the Tết tray still carries major significant spirituality: remembering and respecting ancestors and wishing them to always support their offspring with a Happy New Year, good health, good luck and safety," said Hanoian elderly Trương Thị Hội, 90.
"In the past, we have to prepare things for Tết, often one month in advance. The Tết tray includes four different bowls of soup such as boiled chicken broth cooked with perfumed mushroom, pork meatballs and four plates as cooked pork. These dishes are carefully decorated to help the entire family thrive with fullness the year-round," said Hội, adding that the tray also reflects the nation's special culture.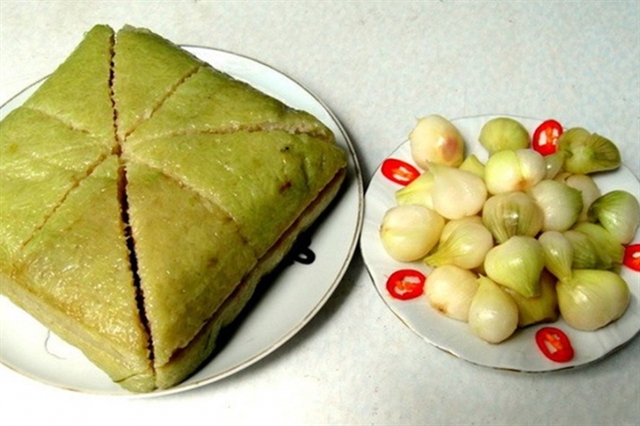 Bánh chưng (square cake) and dưa hành (pickled onions) are among the most important Tết dishes. — Photo toplist.vn
Hội said her family place the most importance on the square cake as it is a tasty dish that should never be missing during Tết. The cake came into being thousands of years ago thanks to the 16th Hùng King's Lang Liêu Prince who wished to express his thankfulness to his father, the heaven and the earth.
To a Vietnamese soul, the cake is not only a sacred dish but also carries significance about the universe and human life, she said.
With nutritious ingredients such as sticky rice, green beans and pork, the cake supplies locals with energy and vitamins to deal with severe winter days during Tết, said Hội.
Boiled chicken is also a popular dish nowadays for Tết and is also carefully prepared.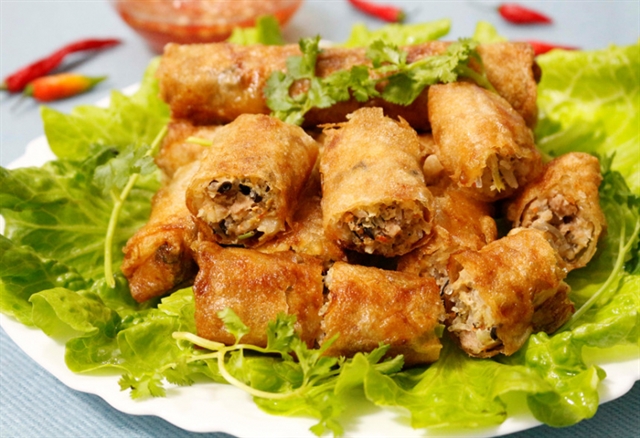 Spring rolls are a must-have Tết dish. — Photo toplist.vn
"I often order a couple of capons from Cao Bằng which are raised naturally with maize. This makes the meat more fragrant, sweet and firm. We boil it to worship our ancestors at parties on New Year's Eve and the first day of the Lunar New Year," said Hội, noting that the technique of boiling the chicken is very important. It should be cooked from cold water over a light fire for half an hour to ensure that the chicken skin is not broken and its meat does not change from its natural colour.
Hội said she often decorated the chicken by holding a rose at its mouth. "According to legend, chicken represents integrity and strongness. In literature, it is described as a 'man' with good virtues such as being trained in fighting, writing, bravery, intelligence and kindness.
Dưa hành or pickled onion is although a popular dish but it carries a special place in the tray because it is eaten with bánh chưng and other dishes, said Hội.
"Thanks to the pickled onion, which is lightly salted, we all have a feeling of good appetite to enjoy our Tết dishes," Hội said, adding that it helps eater's digestive system operates well.
Nguyễn Thị Sương, who has been living in Germany for 30 years, told Việt Nam News that due to the pandemic, she could not return home. "When Tết comes, I miss my parents' Tết tray, particularly the characteristics of bánh chưng eaten with dưa hành so much. The dish helps us to be more closely connected with our motherland."
She said she has travelled to many countries but found no place in the world that is as special for Tết as Việt Nam.
Canh măng móng giò (bamboo soup cooked with pig's trotters) is a mainstay of any Tết table. — Photo toplist.vn
Apart from these dishes, spring rolls, canh măng móng giò (bamboo soup with pig's trotters) and chè kho đỗ xanh (sweeten green beans cooked with sugar) porridge are also among traditional dishes that have been existing for thousands of years in the country's Tết tray.
Sương said that before the pandemic she would often return to her parents' home in Hà Nội during the Tết holiday. "I often help my mother to cook these dishes which all need special care and enthusiasm."
As the festival is approaching, Sương wishes the pandemic to soon be over so that overseas Vietnamese, or Viêt kiều, can go home to enjoy Tết with their traditional dishes and loved ones. —VNS