At Van Market, or Dong Beo Market, in Phu Khe ward in Bac Ninh City, there is only one commodity – wooden boards made of rosewood.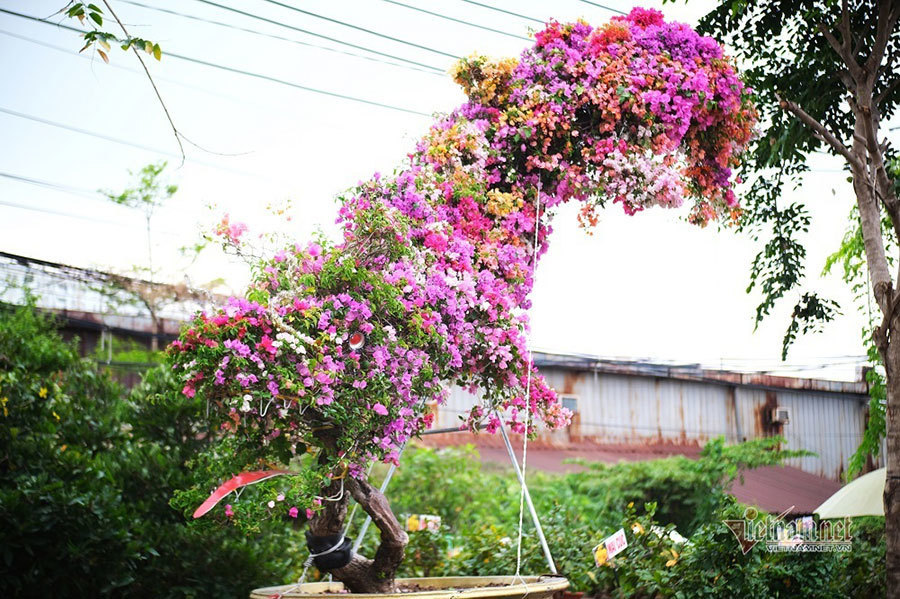 The dragon-shaped paperflower tree
At first, local people in craft villages around Phu Khe ward displayed wood for trading. Later, people from everywhere gathered there and created Van Market. There are now hundreds of wood shops.
At the market, wood doesn't sell by kilogram. People measure the length, width and the thinness of the boards to set the selling price.
Dragon-shaped paperflower tree offered at VND250 million
One dragon-shaped paperflower tree was carried from Ben Tre to HCM City to sell at the 2022 Tet market. The tree has a sky high selling price of VND250 million.
According to Ngo Thanh Ngoan, the owner of Hai Loan 2 Garden in Thu Duc City, the tree with the shape of flying dragon has total weight of 500 kilograms, including the vase. The tree stump is about 30 years old. It took craftsmen 6-7 years to take care of the tree and create the shape of the dragon.
This is a unique product that cannot be seen anywhere else. Experts said there are difficulties during the growing process, including the risk of pests. The length from the dragon's head to the end of tale is four meters. The flowers have five colors: purple, orange, white, pink, and red
Ancient peach trees on Hanoi's street
On Lac Long Quan street in Tay Ho district, Hanoi, gardeners are displaying hundred-year-old peach trees for sale and lease. The trees, brought from Lai Chau and Son La, are priced at hundreds of millions of dong.
Of these, one ancient peach tree, nearly 100 years old, is offered for sale at VND200 million and lease at VND180 million.
The tree has 11 major branches which symbolize a Tet reunion.
The seller said this is a rare and precious peach tree found in the highlands and then carried to a garden where it had been taken care of some years before sale.
Orchids with original color
Lan ho diep (Phalaenopsis Blume) have hit streets, shops and online markets. The orchid is selling at VND110,000-250,000 per tree.
In the middle of a 'forest' of orchids with tens of different colors, one can find the

phalaenopsis orchid plants with blue color. They are more expensive than others because of the original color, between VND350,000 and VND1.25 million per plant. A pot of blue-sky orchids is priced at VND3-5 million.
Original peach flowers
In addition to familiar peach trees, such as NhatTan peach and wild peach from northwestern provinces, the market this year has an unfamiliar peach – dao chuong, which means peach bell in Vietnamese (Ericcaceae). Each dao chuong peach branch is priced at VND1 million.
The flowers are either white or pink. Each bud blooms into 3, 5, 7 or 9 (odd number) flowers, each of which is a small 'bell'. This kind of peach has beautiful branches and green leaves. Each branch is two meters tall. It can be displayed for a long time, about 20 days from full bloom to fading.
Odd stone block attracts all metals
Le Phuc Tieng, 69, who has been collecting gemstones for 17 years, is well known in Dak Lak as the owner of a collection with hundreds of precious stone blocks, valued from several million dong to billions of dong for each product.
Many stone blocks have been kept intact with their pristine beauty, while others have been processed to create artistic products.
Tieng most loves the 'energy stone' which can attract iron. The stone block is 20 centimeters tall, 20 centimeters wide and weighs 4 kilograms. Metals stick to the stone.
"Many people contacted me to ask to buy the stone, paying hundreds of million or even billions of dong, but I don't want to sell it. I like the stone and feel happy that I own an original stone block," he said.
Bao Anh
Nam Can crab in Ca Mau province is famous for its high quality and delicious taste, while thoi loi fish is a wonderful dish for parties. These are among the many precious specialties available in the Mekong Delta region.