Duy An
"The tasty and delicious Tích Nghi fish porridge helped warm up my body during a cold winter day in Bắc Ninh last week," said Trần Thu Huệ from Hà Nội.
Huệ said it was a great opportunity to enjoy the local speciality when she was invited by her friend Nguyễn Thị Thúy to visit her home in Bắc Ninh.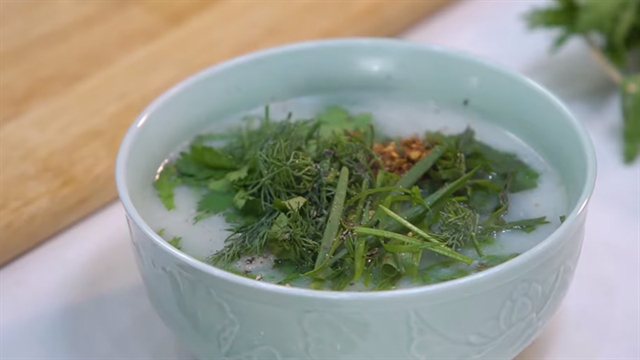 Bắc Ninh fish porridge is known far and wide for its incredible flavour. Photo dienmayxanh.com
When they arrived at the shop though, it was so full of patrons that they had to wait five minutes to get a seat.
"When the server brought us two big bowls of porridge, the smell of such aromatic flavours was hard to forget. I wondered how I could eat such a big bowl, being used to Hà Nội portions. Thúy on the other hand wondered if we should order more," said Huệ.
The light yellow porridge is mixed with fish meat (without bones) and herbs.
Tich Nghi special porridge restaurants are always popular, particularly in the winter months. Photo tripzone.vn
"The dish is so attractive that I could not wait for it to cool down. From the first spoon, I feel the sweetness of the simmered rice and the firm, fresh fish.
"The herbs and fresh-cut onions were really enjoyable at the bottom of the bowl. The fragrance of cut dills, perilla, coriander and vegetables mixed with rice and the buttery fat of perch fish made me crave more, even though I was full," said Huệ.
"The server told us that the dish is tastier still when topped with pepper and chilli, which also warms the body up during cold winter days," said Huệ.
Huệ told Việt Nam News that an eater sitting next to her said he likes to enjoy the porridge with garlic and chilli mixed in vinegar.
"I enjoy the spicy taste on my tongue so much," he told her.
The dish was first cooked by Madame Tích Nghi in Vệ An Ward of Bắc Ninh Province in the 1970s. The porridge was so tasty that it became known far and wide, said elderly local Hoàng Thị Mẫn, 85. She said she has enjoyed the porridge as breakfast every day since the shop opened.
"Many people, particularly young ones from Hà Nội, drive to Bắc Ninh to eat the porridge here," Mẫn said.
An owner of the shop said: "Our secret is that we marinate and cook the fish, either perch or carp for its firm and fragrant meat, with our own recipe that means the fish doesn't smell," she said. She often chooses a big fish of at least two kilos, raised with organic food in a pond or lake inside Bắc Ninh.
Some say the dish is more enjoyable when eaten with garlic and chili mixed with vinegar. Photo 24h.com.vn
The fish is boiled for 20 minutes before being taken out to marinate with fish sauce, broth mix, pepper, chilli and dried cut onion for 30 minutes. It is then fried over a medium fire.
The fishbone is ground and filtered to be used as a broth to cook the rice. Many diners like to sip a cup of wine with the fish's inners or fish eggs.
Lương Thị Huấn from Quảng Ninh Province said that every year she goes to Lim Festival, one of Bắc Ninh's biggest events, held on the 13th of the first month after the Lunar New Year.
"We never miss a chance to enjoy Tích Nghi fish porridge at the festival," Huấn said, noting that many other visitors to Bắc Ninh also enjoy the porridge, particularly in winter.
Apart from the above-mentioned restaurants, there is a Tích Nghi fish porridge shop at 11 Âu Cơ Street. You can sample the dish at:
+ Restaurants Nos. 35 and 108 Thiên Đức, Vệ An Ward, Bắc Ninh City
+ Restaurant No. 11 Láng Road, Kinh Bắc Ward, Bắc Ninh City.
+ Cháo cá chép (carp) Ông Ba Duẩn at 94 Thành Bắc Road, Bắc Ninh Station zone. VNS