Over a time spanning three consecutive years, traditional festivals have not been held and schools have applied online learning due to the Covid-19 pandemic. Therefore, drum-making villages are thought to face a tragic demise.
However, Doi Tam drum-making village in Tien Son Commune, Duy Tien Township, Ha Nam Province, has still survived due to the valiant efforts made by traditional craft households which know how to use short-term profit to keep long-term plans alive.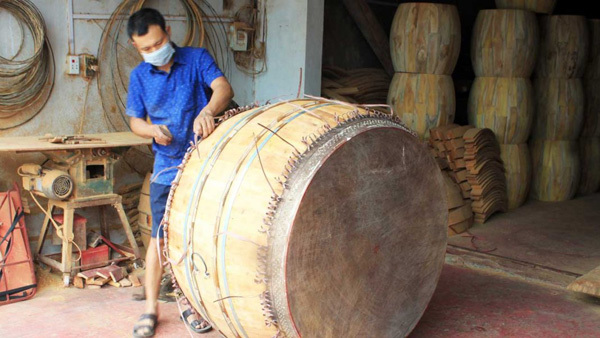 Drum-makers at Doi Tam know how to use short-term profit to keep long-term plans alive. – SGT Photos: Do Quang Tuan Hoang
Mr. Khang's drum, which is 2.6 meters tall and 2.2 meters in diameter, should have been delivered in January last year. But it has sat idly on the rack at his house. And yet it is only one of the many orders received by Mr. Khang which were cancelled due to the pandemic. He is not an exception. All the households in this drum-making village are in the same shoes. Ha Nam Province alone hosts more than 100 traditional festivals a year. In Vietnam, almost 8,000 festivals are held every year, not to mention more than 43,000 schools, from kindergartens to senior high schools, which had to switch to online learning. As the main sources of customers were in such a bad condition, the poor business performances of this drum-making village came as no surprise.
Over a time spanning three years since early 2020, due to Covid-19, traditional festivals and in-person classes have been put on hold. Doi Tam drum-making village in Tien Son Commune, Duy Tien Township, Ha Nam Province, has therefore made only some small drums.
The village normally produces thousands of big and small drums every year. The smallest of them is trong boi whose diameter is 70 centimeters, and the largest is trong sam with a diameter of 2.35 meters. The biggest in production volume of them is drums used in kilin dances during festivals in the seventh and eighth lunar months. Next come sets of festival drums ordered from localities that have many big festivals which may amount to hundreds of drums a year.
According to Pham Chi Khang, chairman of the Doi Tam Association of Drum Makers, of the 2,500 people in Doi Tam, 300 are drum makers whose monthly income ranges from VND10-15 million. They produce more than 20 kinds of drums used at various places, from temples and pagodas to festivals and schools.
This trade is good in that it can make full use of labor. Women can do the lighter part of the jobs, such as leather tying, sanding and nailing. Men are responsible for wood cutting and drum barrel assembly. Nowadays, every drum workshop at Doi Tam has been equipped with machinery, including sawing machines, electric planers, and sanding machines, which help facilitate and embellish the products. Drum makers have been specialized, too. Some do only the leather job, some make only drum barrels and others are responsible for trading in drums.
A finished drum at Doi Tam consists mainly of the buffalo leather and the drum body made from jackfruit wood. The outward appearance of a drum may give an impression that it can be made easily. However, without the needed experience, an aesthetic mind and skilled hands of a seasoned drum maker, no good drum can be produced. A drum may look nice, but if it is not perfectly round and the leather is not perfectly tense, it cannot produce the best sounds and drum beats.
Drum-making at Doi Tam Village is good in that it can make full use of labor.
The process of making drums at Doi Tam Village is as follows:
Drum barrel must be assembled. The first thing to do is to identify the measurements of the drum ordered by a customer. Next, already treated pieces of jackfruit timber are cut in accordance with the identified measurements. The sawn timber pieces are numbered by the drum makers in line with a preset layout. The number of the pieces depends on the size of the drum to be made. The curvature and elasticity of each piece of timber is carefully calculated so that when assembled, the drum can take the best form. To make the drum fully tight, drum makers use a special kind of paint to fill in the gaps between the pieces of timber. As a good drum must have a tense surface, the timber must be totally dry after being treated and must have appropriate thickness for each type and size of the drums to be produced.
After the barrel assembly comes the selection of leather.
The leather in use is from water buffaloes. Tanned buffalo leather is to be dried completely. Under the hot sun, the leather should become totally dried, a condition needed to create resounding and echoing drum beats. Next, sanding leather requires high concentration and strong focus of workers. A piece of leather being a little bit thicker or thinner than required will detort the sound of the finished drum. Therefore, it may result in a situation in which the two surfaces of the same drum may produce different sounds! The leather to be used also depends on the size of the drum to be made. Also important is the position of the leather on the body of the buffalo because it impacts the quality of drums.
The next phase is the selection of bamboo nails to keep the leather surface of the drum in place. The bamboo to be used should be strong enough and completely dry. Wet bamboo must not be utilized because later shrinkage will fail to retain the leather in place.
Then the leather will be fixed to the drum barrel by bamboo or metal sticks to keep the surface of the drum tense.
Doi Tam drum-making village is at the foot of Doi Mountain, one of the mountains with a good position and beautiful scenes in Hanoi. The village has so far produced the two biggest drums in Vietnam and the sets of drums used in the 1,000th anniversary ceremony of Thang Long – Hanoi.
Doi Tam drum-making village boasts a history of more than a thousand years. According to legends, Nguyen Duc Nang and Nguyen Duc Ban then learnt of the news that King Le Dai Hanh (941-1005) was about to visit their village for a ceremony in which the king would do the ploughing himself to encourage farming. The two brothers returned home and felled their jackfruit trees to make a set of drums to welcome the king. In 987, King Le Dai Hanh visited the village in the beat of the drums made by the two brothers. It was these drum sounds that later Nguyen Duc Nang (925-990) was considered the founder of the drum making trade in Vietnam.
In 2011, when the drum making business had been saturated, Le Ngoc Hung, the owner of Thanh Hung, a drum establishment in Doi Tam, tried to find a way out. Once watching a feature film showing rich people using foot basins and bath tubes made of wood, Mr. Hung made his first products of this category. He took the samples to a trade fair. Much to his surprises, customers came in droves. Ever since, wooden foot basins and bath tubes have become two of the best-selling products of Doi Tam village in addition to the traditional drums.
Another kind of products, oak wood wine containers, is indicative of the creativity of this artisan who initially made drums. At first, Mr. Hung's liquor containers made from jackfruit wood were in fact decorative items because there was a big plastic bag inside which actually contained the wine. When time passed, the glue used to seal the jackfruit wood became loose. That forced Mr. Hung to think of another effective way to make his containers able to hold the liquor without leakage and without filling substances.
Mr. Hung later knew that oakwood could be used for that purpose.
According to Mr. Hung, oakwood allows water to penetrate on one of its two surfaces and is water-proof on the other. He had oakwood pieces assembled into the cylinder shape before increasing heat inside to render the wood more elastic, which made them easy to be bent. Then the products were treated by hydraulic pressing machines to obtain water impermeability without using glue or gap-filling substances.
What Doi Tam Village has achieved so far is that although it has produced other different products seemingly irrelevant to drums, the formulas for making the new products are from the drum making process. Doi Tam drums need jackfruits while the current three main products at Doi Tam require other kinds of wood. Foot basins and bath tubes are from domestic pinewood while wine containers are from imported oakwood. That way, the villagers have been able to retain their traditional craft and meet market demand and earn their living.
Mr. Khang, chairman of the Doi Tam Association of Drum Makers, said his association is encouraging young artisans to produce other wooden household utensils. That is a valiant effort made by traditional craft households which know how to use short-term profit to keep long-term plans alive in the modern time context.
Source: SGT
At any number of social and cultural events around Vietnam, especially traditional festivals, drums feature as the centrepiece of almost all activities.
For nearly 200 years, the art of drum-making has been handed down to generations of craftsmen from Binh An village who use their aural skills during the 20 manual phases required to make perfect products.
With jackfruit wood and buffalo leather, the talented craftsman can make drums, creating the sounds of life.