Jackfruit exports to China bring $124 million a year. However, the export/import 'game' is controlled by five Vietnamese individual and institutional exporters and three Chinese importers.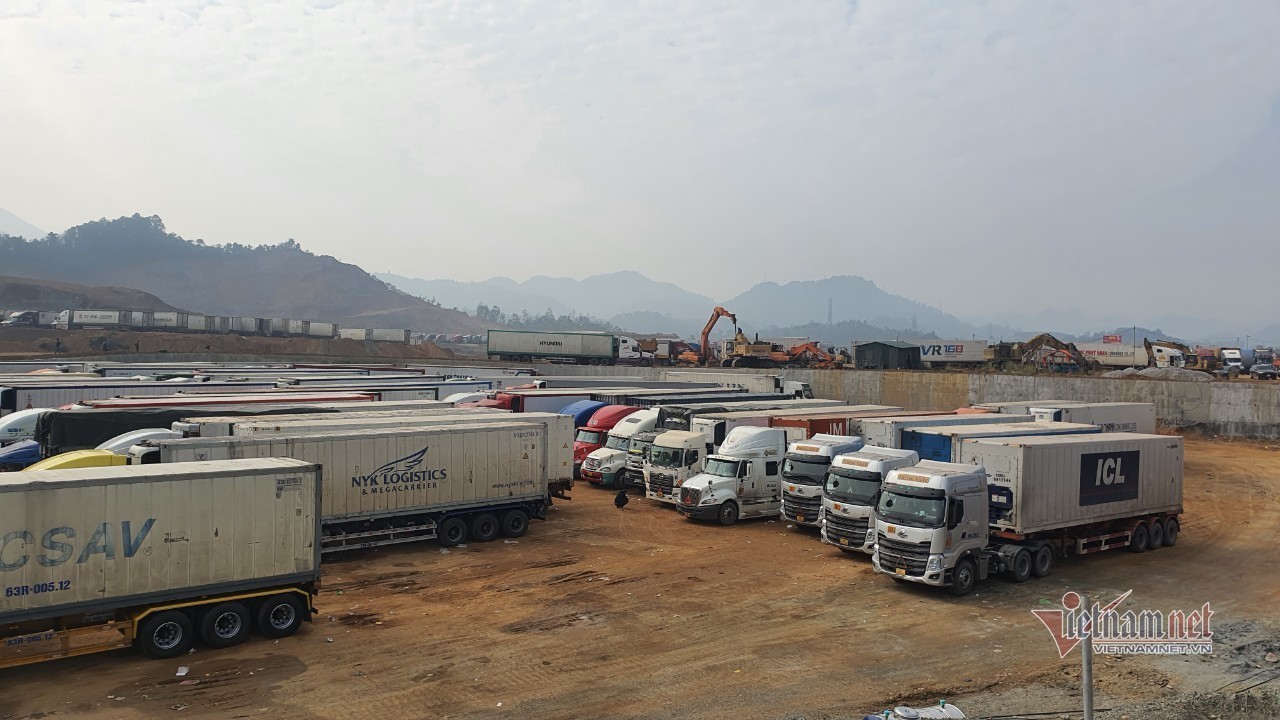 Trucks wait for site clearance
Several border gates in Quang Ninh and Lao Cai have reopened for customs clearance, though the volume of goods is cleared in dribs and drabs. Meanwhile, trucks carrying farm produce are still stuck at border gates in Lang Son.
Lang Son provincial authorities have sent a document to localities saying trucks carrying fruit are being stopped because of overloading at the border. China continues pursuing the 'zero Covid' strategy and has strengthened Covid-19 inspection measures in localities with border gates, so exports will be difficult in the time to come.
This is the most serious deadlock so far, which has lasted since November 2021. During peak days, there were 6,000 trucks queuing at the border gates in Quang Ninh and Lang Son.
Since watermelon, jackfruit, dragon fruit and mango cannot cross border gates, goods owners have to bargain fruits away in the domestic market, at just several thousand dong per kilogram. Ministries and branches have to call on processing companies and retailers to help consume the products to ease farmers' losses.
The same scenario and 'rescue campaigns' are repeated almost every year. Farmers and exporters have had to taste 'bitterness' regularly, depending on Chinese policies.
Experts pointed out that shifting from cross-border trade to official-quota exports is the radical solution to the problem. However, Vietnamese and Chinese businesses still choose to sell fruits across border gates though they are aware of risks.
Nguyen Lam Vien, General Director of Vinamit, which specializes in processing dried fruits, said it's difficult to shift from unofficial-quota to full-tax trade.
In 2021, Vietnam exported $124 million worth of jackfruit to China. Around 113 Vietnamese exporters and 110 Chinese importers were involved in export and import. However, trade was controlled by five Vietnamese individuals and businesses (four individuals and only one business), and three Chinese individuals.
Most of them were individuals. So, unofficial-quota export is a personal game of Vietnamese and Chinese merchants. One cannot have market information without contacting merchants.
The situation not only occurs with jackfruit exports but other fruits as well. Vien believes that localities should build centers in charge of receiving and distributing information in growing areas.
Vietnamese cultivate fruits and sell to merchants at collection points. From these collection points, fruits are sold to border merchants. If they cannot sell to border merchants, they hav nowhere to sell. For many years, Vietnamese businesses still followed this way, though they understood the problems of exporting products across border gates.
"This is the 'game' of Chinese businessmen. They don't seek Vietnamese businesses but contact Vietnamese individuals. So it's difficult to shift to official-quota export," Vien said.
Vietnamese farmers prefer cross-border export also because they don't have to pay VAT. If they export through official channels, they have to pay VAT of 7 percent. As such, products exporting through official channel are less competitive than the ones through unofficial channels in the Chinese market.
Only if China closes cross-border trade completely will all Vietnamese exporters shift to export through official channels.
To reduce risks, Vien suggested that localities make investments to increase preliminary treatment and processing capability. Saying that information about market plays a very important role, he said there should be centers that receive and distribute information to growing areas, which can help control growing areas and the market.
A report released by Lang Son Customs Agency showed a low proportion of official-quota farm produce exported through the province, just 3 percent of exports to China.
There are many reasons for this. Vietnamese businesses have been exporting to China across border gates for many years. China applies a border trade policy which offers tax exemption for residents in border areas who import farm produce from Vietnam (8,000 yuan, or VND28.7 million a day).
Therefore, both Vietnamese and businesses prefer unofficial-quota trade. They import batches of farm produce across the border, collect small batches to create larger batches, and then carry to different localities in China for consumption.
According to the General Department of Customs (GDC), Vietnam exported $1.75 billion worth of vegetables and fruits to China in the first 11 months of the year, an increase of 3.6 percent over the same period last year, or 54 percent of market share. The market of 1.4 billion people is expected to continue to lead the top 10 export markets of Vietnam.
Tam An
As the total annual output of vegetables and fruits is 28 million tons, unofficial-quota exports and domestic consumption alone won't use up this amount.
The Ministry of Agriculture and Rural Development and the Ministry of Transport recently co-hosted a conference on promoting the export of agricultural products through maritime transport as a way of devising a proper mechanism for farm exports.