Everything now can be purchased online, from food for Tet parties to smartphones.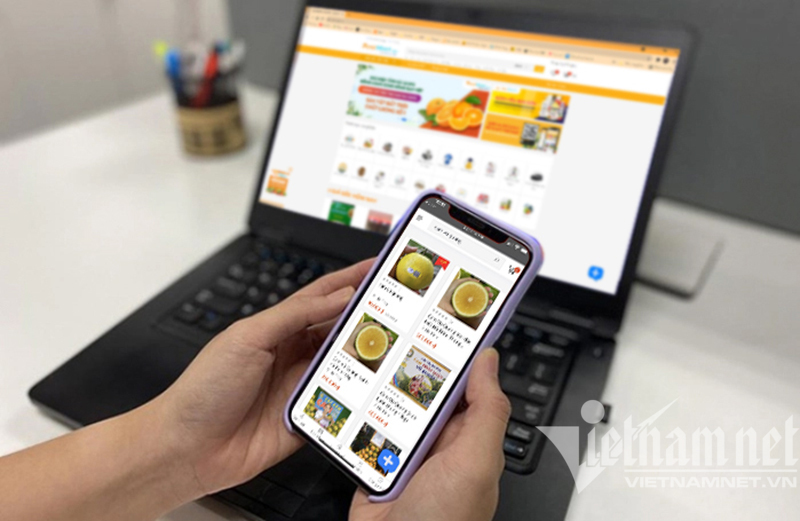 New habits
Nguyen Hoang Lan in Ha Dong district in Hanoi says she has begun buying food for the Tet as Lan and her husband host a lot of Tet parties every year.
She needs to store a large amount of food and thinks it will be better to buy things now, or shippers will be overloaded on pre-Tet days.
Lan said buying food is no longer hard work thanks to the appearance of marketplaces and shopping services. Products are displayed in e-commerce platforms. After some clicks, she can choose them and get deliveries at her home.
"Everything is available at the marketplace, from high-end imports to bunches of vegetables," she said, adding that she has been shopping online over the last two years since the pandemic outbreak.
Tran Thi Tam, 60, said she has got used to buying food via e-commerce platforms, though she is bad at using smartphones and technology products.
Pointing to a box of 5 kilograms of Cao Bang vermicelli, Tam said this is a favorite product of her family. In previous years, she had to ask a relative in Cao Bang to buy vermicelli and send her via post. But now she can buy it herself from e-commerce platforms. Thai Nguyen tea, Ca Mau fish and other local specialties can also be bought easily.
In the past, Hai Duong's farmers collected VND600 billion a year from litchis. But the figure soared to VND1.4 trillion in 2021, despite Covid-19 and lockdown, according to Hai Duong's Chair Trieu The Hung. This occurred after litchis were put on sale on online marketplaces, which allowed customers to buy what they wanted more easily.
Hai Duong farmers not only sold litchis in supermarkets but also on e-commerce sites, including Vo So, Sendo and Lazada.
Nguyen Phuong Nga, Business Development Director of a market analysis firm, said in the past, before the Covid-19 outbreak, one just looked at data to predict the tendencies for upcoming Tet. However, now, because of the pandemic, consumers' shopping behaviors and their habits have changed.
Covid-19 proves to be a golden opportunity for e-commerce platforms to develop as online shopping was the only alternative to buy essentials during lockdown.
A recent survey on consumers in Hanoi and HCM City found that entertainment activities will be more digitized. Online shopping is becoming a major shopping channel.
According to Lazada, consumers are buying things for Tet earlier than in previous years.
They bought clothes and cosmetics in November and December and fresh food and fruits during pre-Tet days.
Analysts agree that because of the pandemic, consumers have had to shop online and the new habit will continue even when the pandemic ends.
Sale campaigns
Realizing the high demand for online shopping, supermarkets and retail shops have promoted their own online sale channels.
Marketplaces have launched Tet sale campaigns. Postmart is boosting the sale of specialty food. Lazada is running a sale program, offering price discounts on millions of products. Meanwhile, Shopee kicked off a Tet sale program which will last until January 27.
Goods brands and supermarkets have joined forces with e-commerce platforms to boost sales. Mondelez KinhDo will provide 40 new products at over 200,000 sale points throughout the country, and on marketplaces such as Tiki, Shopee, Lazada and Grab.
According to Furuswa Yasuyuki, Aeon Vietnam CEO, people's shopping behaviors have changed because of the pandemic. They tend to attach more importance to convenience, prioritize buying products online and making payment in cash. Therefore, the retailer has used more staff to serve clients buying goods via phone, Aeon App and Shopee Food.
Petty merchants have also boosted sales via marketplaces, displaying Tet gift baskets on marketplaces such as Shopee and Lazada. The prices vary, between VND150,000 and VND850,000.
James Dong, CEO of Lazada Vietnam and Thailand, said it's now the time for brands and sellers to boost sales. However, marketplaces need to apply many measures to prompt people to access marketplaces to buy things. The logistics infrastructure capability has been upgraded, but it still needs further improvements.
A low proportion of Vietnamese products exist on online marketplaces. Less than 20 percent of products on marketplaces are Vietnam-made.
Tam An
The Covid-19 pandemic has turned out to be a golden opportunity for e-commerce platforms as online shopping was the only alternative to obtain essentials during lockdown.
Hundreds of tons of litchis were exported to choosy markets in May via Vietnam Post's e-commerce platform. This was the beginning of a logistics model specifically designed for farm produce.