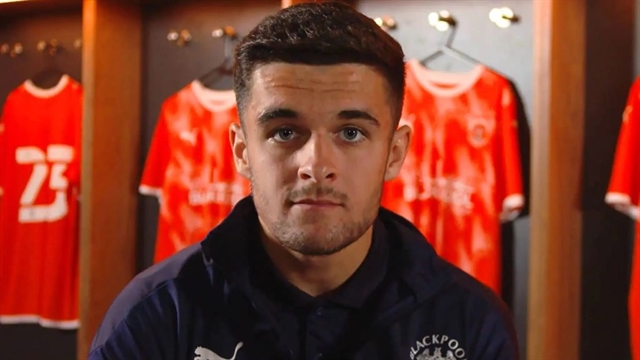 Jake Daniels of Blackpool FC this week announced he is gay. Photo courtesy of Blackpool FC
Paul Kennedy
As the football season draws to a close, there is so much still to play for, and talk about. The race for the Premier League is going down to the wire and while Manchester City are in the driving seat, there is still a slim chance Liverpool could pip them at the post.
The FA Cup was decided on penalties in favour of Jurgen Klopp's team, who are still chasing the historic quadruple. Liverpool face Real Madrid in Paris for the Champions League final a week on Saturday.
But despite so much going on, none of the above are the biggest and most important things to happen in the beautiful game this week.
Blackpool FC's young forward Jake Daniels came out as gay, the first professional footballer to do so in more than 30 years.
The 17-year-old is the first player of note to reveal they are gay since 1990 when Justin Fashanu did in an interview with a British newspaper.
Granted it was at the end of Fashanu's playing days but he was still the target of abuse from the football terraces.
In 1998, he took his own life.
In the years that have passed since then, not just football, but the world has changed dramatically. People today are far more sensitive than before, but this is still an incredibly brave decision that Daniels has made.
Right now, his career is at a very fledgling stage. He has played just once for the Blackpool first team but has been tipped to have a good future ahead of him.
I really hope he makes it as a professional footballer, and if he does, I hope beyond hope that football fans of opposing teams don't use his sexuality to poke fun and hurl abuse at the teenager.
Statistically speaking, Daniels is not alone. I believe there are many more gay professional footballers, many probably far bigger names than the youngster from Blackpool, who are fearful of revealing their sexuality.
When I first became a regular match-going fan back in the 1980s, supporters were on the whole pretty horrible. Not just of my team, but all teams.
The most abhorrent songs would be sung about tragedies like the Hillsborough disaster or the Munich air crash. I've even heard chants about the Holocaust directed at Tottenham Hotspur because of their historic connections to the Jewish community.
All insane and completely disgusting.
Football chants can be fun, clever and witty. I've heard some crackers, and most are taken in the spirit they are delivered.
But I do fear that maybe, there is still a minority of supporters out there who have no filters and will continue to abuse players because of their race, or in the case of the Jake Daniels, sexuality.
If that happens, football clubs need to act fast, root out those responsible and show them the door, keeping it firmly closed in the future and banning any individuals who overstep the mark forever.
From the point of view of Daniels, I think he is strong enough to take any abuse in his stride, and not only become a fantastic footballer, but also a great role model. — VNS