Driven by strong performance in 2021 from digital transformation, Vietnamese technology giants are betting on strong investment on the back of strong policy support to gain higher growth in 2022.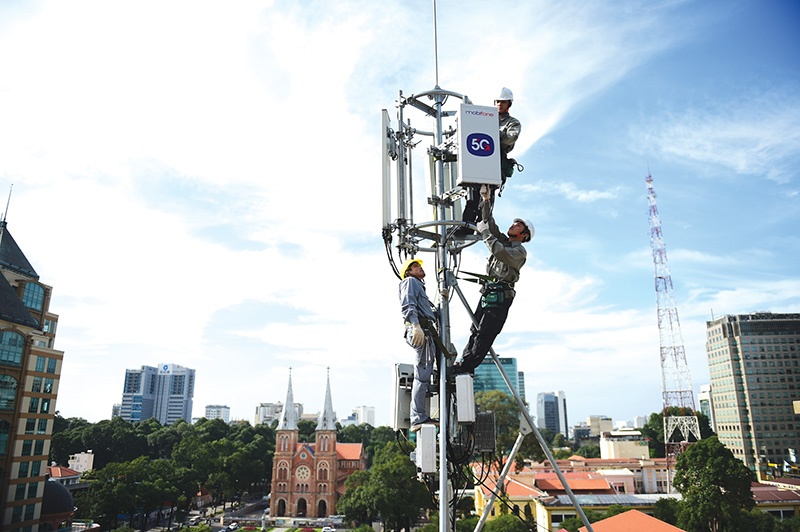 Vietnam is already well ahead of many other nations in 5G development.
The Ministry of Information and Communications (MIC) last week discussed the amendments to the Law on Telecommunications and the building of the Law on Digital Technology Industry in a move to further accelerate national digital transformation.
Nguyen Phong Nha, deputy general director of the Authority of Telecommunications under the MIC, said the amendment is important as the 10-year old law now needs to be revised to adapt to new technology trends, new business models, and development of new telecommunications infrastructure, as well as to attract private businesses in the field.
Earlier this month, MoC Minister Nguyen Manh Hung directed Deputy Minister Nguyen Huy Dung to focus on the building of the ministry's digital transformation plan and submit it within February, showing his strong determination to have a digital transformation attack this year.
According to the MIC, this year, investment in digital transformation among ministries, sectors, cities, and provinces will be strongly accelerated and further focused. Therefore, it is urgent for the ministry to build and issue guiding documents for the implementation, as well as evaluation criteria for digital transformation projects and to establish teams for post-inspection and supervision to ensure efficiency.
To this end, the MIC has gained governmental approval for the replacement of the IT, electronics, and telecommunications development programme by 2025 with the building of the digital technology industry development strategy by 2025, with a vision towards 2030.
Improving quality
The ministry will focus on development of made-in-Vietnam technology products, and digital technology businesses, and increase the application of digital technology in economic-social activities in 2022. Along with these, there will be promoting investment in research and production of devices to serve the commercial 5G rollout, boosting the development of the digital technology industry, and completing the enabling policy mechanism for ICT and electrical telecommunications.
In the sector's development orientation for the 2022-2024 period, the ministry defines that the completion and implementation of the digital technology industry development strategy is one of the seven key tasks of the ICT industry. In this period, the sector will concentrate on developing an ecosystem of digital technology businesses and improving the manpower quality by organising supply and demand connection activities; business connection; and building and updating standards for digital technology skills, thus keeping digital technology firms' contribution to the national GDP at 6-6.5 per cent in the period.
Experts said all the plans will strongly support technology firms in Vietnam in 2022 and beyond, creating more new opportunities and new development space for them. Technology giants like Viettel, MobiFone, Vietnam Post and Telecommunications Group (VNPT), and FPT Group are likely to benefit most.
Seeing great growth potential ahead from growing market demands and strong policy support, the giants are betting on better performance in 2022, investing more in digital transformation products and services.
For Viettel, 2022 is considered an important year to create a foundation for the performance of the 2021-2025 development strategy. The corporation aims to achieve high growth and focus on digital infrastructure and platforms while completing the research and manufacturing of high-tech products to serve market demands.
Likewise, MobiFone is determined to accelerate a digital transformation strategy in a comprehensive manner, contributing more to the national digital transformation, and economic recovery and development.
According to statistics from the MIC, the sector made a better performance in 2021. Vietnam had 64,000 digital technology businesses, up 5,600 from 2020 and 1,000 made-in-Vietnam ICT products and services. The ICT industry made revenues of $136.15 billion last year, up from $124.67 billion in 2020. Of that sum, those from Vietnamese firms was $18.78 billion, making up 13.8 per cent of the total.
Big results and plans
Viettel, VNPT, FPT, and MobiFone are among the best players thanks to their digital transformation-driven strategies. Viettel has gained the best business results in the industry, with total revenues of VND274 trillion ($11.91 billion) and a profit of VND40.1 trillion ($1.74 billion), respectively up 3.3 per cent and 2 per cent on-year.
Viettel's brand value also increased 32 notches to $6.06 billion, ranking 325th globally. It continues to be honoured as the best place to work in Vietnam's ICT industry. The group's smart city model is being widely deployed in 30 cities and provinces, while it is also contributing significantly to the development of intelligent transport with the ePass for electronic toll collection. Big improvements have also been seen in logistics and e-commerce.
Viettel also began to provide its Viettel Money service last year, and trialled 5G, becoming the only mobile network operator in the world to successfully produce a 5G network to serve the national digital transformation strategy.
Similarly, MobiFone reported positive business results last year with revenue of VND31.1 trillion ($1.35 billion), surpassing the yearly set target by 3.6 per cent, and a pre-tax profit of nearly VND5 trillion ($216 million). Its return on equity (ROE) was 17.47 per cent, a high rate compared to others in the industry.
Last year, MobiFone made a strong focus on technology solutions to support e-learning, e-office, the cloud, and payments. The group sought to operate with additional frequency bands to increase its 4G and 5G capacities. Moreover, it aims to participate in the National Digital Transformation Programme. MobiFone received a license from the State Bank of Vietnam in late 2021 to pilot mobile money services. The operator is also venturing further into advanced tech like big data, AI, and blockchain.
A representative of MobiFone said, "MobiFone's efforts and efficiency in business results were recognised in rankings by prestigious rating organisations. New digital products and services from MobiFone continue to reach the market and generate revenue, thus contributing to national economic growth."
Last year was also a successful one for VNPT and the leading IT service company in Vietnam, FPT Group. VNPT has focused on Vietnamese-made digital transformation initiatives, as well as completion of a national population database – one of the core systems to build towards a digital government, economy, and society.
VNPT also launched oneSME, a digital transformation platform for enterprises, together with an ecosystem of digital products and services such as SmartCA, eContract, and onBusiness. In an important milestone for venturing further into digital finance, last November it announced the pilot of mobile money services nationwide.
Ending 2021, VNPT enjoyed total revenues of over VND56.6 trillion ($2.46 billion), surpassing the yearly target by 3.4 per cent. Its profit also surpassed the yearly target. The group's ROE reached 10 per cent.
Elsewhere, technology continued to be a key to success for FPT last year. The group saw on-year respective rises of 19.5 per cent and 20.4 per cent in revenues and pre-tax profit. Of these, its revenue from digital transformation soared 72 per cent on-year, focusing on the cloud, AI, and others.
Driven by growth momentum, this year the MIC targets 70,000 digital technology businesses, revenues of the ICT industry to reach $148.5 billion; and a growth rate of 9.2 per cent.
Overview of ICT sector in January 2022
1. Post: January marked the peak month serving the Lunar New Year holiday. The segment's revenue and output grew 30 per cent on-year.
2. Telecommunications: Total telecom service revenue in January rose 3 per cent from the same period of 2021. The number of smartphone subscribers hit 91.32 million, making up 72.6 per cent of mobile phone subscribers, up 1.01 per cent on-year. The number of household fixed broadband subscribers increased 16.3 per cent on-year to 18.66 million.
3. IT application: The rate of online public services qualified to increase to Level 4 was 96.74 per cent.
– All cities and provinces completed the pilot connection with the national database on population and inhabitants to serve citizen information authentication service, thus promoting administrative reform and online public service.
– 54/63 cities and provinces have built and made updates on the E-Government Architecture, Version 2.0.
– 54/63 cities and provinces have built an IT application plan for 2021-2025.
– 52/63 cities and provinces have built a digital transformation programme.
4. Network information security: January solved 1,383 network attacks that caused problems in information systems in Vietnam, up 10.29 per cent on-year.
5. The ICT industry: In the first month of 2022, total ICT revenue was estimated at VND222.76 trillion ($9.68 billion), down 23 per cent on-year.
Source: Ministry of Information and Communications
Source: VIR
It's been two years since the Covid-19 pandemic turned the world upside down. The usual daily life is restricted, but that was the impetus for the new normal such as "no contact" and "social distancing" to appear.