The biggest amount of money that Nguyen Thuy Hien, a primary school teacher, working as a teacher for 28 years, has received for Tet was VND500,000.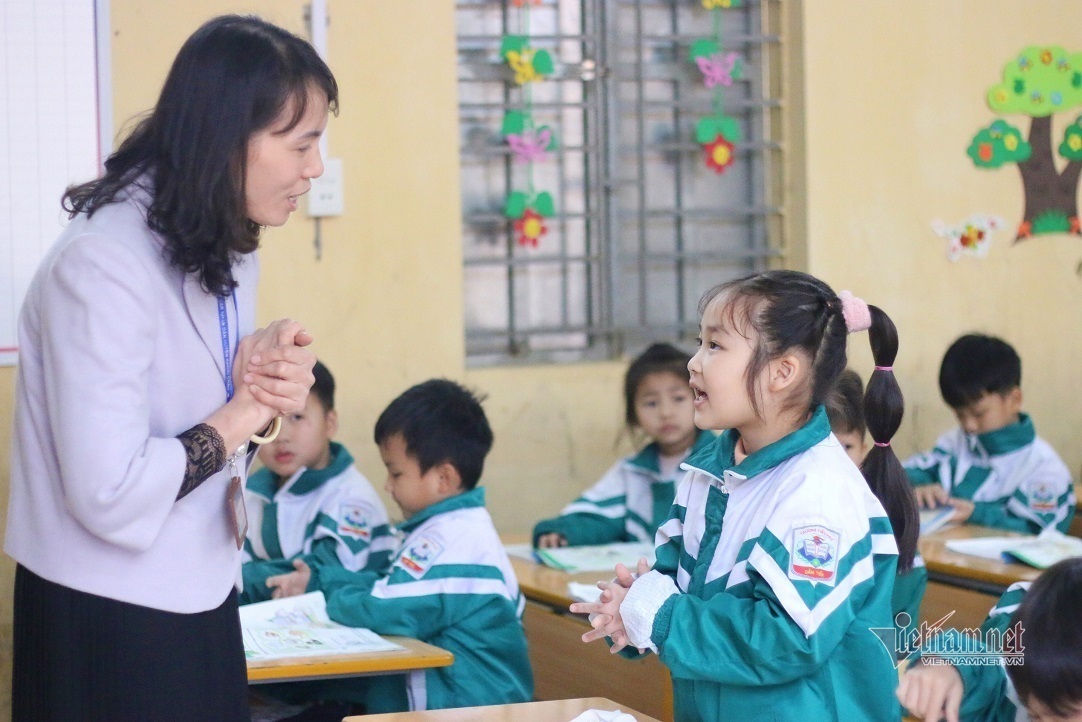 Graduating from a pedagogical school in 1994, Hien became a teacher at Dong Hung Primary School in Thai Binh. Over the last 28 years, she has never received a Tet bonus at this school.
"We are not expecting Tet bonus as we are used to not having one," Hien said.
In the first years of study at the school, each teacher received 1-2 kilograms of meat, or one kilogram of pork pies on Tet.
In the last 3-4 years, when Hien worked at another school, teachers received VND500,000 in support at year end, including VND200,000 from the trade union fund.
"The amount of money is explained as 'support' to teachers, but in fact it's from the union dues deducted from monthly pay to workers. The school also gives financial support to teachers, which comes from savings from school cleaning and tree care programs and other expenses.
To help teachers have more money to celebrate Tet, her school decided to deliver February pay before Tet.
"We are glad receiving the salaries for two months at once and have more money to celebrate Tet. But we also feel anxious as we still don't know how we will manage after Tet," she said.
With 28 years' experience, Hien receives VND9 million a month, which includes salary and allowance.
Hien envies her friends who said they expect Tet bonuses equal to one or two-month salaries. However, she knows that she is luckier than other young co-workers, who receive VND3-4 million a month only.
"VND3-4 million a month isn't enough to buy food for daily life, let alone Tet holiday," she said.
Mai Phuong, a teacher in Muong Te, Lai Chau, said she doesn't expect much of a Tet bonus. The largest Tet bonus she received over the last 14 years was VND1 million.
The school last year gave a Tet bonus to teachers based on their achievements. The highest bonus, VND1.49 million, was given to those who excellently fulfilled tasks, while those who fulfilled tasks got VND750,000.
She said the amount of money was just to boost teacher morale.
"In the years before last year, teachers never heard about a Tet bonus. Everyone received one wall calendar. Only teachers in difficult conditions could receive support of VND500,000.
"I want to buy food for my mother to celebrate Tet. But my salary is modest," she explained, adding that her family would spend Tet with her mother, 600 kilometers from the school.
Phuong said she dare not spend too much money, because she has to save money to pay for bus tickets to return to the school.
Ha Quoc Tuan, an arts teacher in Nam Dinh, is busy these days with extra jobs to earn money to celebrate Tet.
"I have never had Tet bonuses over the last 19 years, so there is nothing to expect this year," Tuan said.
But Tet holiday only comes once a year, so Tuan and his wife, who is also a teacher, have to take extra jobs to get money.
Tuan paints murals, while his wife sells sweets online.
"We have to fend for ourselves rather than rely on salary. Some colleagues of mine sing and play music at wedding ceremonies to earn money," he said.
The headmaster at a primary school in Hanoi said the Tet bonuses for teachers are much lower than other sectors.
"Public schools don't have official funds for Tet bonuses. The bonuses given to teachers are savings from some programs," she said, adding that the bonuses are very modest.
Meanwhile, the headmaster of a private school in Hanoi said the school "is making every effort not to cut salaries and bonuses this Tet".
Because of Covid-19, students haven't gone to school, which has seriously affected private schools. They have no revenue but have to pay for many items to ensure operation.
Thuy Nga
Thousands of teachers at private kindergarten schools across the country are struggling to earn a living after nearly seven months of closure due to the COVID-19 pandemic.