E-riding firms have raised taxi fares, and traditional taxi firms are expected to follow the move.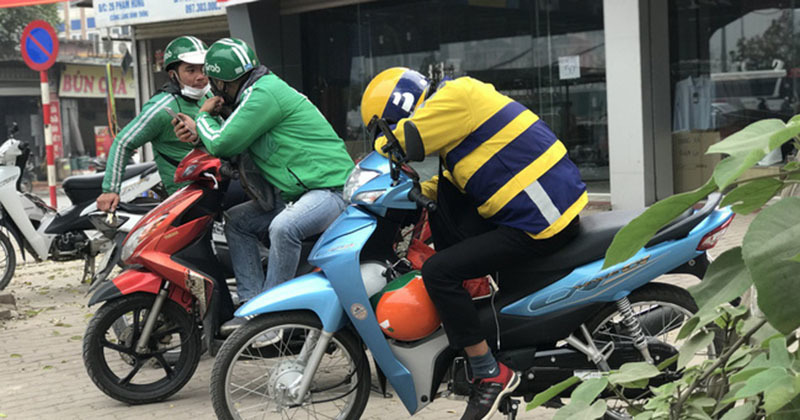 Hailing a car to the office on Monday, Thu Trang, an office worker in Hoang Liet, Hanoi, noticed a high fare, which was thought to be attributed to the rain, which had raised demand. However, the real reason was the jump in petrol prices.
Trang said the distance from her home to the office is six kilometers and she spends VND60,000-70,000 from home to the office. After Tet, the fare increased slightly to VND80,000-90,000 because of the increase in number of positive Covid cases, which led to a drop in the number of drivers.
But Trang had to pay VND140,000 on Monday and was warned that the taxi fare would increase further.
Trang was worried after hearing that Grab plans to raise the fare on March 10. "I could not believe that the fare would soar so dramatically. The high taxi fare will clean me out," Trang said.
"I may have to think of going to the office with a private motorbike," she said.
Using Grabcar service to take her son to school, Nguyen Thanh Mai in Ba Dinh district, Hanoi, also was worried about the taxi fare increase.
A trip to school costs VND80,000 which is shared between Mai and a neighbor, whose daughter is also a student at the same school. VND40,000 each day is affordable. However, she has been warned that the fare will increase as a result of the petrol price hike.
"The fare increases will burden us. My son goes to school and to private tutoring classes every day," she said.
Online shop owners are also concerned as shippers want higher fees.
"The shipping fee was VND30,000 previously, but now shippers demand VND40,000," Vu Hoa, the owner of a clean food shop in DongDa, said.
Hoa has hundreds of daily orders. The fee increases have affected her business as buyers are tightening their purse strings because fees are high.
Chat forums with shippers have also demanded a shipping fee increase of VND10,000-20,000, depending on the distance. A shop owner said some shippers even refused to cooperate with shops with a low number of daily orders.
Transport fee on the rise
Some e-riding firms have raised fares. Grab Vietnam has announced an increase in fees of all services, commencing March 10. The increase is necessary to help drivers have more opportunities to cover their basic needs and encourage them to better serve passengers.
Passengers using GrabBike in Hanoi will have to pay VND13,500 for the first two kilometers, VND4,300 for each kilometer after that. The figures are VND12,500, VND4,300 and VND350, respectively, in HCM City.
GrabBike service fees have also been raised in 30 other cities and provinces as well.
The latest fee adjustment Grab made was in late 2020.
Prior to that, Be, another e-hailing firm, announced a fee increase for beBike service, commencing February 10. Passengers pay VND14,000 for the first two kilometers and VND4,600 for each following kilometer instead of VND4,180. The fees for each kilometer of beDelivery remain unchanged, but passengers have to pay more for the first two kilometers – VND16,000 instead of VND14,500.
As for beCar service, the fare for the first kilometer is VND29,000 instead of VND27,000, and the fee for each subsequent kilometer is VND9,500 instead of VND9,350. The fee for each kilometer after the first 12 kilometers was raised from VND8,500 to VND9,000.
Traditional taxi firms are also considering raising taxi fares.
"If the state doesn't take measures to intervene in the petrol price, taxi firms will have to adjust fares," Nam, a driver, said.
In theory, taxi firms can raise the fare to cover the fuel cost, but don't want to do this. "High fares will force clients to restrict travel. If so, drivers' income will be affected," he explained.
Because of the previous lockdown, e-riding and traditional taxi firms had to stop operation at various times. They resumed operation in late 2021.
The Ministry of Finance (MOF) has proposed the reduction of the environmental protection tax by VND1,000 for every liter of petrol and VND500 for every liter or kilogram of oil. Meanwhile, the Vietnam Chamber of Commerce and Industry (VCCI) has proposed sharper tax cuts, VND2,000 for every liter of petrol and VND1,000 for every liter of oil and lubricants.
Duy Anh
The fuel price has been increasing over the last two months, dealing another blow to transport firms that have not recovered from Covid-19.
The Ministry of Industry and Trade (MoIT) has instructed agencies to ensure the supply of petrol amid tight supply.