Karate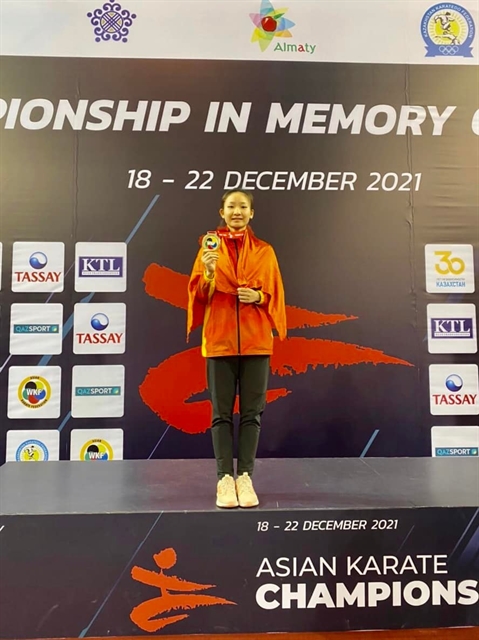 Hoàng Thị Mỹ Tâm poses with her gold medal at the Asian Karate Championship which closed on December 22 in Almaty, Kazakhstan. Photo of Việt Nam Karate Team
HÀ NỘI Hoàng Thị Mỹ Tâm won three gold medals for Việt Nam at the Asian Karate Championship which finished on Wednesday in Almaty, Kazakhstan.
Tâm, 18, grabbed her first title in the U21 Kumite Female U55kg category on Monday. In the final, won on a judges' decision after a 1-1 result in the official time against Thai fighter Namkhao Penpisut.
On Wednesday, she continued fighting in the Senior Kumite Female U55kg pool. The Vietnamese surprised all participants by beating Khaksar Taravat of Iran and Zakharova Sabina of the hosts to enter the final match. She then trounced Chinese Taipei's Ku Tsui-ping 7-2 to take her second title.
Later on, Tâm fought alongside Nguyễn Thị Ngoan and Hồ Thị Thu Hiền in the Việt Nam team taking part in the senior Kumite female team final where they defeated the UAE 2-1 to take the gold medal.
On their way to get the gold, they won 4-3 over Kazakhstan and crushed Iran 5-1.
"Tâm has been one of the best athletes of the tournament and her achievement is a special record of Việt Nam karate," said the head of Karate Department of the Việt Nam Sport Administration, Vũ Sơn Hà.
Tâm is a rising star of Việt Nam after she won gold at the Asian Junior Karate Championship in 2019 and gold at the Southeast Asian Karate Championship in 2018 and 2019.
Việt Nam also grabbed a bronze at the Almaty tournament as fighter Hiền finished third in the Senior Kumite Female U68kg class.
Việt Nam sent nine athletes to the tournament which lured nearly 472 competitors in both kata (performance) and Kumite (combat) events for cadets, juniors, and seniors.
With three golds and one bronze, Việt Nam placed No 6 out of 23 teams.
It is Việt Nam's first official international competition after two years of staying domestically because of the COVID-19 pandemic.
"After two years practicing without competing, our athletes, especially Tâm, have done a good job to bring home Asian gold medals," said national head coach Lê Tùng Dương.
"It is an amazing result of the team and would be a strong push for us prior to the 31st Southeast Asian Games next May in Hà Nội." VNS