The President of Kim Oanh Charity Foundation said that when entrepreneurs donate to the poor, they should not worry too much about other people's negative opinions.
On August 27, 35,000 Remdesivir doses imported from India arrived in Ho Chi Minh City. At that time, the Covid treatment drug was considered "more precious than gold."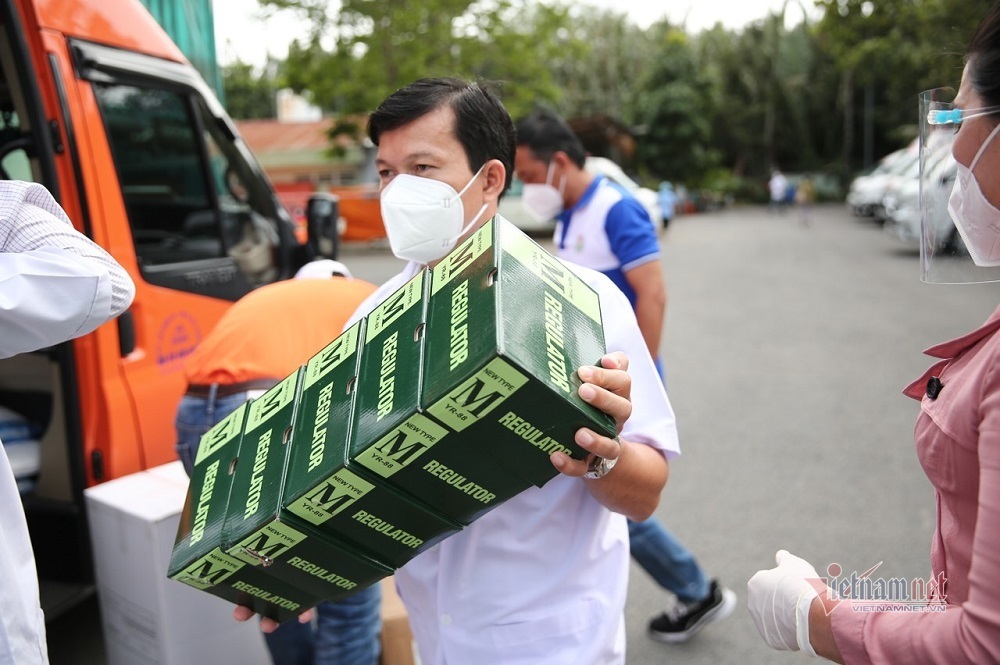 Remdesivir doses from Kim Oanh Charity Foundation were given to hospitals in late August 2021.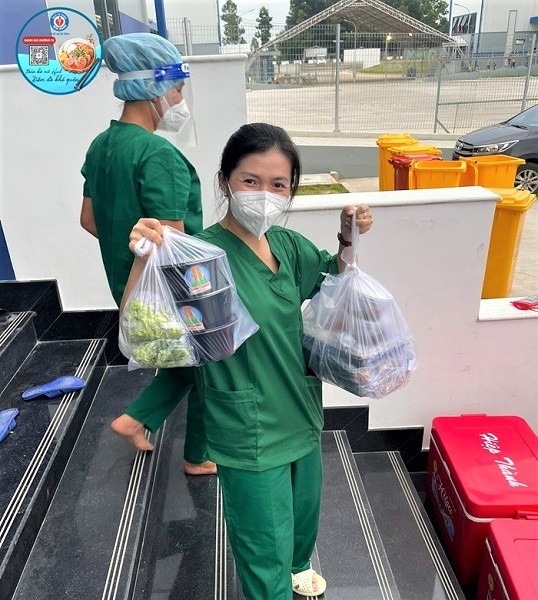 Doctors and nurses receive dishes of noodles and grilled pork.
Remdesivir is an antiviral drug approved by the US Food and Drug Administration (FDA) in October 2020. According to the Ministry of Health, due to Remdesivir's ability to shorten the time to recover in coronavirus patients, about 50 countries have added it to medical procedures for eliminating coronavirus. Remdesivir is considered one of the most difficult antiviral drugs to acquire.
Pictures of doses were sent from Kim Oanh Charity Foundation office to medical units. However, some local presidents did not believe that 35,000 Remdesivir doses were in Vietnam. Ms. Dang Thi Kim Oanh (the president of Kim Oanh Charity Foundation) called several hospitals to provide drugs, five doses for each patient on average, to Covid-19 patients as soon as possible.
On August 28, Remdesivir doses were transported to hospitals. Ho Chi Minh City, Binh Duong, and Dong Nai received higher numbers of doses than other provinces.
Mr. Cao Tien Dung, Chairman of People's Committee in Dong Nai, confirmed that the drug was not easy to purchase. It would be able to help many Covid-19 patients who were in critical condition.
Dr. Nguyen Lan Hieu, Administrator of Hanoi Medical University Hospital, was the administrator of Binh Duong Intensive Care Unit (ICU) Hospital at that time. He said that in this chaotic circumstance, 10,000 doses from the Kim Oanh Charity Foundation could be used for at least 2,000 patients.
"In late August, Remdesivir was the core drug in curing Covid-19 patients and Kim Oanh Charity Foundation managed to provide this valuable medicine for them," Dr. Nguyen Hoang Bac, administrator of Ho Chi Minh City University of Medicine and Pharmacy Hospital, said.
Sharing is caring
Ms. Dang Thi Kim Oanh helps to transport drugs to Dong Nai General Hospital in August 2021.
Besides 35,000 Remdesivir doses, almost one million doses for Covid treatment were conveyed to 11 provinces and medical facilities. All these doses were a part of Knock Out Covid (KOC) Program which was run by the Kim Oanh Charity Foundation.
From May 2021 to October 2021, this organization launched seven programs to cooperate with local authorities, doctors, nurses, and citizens in the fight against Covid-19 pandemic, such as donations of 400 tons of rice.
"I spent about one month in quarantine while working. My husband and my children suggest that I stay at home as there were many Covid cases in the local area. However, this motivated me to assist people around me and the local authority.
At that time, a person told me that, as the president of an enterprise, I should ship goods to other people to avoid risking my life. I said that when I saw doctors and nurses devoted themselves to curing their patients, I believed that I could help those patients," Ms. Oanh said.
As a businessperson, she admitted that whenever entrepreneurs participate in community services, they have to accept compliments or negative comments from others. Some people think that entrepreneurs are just taking advantage of community services to cover their illegal work.
Ms. Kim Oanh suggests that entrepreneurs should not take those negative comments into account. Those programs which were launched by Charity Foundation during the lockdown prioritized effectiveness and punctuality. She saw this as a responsibility to the authority and society.
"If I wanted to run a public relations exercise, I could have had only one program instead of seven programs, or I could have launched the program in Ho Chi Minh City, Binh Duong, or Dong Nai where my enterprises are located instead of several western provinces."
Tran Chung