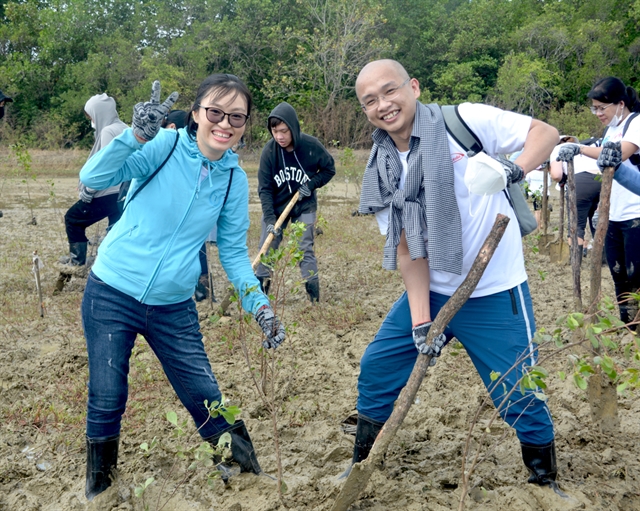 Takeda Vietnam staff plant over 500 mangrove trees in Cần Giờ Biosphere Reserve, one of nine biosphere reserves in Việt Nam. — Photo Takeda Vietnam
HCM CITY — Takeda Vietnam's staff planted more than 500 trees in Cần Giờ Biosphere Reserve, one of nine biosphere reserves in Việt Nam, located about 50km away from downtown HCM City.
In partnership with the non-profit technical-scientific organization – Gaia Nature Conservation – Takeda Vietnam's employees, families and friends had the opportunity to discover and experience the nature of Cần Giờ Biosphere Reserve.
This included learning about the adaptive strategies of mangrove trees and the various creatures that dwell in this forest, before donning garden gloves and wielding shovels to plant 500 young mangrove trees to help revegetate this location's natural habitat.
Mangroves play an important role in human life. As the "lungs" of HCM City, the Gaia Nature Conservation hosts rich biodiversity, with more than 600 species of plants and animals, including many endangered and endemic species such as Rhizophora apiculata, Bruguiera gymnorrhiza, Lumnitzera littorea, long-tailed macaques, monitor lizards, otters and large lying foxes.
"Risks to our nature intensify risks to public health. As a responsible corporate citizen, we have to do our part of protecting the environment and to continually reduce our environmental footprint to fulfil our purpose of 'Better Health for People, Brighter Future for the World,'" said Katharina Geppert, country manager, Takeda Vietnam.
Đỗ Thị Thanh Huyền, Gaia Nature Conservation's CEO, highlighted that Takeda's community contribution helps make the municipality greener and preserves the natural environment.
"Forest trees will help protect residential areas from floods, erosion, and soil pollution. The planted forest creates habitats for wildlife species, strengthens ecological values such as O2 generation and CO2 absorption, thus contributing to climate change mitigation and adaptation," said Huyền.
The tree-planting initiative is part of a commitment to environmental sustainability at Takeda and has been actively engaged in for almost 50 years, since establishing an Environmental Protection Committee in 1970.
As part of the Carbon Neutrality Commitment, Takeda achieved carbon neutrality in their value chain from the fiscal year 2019 and is aiming to become carbon zero in their operations by 2040, eliminating 100 per cent of their greenhouse gas emissions. — VNS