Hanoi continued to lead cities and provinces in the number of cars bought in 2021, followed by HCM City and Hai Phong. Nghe An province was among the top four car buyers.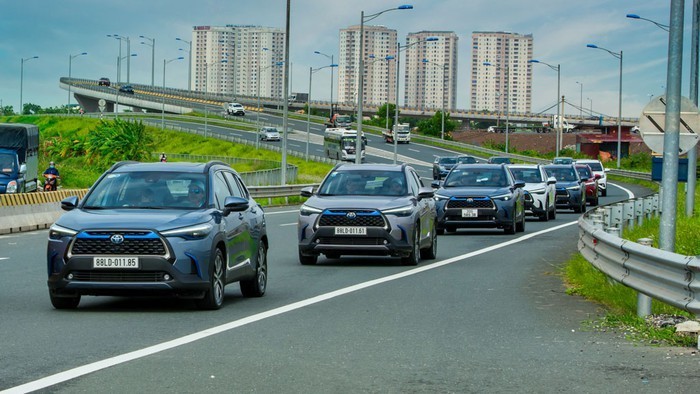 According to Vietnam Register, 318,704 cars with 9 or fewer seats were bought and registered for the first time in 2021. The figure included domestically assembled cars, brand-new and used imports, and gifts.
The leading brand was Toyota with 64,172 cars. The second position belonged to Hyundai with 56,028 cars. The third and fourth positions belonged to Kia (35,181) and VinFast (34,746). Meanwhile, Mitsubishi ranked fifth with 26,346 cars sold.
Hanoi was the city with the highest number of cars sold (50,928). HCM City, with 32,403 cars, ranked second and Hai Phong, with 16,996 cars, was third. The fourth position belonged to Nghe An with 14,628 cars while Binh Duong was in the fifth position with 11,096 cars bought.
The figures show that Vietnam is the fourth largest car market in the region, after Indonesia (887,202 cars), Thailand (759,119) and Malaysia (508,911).
The Covid-19 pandemic has had adverse effects on the automobile market. However, the number of cars sold in 2021 was still higher than in 2020 (296,634) and was just a little lower than 2019 (322,322).
Vietnam is the third most populous country in ASEAN, after Indonesia and the Philippines. While income is increasing, the car ownership ratio in Vietnam remains low. The General Statistics Office (GSO) in 2019 reported that only 5.7 percent of households nationwide had cars. The ratio is three times higher in cities than rural areas (9.5 vs 3.6 percent).
The Red River Delta is the region with the highest number of households with cars (7.5 percent). Meanwhile, there was no big gap among other cities/provinces. In the Mekong Delta, only 2.5 percent of households have cars. HCM City was not among the 10 cities/provinces with the highest proportion of households owning cars. The city, considered the 'country's economic locomotive', ranked 13th in the list of localities with the highest proportion of car ownership households.
However, analysts believe the Vietnamese automobile market has potential. Vietnam now has a new opportunity to develop its automobile industry. Fitch Solutions 2020 reported that Vietnam, Thailand and Malaysia are the most attractive retail markets to automobile manufacturers among emerging Asian countries.
Automobile market potential depends on three factors, including population size and structure; average income per capita and average number of cars per 1,000 people. In Vietnam, GDP income per capita is $3,000 per annum, while car ownership ratio is 32 cars per 1,000 people.
Vietnam has entered the motorization period with a rapid increase in the middle class, the major clients of cars. Regarding market size, it's expected that it will reach 800,000-900,000 cars per annum by 2025, surpassing Malaysia and even Thailand to climb to the second position in the region.
Vietnam aims to be a high middle-income country by 2030 and high-income country by 2045, so cars will be the common means of transport.
Nevertheless, according to the Ministry of Industry and Trade (MOIT), Vietnam's automobile manufacturing and assembling still cannot satisfy criteria to become a real manufacturing industry. The production lines only comprise four stages – welding, painting, assembling and testing. There is still no cooperation, association and specialization between automobile assemblers and car part producers, and no large-size network of material and car part suppliers.
MOIT said that car prices in Vietnam are nearly double that of other regional countries such as Thailand and Indonesia. The price gaps are even higher compared with countries with stable development such as the US and Japan.
The high prices of cars are attributed to high taxes and fees, and low output. Currently, enterprises are operating at far below the designed capacity.
Regarding the localization ratio, Vietnam set a goal of 40 percent by 2005 for cars with nine or fewer seats and 60 percent by 2010. However, the real ratio is just 10 percent now. TruongHai Automobile has a ratio of 15-18 percent, and Toyota 37 percent for Innova, lower than expected.
Meanwhile, the localized car parts have very low technology content, such as tyres, seats, mirrors, battery and plastics. The localization ratios are high in other countries, 65-70 percent. The ratio is 80 percent for Thailand.
Car imports continue to increase. In 2021, Vietnam imported 160,035 cars despite Covid-19, higher than the 105,000 cars in 2020 and 139,400 in 2019. Imports from Thailand and Indonesia accounted for 78 percent.
The Government has removed administrative barriers against CBU imports. The simple procedures, plus the preferential tariff of zero percent, explain the sharp import increases.
Under t he Comprehensive and Progressive Agreement for Trans-Pacific Partnership (CPTPP) and the EU-Vietnam Free Trade Agreement (EVFTA), Vietnam will step by step reduce taxes on CBU imports to zero percent after 6-8 years. As such, Vietnam will be fully open to large automobile markets, including ASEAN, China, Mexico and EU.
The luxury car market remains unaffected by Covid-19. Despite the pandemic, wealthy people still bought luxury cars. As many as 9,500 luxury cars, both domestically assembled and imported, brand-new and used, were imported in Vietnam in 2021, which accounted for 3 percent of the under-9-seat car market segment.
Mercedes was the most chosen brand with 4,621 cars sold, followed by Lexus with 1,677 cars. BMW ranked third with 934 cars, while Volvo was fifth with 850 cars.
Tran Thuy
A report on the competitiveness of the Vietnamese automotive industry released in late 2021 shows that in the 2017-2019 period, the top manufacturers of cars with less than 9 seats were foreign brands.
As many as 299,800 cars were domestically manufactured and assembled in Vietnam in 2021, a 9.1 percent increase compared with 2020, according to the General Statistics Office (GSO).