As more and more schools require IELTS and other English skill certificates, students are rushing to learn English while paying less attention to other school subjects.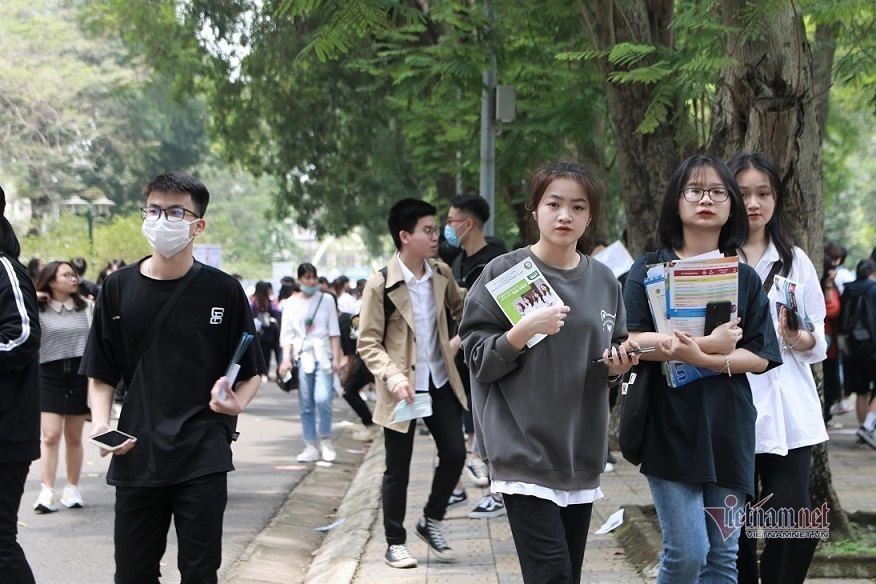 Some years ago, only a few schools required IELTS and other international certificates on English skills, but the number rose to over 60 schools in 2021.
Top-tier schools, including Hanoi Medical University and People's Security Academy, for the first time in the last enrollment season sought students with good English skills.
The students applying for the HCM City University of Technology can convert their IELTS score to English exam scores. The 6.0 IELTS score is equivalent to 10, 5.5 to 9, and 5.0 to 8. Meanwhile, 79 TOEFL iBT is equivalent to 10 and 46-47 to 8.
HCMC University of Technology and Education give direct offers (without having to attend entrance exams) to students with IELTS 6.0 and higher registering to study English Education and English Linguistics.
Rushing to learn English has become a hot topic on education forums. Some retired teachers have warned against the IELTS rush, saying that many students have good English skills but don't have basic knowledge designed for general education.
Headmaster of a high school in Hai Phong City said teachers at the school have found that students spend their time learning English while neglecting other subjects.
"The goal of high school students is tertiary education, so they have to study not only to get knowledge but also to take exams," he said.
"Top-tier universities want to select students who can meet standards to become global citizens," he said.
He disagrees with the view that students with an IELTS certificate are only good at English and bad at other subjects, and doesn't think schools requiring international certificates is problematic.
"Schools enroll students based on many factors, including their records at high school, high school final exam results, international certificates and achievements at national competitions, not only IELTS," he explained.

As more and more schools require IELTS and other English skill certificates, students are rushing to learn English while paying less attention to other school subjects.
The changes in high school final exam questions have led to changes in the final exam results. As the questions are now easier, more students can get high scores of 27 and 28. Therefore, schools need to set additional requirements to select best students. IELTS certificates are one of the requirements.
"The schools which cannot organize an exam themselves to select students can do it this way," he explained.
However, the educator acknowledged that the requirement puts many students at a disadvantage.
"I know many students who are very good at sciences but not good at English," he said, adding that it would be a big waste of talent if the students are not chosen by schools.
However, he said, there is no solution that can satisfy everyone.
He said the Ministry of Education and Training (MOET) should reconsider the high school final exams. "There should be both easy and difficult exam questions to classify students. This is the best way to find students with real abilities," he said.
Nguyen Thanh Chuong, Vice Rector of the University of Transport, denied that the new enrollment regime puts some students at a disadvantage.
He said schools apply many different methods to select students and set quotas for each method.
For example, if a school wants to enroll 100 students, it may select 50 students by considering their high school records, and 30 students by considering their high school exam results, and 20 students by considering their achievements at national competitions for excellent students.
No matter which method of admission applied, students have competition opportunities.
Pham Thai Son from HCM City Food Processing University noted that the students with good English skills have more opportunities to access documents and communicate with others.
The headmaster of a high school in Hanoi also supports international certificates as a plus when enrolling students. As Vietnam is integrating into the world, foreign language skills play an important role.
He doesn't think that students with high IELTS scores "just know English and nothing else".
"In order to obtain high IELTS score, they (students) must have good knowledge in many fields. I know some students who are both good at English and get high scores, 26-27 from high school finals," he said.
"Who will you choose, a student with high school final exam scores and bad English skills, or a student with a little lower exam scores but with good English skills?" he said.
He believes students at foreign trade and economics schools need to use knowledge in mathematics and English, not physics and chemistry, so enrolling students with IELTS certificate is a reasonable decision.
He advised students not to follow the crowd and apply for top-tier schools (University of Science and Technology; Foreign Trade University and National Economics University), stressing that students should choose schools that suit their abilities.
"If you are not really good at English, you can choose other schools which don't set high requirements for English skills and still can fulfill your dream of having tertiary education," he said.
Thanh Hung