Minister of Education and Training Nguyen Kim Son said that gradual reopening of schools is a necessity as Vietnam's vaccination rate is high, drugs for Covid-19 have been improved, and anti-pandemic conditions and people's awareness have improved.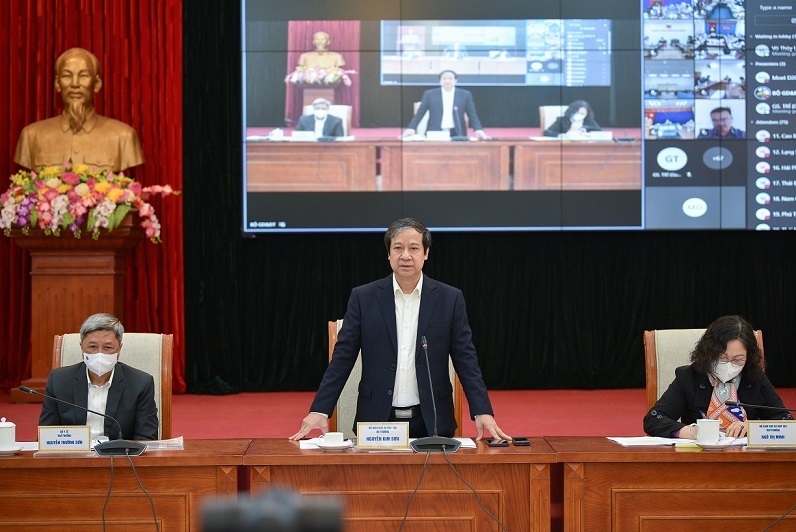 Minister of Education and Training Nguyen Kim Son
Also, localities now have more experience in pandemic prevention and control.
"With recommendations by international organizations and experience of other countries, it is now the right time to make decisions on reopening schools in a safe way," Son said.
Stronger decision expected
Deputy Minister of Health Nguyen Truong Son said at a webinar on January 19 that nearly 100 percent of people have had two vaccination jabs and the proportion of vaccinated students aged 12-17 is relatively high. Vietnam is among six countries with highest vaccination coverage in the world.
The Ministry of Health (MOH) agrees with the Ministry of Education and Training (MOET) on resuming offline teaching and receiving students back to school.
Son said that pandemic developments are complicated, but the educational sector needs to strive for a more proactive response.
"Online teaching helps maintain teaching and studying. But if online teaching lasts too long, this will affect the mind and body of both teachers and students. At this time, we have enough favorable conditions to make a stronger decision on welcoming students back to school," Son stated.
He asked local authorities and education departments to make preparations to receive students back to school, including secondary and high school vaccinated students and preschool and primary school unvaccinated students.
"I hope that localities obtain parents' cooperation in bringing students to school, especially parents of preschool and primary school students. This is the best solution for us," Son said.
He also asked local authorities to improve medical conditions and facilities to prepare for different scenarios.
"We need to be prompt and resolute to act. It's necessary to avoid extreme attitudes, either procrastination or neglect of anti-pandemic measures," he said.
Son noted that after a long period of being online, some teachers and students are afraid of offline teaching and learning. Schools need to restore students' attitudes.
Infection rate at schools low
Nguyen Thanh De, Director of Physical Education Department, said that reports all show low transmission rate at schools.
In HCM City, 98.48 percent of students from seventh to 12th grades have returned to school. There are 130 Covid patients out of 552,403 students, which accounts for 0.02 percent only.
In Bac Giang province, the province which suffered heavily from the pandemic, the transmission rate is also low. Two hotbeds with 132 Covid infected students were found during offline teaching at Ngo Sy Lien Primary School and 47 students with Covid at Dong Thanh Primary School.
Thanks to thorough preparation, the two hotbeds have been controlled.
Pham Quang Hung, Head of the MOET's International Cooperation Department, said according to UNICEF (the United Nations Children's Fund) recommendations and practices in many countries, schools close last during outbreaks and they are the first to reopen when an outbreak is controlled.
Even unvaccinated children are allowed to go to school. Singapore and Japan are stricter when checking symptoms, while Canada and the US ask for test results.
According to Hung, measures to ensure safety for students to return to school in Vietnam are the same as the rest of the world.
As of January 15, 2022, more than 6.5 million out of 7,213,883 students have had the first jab and 5.2 million the second jab, or 72.24 percent.
As for teachers and school officers, 1.22 million out of 1,494,618 have had the second jab and 422,519 the third jab (28.2 percent).
From April 27, 2021 to January 18, 2022, there were 130,014 Covid-19 cases in the whole educational sector.
By the end of January 18, 2022, 4,797 officers, teachers and students had been treated.
Offline teaching is being implemented at all education levels in 14 out of 63 cities/provinces.
Thirty cities and provinces are teaching offline, online and via TV.
Nineteen cities/provinces are teaching online and via TV.
According to MOH, the death rate is very small among people aged from zero to 17 (0.42 percent).
The representative of MOH's Environment Management Department suggested that students aged 12-17 should be allowed to return to school after Tet (early February).
Thanh Hung
Prime Minister Pham Minh Chinh has requested the Ministry of Education and Training to consider reopening school to children nationwide at the earliest possible time after months of closure due to COVID-19.
About 150,000 students in grades 9 and 12 in Ho Chi Minh City returned to school after seven months studying online because of the Covid-19 outbreak.