Luu Nguyen Nguyet Minh is working on sustainable solutions to help solve Mekong Delta's problems.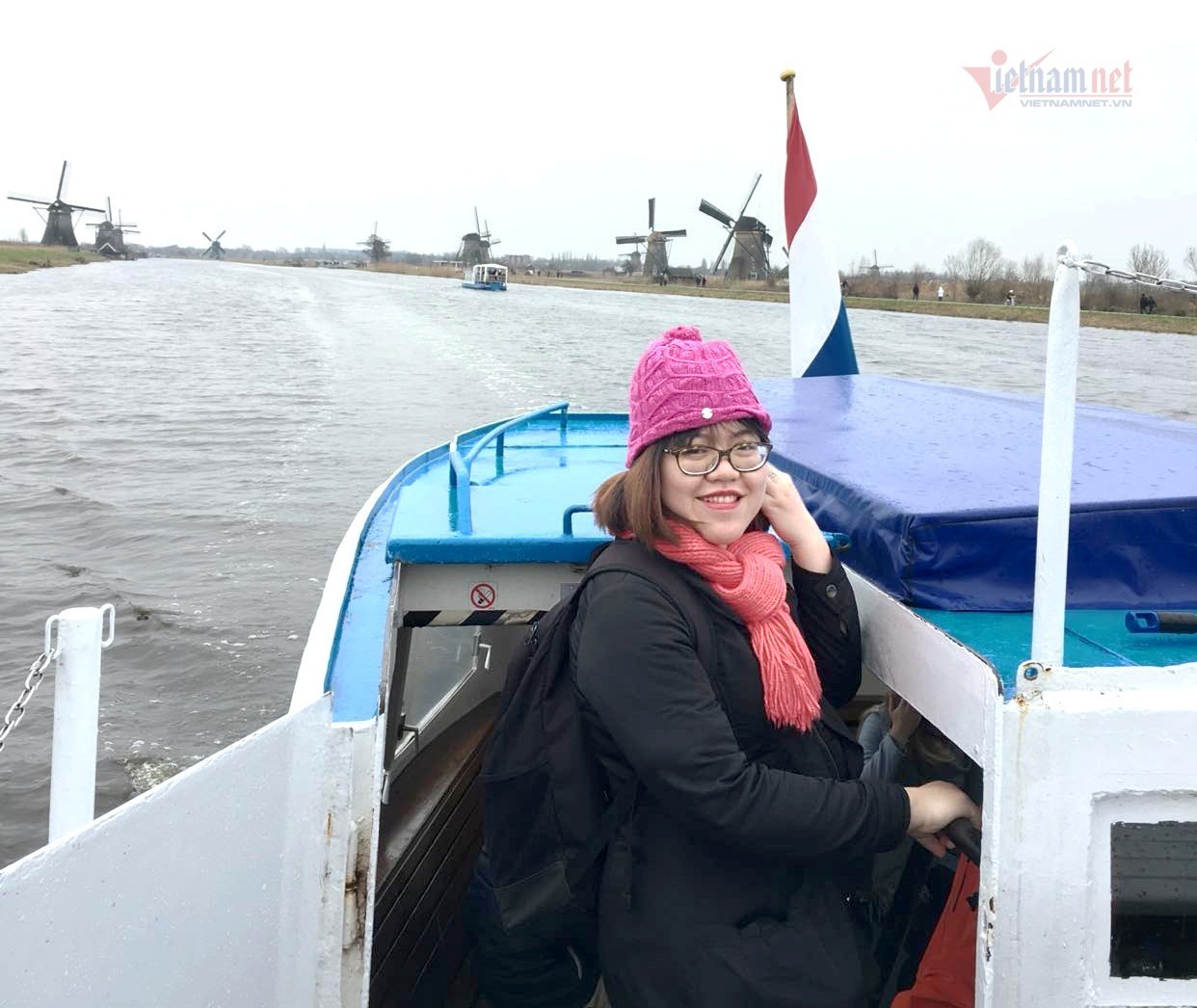 Luu Nguyen Nguyet Minh wants to 'save' Mekong Delta
Minh was born in 1996 and grew up in Can Tho. After graduating from the Ly Tu Trong High School for the Gifted majoring in literature, Minh studied tourism management at Can Tho University. However, she always had a special concern about the lack of fresh water for daily life because of saline intrusion in the Mekong Delta.
When she was in third year at university, she won an Erasmus Mundus scholarship to study in the Netherlands under a student exchange program.
The Netherlands has similar characteristics with Vietnam's Mekong Delta. Both are located below water sea level. However, I was impressed that they have ensured water supply there. When I was in the Netherlands, we could drink water directly from the taps," she said.
"In the Mekong Delta, fresh water is seriously lacking, let alone clean water. It's the question I could not find the answer to," Minh said.
In 2018, Minh became a volunteer at the event organized on the occasion of the 45th anniversary of the Vietnam-Netherlands diplomatic relations. She had the opportunity to talk to the Dutch Vice Ambassador Pauline Eizema, who helped connect Minh with the manager of the project on "water supply towards climate change adaptation" in southwest Mekong Delta funded by the Dutch Government.
Minh is still working on the project.
Minh said she lacked basic knowledge on the issue. At seminars, when hearing experts' warning that the Mekong Delta may sink in dozens of years, she thought it sounded too vague but after considering figures and doing field work, Minh realized that it was an urgent matter. Areas in the Mekong Delta such as Hau Giang and Soc Trang are affected by saline intrusion and land subsidence.
The rapid subsidence is attributed to the excessive underground water exploitation, and climate change is due to rising sea water level. The entire Mekong Delta could eventually be submerged under water.
The Government is making efforts to restrict underground water exploitation in the Mekong Delta, but still cannot find sustainable alternative water supply sources.
That is why Minh wants to continue to have in-depth study on the issue to find more solutions and connect foreign enterprises which can give support to Mekong Delta. She became more determined to do this after being encouraged by the project coordinators.
In early 2021, Minh obtained a full Chevening scholarship from the British Government. This is a great opportunity for her to learn about project management in a sustainable way, and water supply and climate change.
She has decided to study project management at Cardiff University in Wales. She believes that she can learn how to set up a project and deal with the issues related to climate change there. She also hopes she can connect companies in Wales and local water companies.
"What I am striving for is learning how to set up an international cooperation project to build a water treatment plant using advanced technology to process sea and fresh water plant, while using renewable energy to operate the plant to reduce the carbon discharged into the environment. This will help solve the problem of saline intrusion and land subsidence."
Thuy Nga
After completing a master's program in South Korea, Nguyen Van Giang won a scholarship to study for a doctoral degree in computer science at Auburn University with the financial support of $80,000 per annum.
After graduating from Wellesley College majoring in biochemistry, Trinh Mai Chi, with impressive research achievements, has won a full scholarship to study at Johns Hopkins, the world's leading medical university.