Having to get up before dawn to help his mother with housework and tutor his younger sister, the 12th grader at Hung Yen High School still spends 8-12 hours a day to learn his lessons.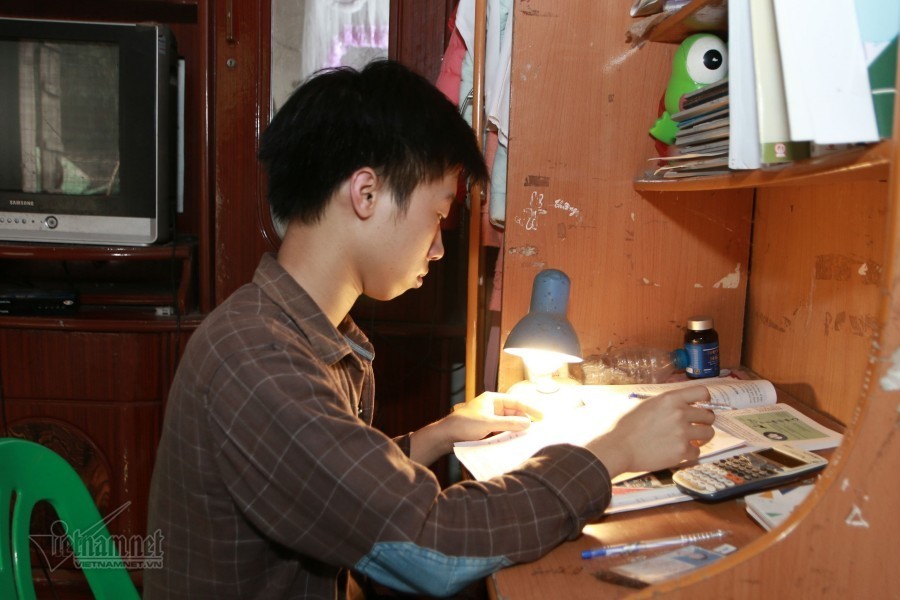 Pham Van Thong
As a member of the provincial team of students attending the national competition in the 2020-2021 academic year when he was in the 11th grade, Pham Van Thong is well known not only for his special family conditions but also his constant efforts.
Thong's father is mentally disabled and the mother suffers from epilepsy. The couple's children are dutiful and well educated.
Well aware of his condition, Thong always told himself to make every effort to help his parents. And his great efforts have been rewarded: he was chosen to be a member of a team of students to represent Hung Yen province at the national competition for excellent students in mathematics in March, 2022.
Thong is now in the 12th grade. The curriculum is relatively heavy, and Thong has to review for the high school finals as well as the national competition. He feels it is bit inconvenient studying online and communicating with friends and teachers. However, for Thong, it is not too difficult.
"I learned math for 12th graders last year when preparing for the national competition, so math and natural sciences are not difficult subjects for me," he said.
However, he feels some pressure as he wants to apply to Hanoi Medical University, which always sets very high exam score benchmarks, and the competition among candidates is stiff.
"I spend 7-8 hours a day studying according to the school schedule. In the evening, I study on my own," he said.
Quy, his mother, said she never has to urge her son to study.
"He arranges time himself to both study and do housework," she said.
Though studying costs him 50 percent of time of a day, Thong still has time to help his parents with housework. He gets up very early, helps his mother harvest vegetables and take them to the market for sale, and prepares breakfast and lunch for the entire family.
He goes to bed at 10pm, sometimes at 12pm, and gets up at 6am or 6.30am. Thanks to his efficient scheduling, he has enough time for all the work, including tutoring his sister.
Donations from the public
The family income comes from the seven sao (1 sao = 360 sq m) of field where they grow vegetables. The most valuable assets of the family are an old TV set and a smartphone which Thong and his sister use to study online. The doors are made of bamboo blinds and wooden slats.
In April 2011, a article about the schoolboy in Di Che, Tien Lu in Hung Yen province who overcame adversity to gain impressive learning achievements caught public attention. Many readers sent him valuable gifts via VietNamNet.
Thong said thanks to support from VietNamNet readers and benefactors, his house has been upgraded.
"With the support, we could buy some more things for our home. The daily life has improved somewhat. I am grateful to the benefactors," he said.
Over the last 12 school years, Thong never allowed himself to be defeated by his difficult conditions. He was among the students gaining the highest scores for entrance exams to Hung Yen High School for the Gifted. He spends one hour a day going to the school.
"I thought my going to school would be a burden on my parents. However, the difficulties turned out to be a motivation for me to try harder in my studies and come closer to my dream," he said.
Phuong Thu
Tran Duong Chinh, a 12th grader majoring in physics of the Hung Vuong High School for the Gifted, has become the first student from Phu Tho province to win a gold medal at the European Physics Olympiad (EuPhO).
Nguyen Trong Hieu, PhD, senior researcher and lecturer in solar energy at Australian National University, is a Vietnamese national.