A spice made of aromatic grass and ant eggs can only be found in GiaLai and five-color vermicelli in CaoBang are among the unusual products that can be found in Vietnam.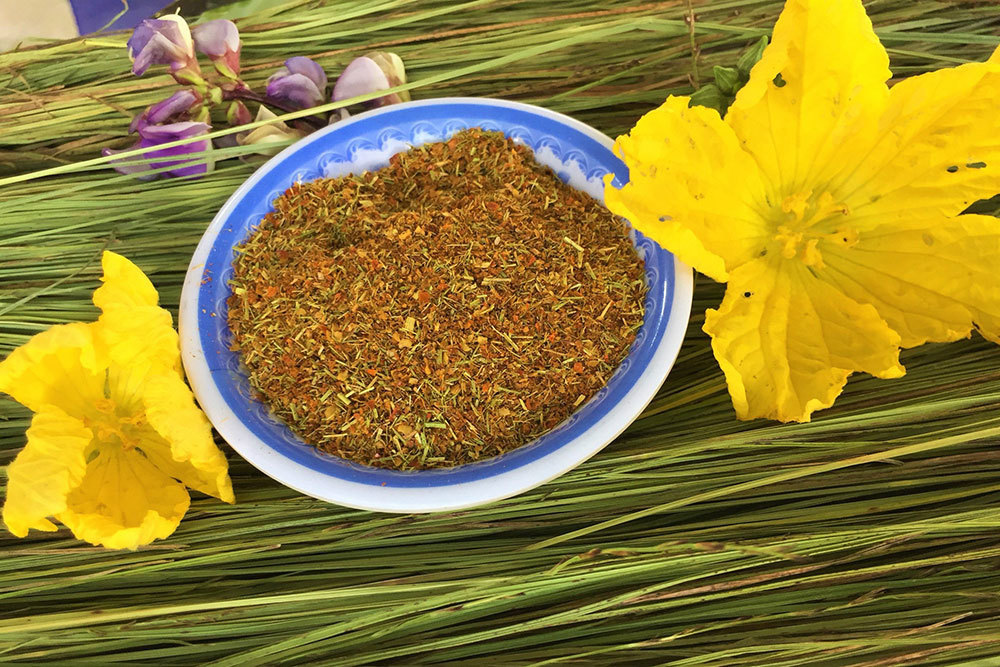 Spice made of aromatic grass and ant eggs
1. Gia Lai is not only famous for coffee, but also for original specialties which cannot be found elsewhere. One of them is mixed salt made of herbs and ant eggs.
The herb used is aromatic and pungent. It is rarely seen. It only appears once every several years and can be found only in humid forests with cold weather. The province is also famous for ant salt, which is made of ant eggs and ant carcasses, which gives special flavor.
2. Five-color vermicelli is made in Cao Bang. However, people throughout the country buy the vermicelli for their Tet parties.
The vermicelli is created from rice and natural materials, including maize, la chum ngay (Moringa oleifera), hoa dau biec (Butterfly Pea or Clitoria ternatean), la cam (magenta plant, or Peristrophe bivalvis (L.) Merr., syn. P. roxburghiana) and gac (Momordica cochinchinensis). The combination creates vermicelli with many different colors.
Five-color vermicelli is sold for VND50,000-70,000 per kilogram, which is much higher than normal vermicelli, but it is still a favorite thanks to its colors and special taste.
3. Nguyen Tan Dat in district 3, HCM City, is famous for miniature models of
There is a certain selection of dishes that almost every family will have on Tet or Lunar New Year.
traditional dishes he makes from clay. Some years ago, Dat created a collection of 200 traditional dishes of the southern, central and southern regions for Tet.
Dat has created a new collection of Vietnamese traditional mut Tet (dried candied fruits) so as to 'arouse the ancient taste of Tet'.
4.Tuc Tranh commune, which has one of the four most famous tea growing areas of ThaiNguyen province, is the home of many experienced tea makers.
Tuc Tranh tea is 'absolutely clean', with no plant protection chemical residues, and thus is valuable.
In the commune, many people use manure to grow tea plants with chicken eggs and honey. The effects of the method were once doubted, but people later acknowledged the high quality of the tea fed with eggs and honey.
Since the tea is unique, the selling price is sky high, VND23-25 million per kilogram. Some households there said they can make 3-5 kilograms of tea with premium quality with the method.
5. The Yin and Yang Market in XuanO Village in Bac Ninh City is held only once a year, at night of the fourth day of the Lunar New Year. The market day was organized based on the belief that yang people go to the market with yin people. The people at the market don't talk and laugh loudly because they believe souls would be frightened. They also don't light lamps because chickens would crow, thus harming souls.
The special feature, however, of the market is that buyers and sellers don't haggle about money or count money.
Go Market in Tuy Phuoc district in Binh Dinh also convenes only once a year, on the first day of Lunar New Year, but it attracts tens of thousands of people who come to buy things to try their luck. The products displayed at the market are mostly created by locals. Sellers at the market don't overcharge people and buyers don't haggle about prices.
6. For many years, the people of ChanhTrach1 and 2 in My Tho commune of Binh Dinh province take pride in their unique wax gourd which are original and very large. Each gourd weighs up to 40-60 kilograms. According to Dan Tri, no scientist can explain why the gourd is so big.
The growers believe it is because of the special soil conditions and their 'cultivation know-how'.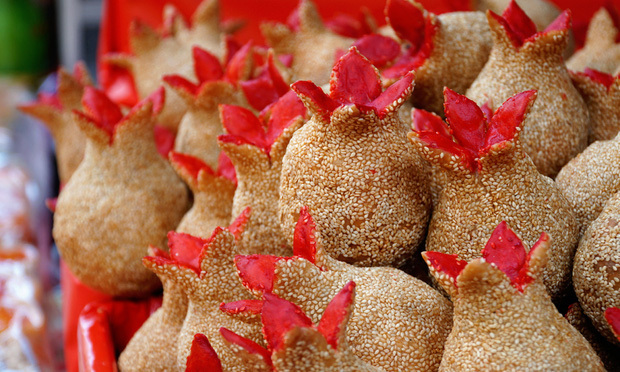 7. Nguyen Xuan Ha in Ha Dong district of Hanoi, owns 70 fans that are 50 to 80 years old. Ninety percent of the fans bear famous Japanese brands, while the others are from European countries.
His collection includes a Mitsubishi fan weighing up to 40kg, with the height of nearly 2 meters and wing diameter of 40cm, and a Toshiba 4-blade fan.
8. Le Thi Buu, a farmer in Quang Nam, owns six immaculate white buffaloes. This is the largest white buffalo herd in the province.
The white buffaloes raised by Buu's family has a very special pinkish-white color. They have large legs and go quickly, so their plowing capability is good.
9. In HCM City, there is a kind of special cake sold only once a year on Tet days called 'banh cau duyen' (cake for praying for good chance in love).
The cake originated from Guangzhou, which was sold by Chinese people in Cho Lon area 30 years ago.
The main ingredients are rice flour, and in some places flour and malt are used to make the crust. The filling consists of roasted peanuts, sticky rice, lotus seeds and malt sugar.
10. In Vietnam, bamboo roots are considered waste and are used as firewood only. But Tran Van Hung in Quang Nam creates handicrafts from the bamboo.
One day, when splitting bamboo to make a house, he saw bamboo roots with special shapes and decided that to turn the roots into fancy objects. To date, he has created hundreds of bamboo products of different sizes and shapes.
Hanh Nguyen
In Vietnam, there is a village where villagers like eating soil. Earthen lumps are smoked and cut into small pieces like cookies and considered a specialty.
There is a certain selection of dishes that almost every family will have on Tet or Lunar New Year.