On Dong Van Stone Plateau, peppermint trees bloom only once a year. But this is enough for local people to earn hundreds of billion of dong when releasing bees to suck flower nectar.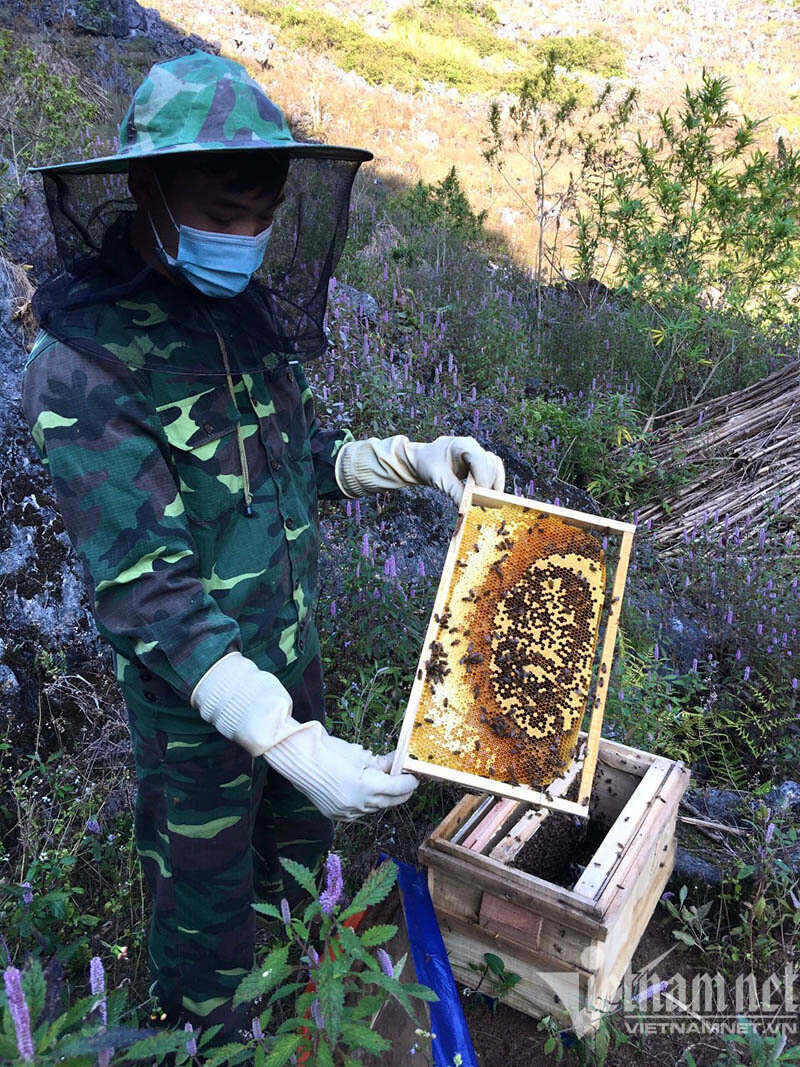 Hung Thi Loi in Pho Bang Town of Dong Van district said her family is raising 300 groups of bees. Mint flowers are now in full bloom, which allows a kind of lemon yellow honey with delicious taste that no other kind of honey has.
Peppermint trees grow in the wild on Dong Van Stone Plateau and bloom only once a year. The bloom season lasts from October and ends in February.
Loi said the conditions are favorable this year, so the flowers are blooming well. She expects to collect 1,500 liters of honey. She doesn't have to worry about distribution as businesses are responsible.
With the current market price of VND500,000 per liter, Loi can earn VND750 million from the peppermint season.
Nguyen Van Vinh, Deputy Director of Ha Giang Farm and Forestry Product Cooperative, one of the biggest bee raising facilities in Yen Minh district, with 600 groups of bees, said he has harvested three times, 250-300 liters each time. His family expects to produce 2,000 liters of honey this season, worth VND1 billion.
Hoang Van Nhi, Director of HaGiang Pharmacognosy JSC, said the company is raising 1,500 groups of bees in Tia Chi Dua, Can Chu Phin and Lung Pu (Meo Vac, Ha Giang), the three areas with a high density of peppermint trees and high quality nectar.
The days in mid-December are the busiest of the year for Nhi and his workers. They work at full capacity to take care of bees and produce honey.
Nhi said the peppermint flower season lasts several months, and the quality of honey is different, depending on the time. In the first round, when peppermint trees begin blooming, the quality is not high because of impurities. This honey is priced at below VND500,000.
From the second to the sixth rounds, when peppermint trees are in full bloom, he can produce honey with highest quality, which can be sold at VND800,000-1 million per liter. The honey from the final rounds has lower quality.
Nhi is happy because of good flower season this year, which promises a bountiful crop of honey. With 8,000 liters of honey, he expects to earn VND6 billion.
With over 2,000 groups of bees raised on the Dong Van Stock Plateau, Tran The Cuong, Director of Ha Giang Panax Pseduoginseng JSC, estimates that the company can produce 10,000 liters of honey, worth VND7 billion.
"A lot of peppermint honey has been ordered for Tet gifts," he said.
Peppermint honey is a specialty of Ha Giang, mostly in the districts Meo Vac, Dong Van, Yen Minh and Quang Ba.
T. An
People always think of the H'mong King Palace, Dong Van Old Quarter and Cao Street when they think of outstanding architectural works in the Dong Van Karst Plateau in the northern province of Ha Giang.