High-profile FLC Group chairman Trinh Van Quyet would have enjoyed illicit perks worth over VND530 billion if his sale of 74.8 million FLC shares had not been cancelled in January for his failure to disclose information prior to the transaction.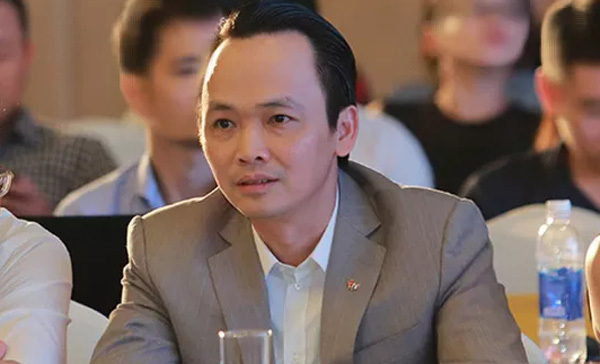 Trinh Van Quyet. – Photo: NLDO
Between December 1 last year and January 10, Quyet directed his associates at FLC Group, BOS Securities Co. and other affiliated businesses to use 20 stock trading accounts of 11 organizations to frequently sell and buy FLC shares, interfering with the free and fair operation of the stock market and creating artificial supply and demand, according to Ministry of Public Security investigators.
The practices pushed the price of the FLC stock up, the local media reported.
The group of these disguised investors traded a total of 28 trading sessions, with the registered purchase accounting for 12% of the market's total trade volume and the registered sales representing 7% of the total.
The artificial supply and demand acted as a lever to inflate the price of FLC shares from VND14,650 per share to VND24,000, jumping by over 60%.
After the hike in the price of FLC shares, Quyet directed his relatives to sell 175 million FLC shares and sold 74.8 million shares at VND22,586 per share. Quyet earned some VND1.7 trillion from the sale and enjoyed illegal perks worth over VND530 billion. However, he did not disclose the information as required by the relevant regulations.
The Hochiminh Stock Exchange canceled Quyet's sale of 74.8 million FLC shares on January 10 following a request from the State Securities Commission of Vietnam (SSC).
On January 18, SSC fined him VND1.5 billion and banned him from trading for five months.
Last night, March 29 Quyet was detained on alleged charges of stock market manipulation.
Founded in 2008, FLC Group specializes in the real estate, securities, education and aviation sectors.
The group, which has 15 subsidiaries and two affiliated companies, was chaired by Trinh Van Quyet holding over 215 million shares, or an over 30% stake. Bui Hai Huyen serves as the general director and the legal representative of the group.
Source: Saigon Times
The FLC ecosystem is not large in scale and has a small influence on the market. Bamboo Airways of FLC has insignificant impact, but it has been operating effectively.
The Ministry of Public Security's Investigation Police Agency on March 29 decided to launch criminal proceedings against and arrest Trinh Van Quyet, Chairman of the FLC Group, pending investigations into suspicion of stock market manipulation.