2021 was a prosperous year for steel manufacturers with profits increasing sharply compared with the year before. However, some manufacturers had poor business.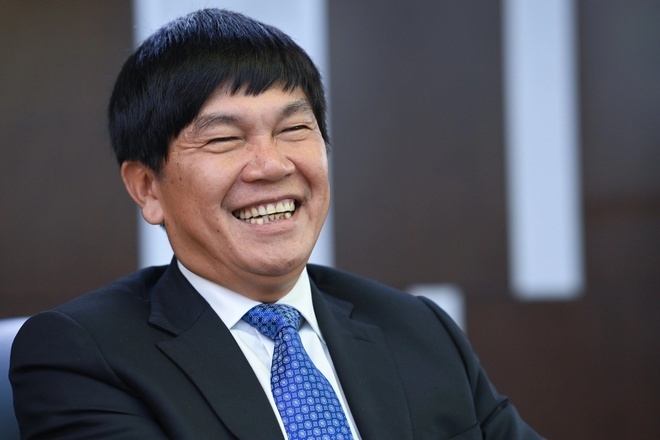 Tran Dinh Long, Chair of Hoa Phat Group
Hoa Phat Group (HPG) has released its 2021 finance report which shows that the steel manufacturer for the first time obtained net profit of VND34.520 trillion. In the fourth quarter of 2021, Hoa Phat obtained revenue of VND45 trillion, an increase of 73 percent, and post-tax profit of VND7.4 trillion, up by 59 percent over the same period last year.
In 2021, its accumulated revenue reached VND150.8 trillion, up by 62 percent over 2020, while post-tax profit increased by 1.56 percent.
The finance report of Hoa Sen Group (HSG) showed that in the first quarter of its 2021-2022 fiscal year, the revenue reached VND16.934 trillion (it was VND9.099 billion in the same period of the 2020-2021 fiscal year), an increase of 86 percent, while post-tax profit was VND638 billion, an increase of 11.5 percent (it was VND572 billion). Of this, domestic revenue accounted for 17 percent, while exports brought turnover of VND28.329 trillion, or 2.8 times higher than the same period of the previous year.
Nam Kim Steel (NKG) has also reported increases in revenue and profit, reaching VND8.78 trillion, while the gross profit was VND1.058 trillion, three times higher than the same period of 2020. In 2021, the accumulated profit reached VND28.173 trillion, or 2.5 times higher than the same period of the year before. By the end of 2021, Nam Kim had made a post-tax profit of VND2.225 trillion, or 7.5 times higher than the same period of the year before.
The good business performance of steel enterprises caused steel share prices to increase sharply in 2021. Hoa Phat shares saw prices soar by 75 percent, Nam Kim shares by 264 percent and Hoa Sen by 110 percent.
However, while big players in the steel industry reported significant profits, some others were bogged down in difficulties.
Vietnam-Italy Steel JSC obtained VND5.821 trillion in revenue, an increase of 43 percent over the same period last year. However, its post-tax profit reached VND132 billion. The post-tax profit in 2020 was also modest, just VND30 billion.
As of December 31, 2021, the total assets of Vietnam-Italy Steel had increased by 4 percent to VND2.998 trillion. Of this, short-term receivables had reached VND941 billion, up 20 percent; and inventories VND1.303 trillion, up by 59 percent. Total liabilities also increased by 11 percent to VND2.602 trillion.
Prior to that, on January 18, the shareholders' meeting of Vietnam-Italy JSC approved the cancellation of the public company status and delisting of all shares of the company at HOSE (HCM City Stock Exchange).
Meanwhile, Song Hong JSC, a subsidiary of Song Hong Corporation(SHG), is following procedures to be dissolved after many years of taking losses. In 2009-2011, the steel manufacturers reported losses with an accumulated loss of VND218 billion in the three years.
The H1 2021 finance report of the company showed that total investment capital of SHG in Song Hong Steel was VND102 billion. If Song Hong Steel declares bankruptcy, this means that SHG will lose the investment worth VND100 billion.
In the case of SHG, though the enterprise has total assets of over VND1 trillion, its business is not satisfactory. SHG reported losses in 2015-2020.
The enterprise has not released its H2 finance report yet, but it may witness another year of loss after reporting a loss of VND27 billion in the first half of 2021.
Meanwhile, Tisco (Thai Nguyen Iron and Steel JSC), which is called the 'eldest brother' in the steel family, continues to be bogged down in the second phase of the steel mill and to suffer huge economic losses. Tisco's general director Tran Trong Mung, representative of the investor, has to appear in court and take responsibility for the efficiency of the project.
The total value Tisco paid for the project was VND4.4 trillion. The total loan principal and interest payable is VND3.8 trillion (it has to pay interest of VND40 billion a month).
The problems in investments have had a serious impact on the enterprise's operation in recent years. However, business results in 2021 improved with revenue of VND13 trillion, up by 34 percent, and net profit of VND122 billion.
Ngoc Cuong
News about the commencement of 12 projects along the North-South expressway in 2022 is considered to be the main driving force for the construction materials group, including steel, stone and asphalt.
The market's attention is now turning to steel stocks after they corrected strongly from recent peaks.