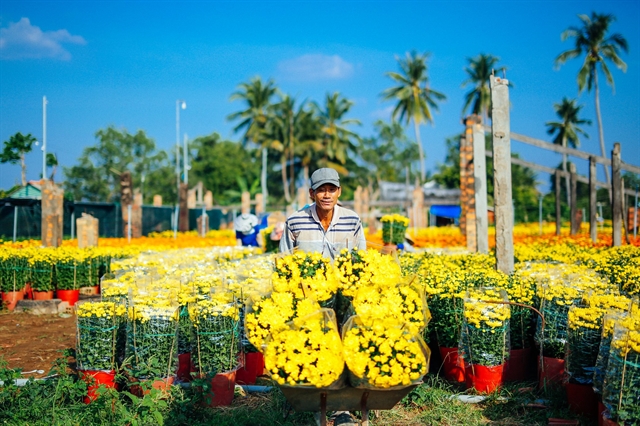 Farmers busy harvesting flowers for Tết. — Photo thamhiemmekong.com
By Lâm Giang
As Tết (Lunar New Year festival)approaches, Cái Mơn flower village is a charming sight with beautiful colours lining the roads. Fresh spring air blows into each small hamlet.
Cái Mơn flower village is the common name for the communes of Vĩnh Thành, Long Thới and Phú Sơn in Chợ Lách District, Bến Tre Province. The area grows raspberry chrysanthemum, bougainvillea, cockscomb and many other kinds of flowers.
Starting from HCM City, it took us more than three hours to reach the village by motorbike.
Cái Mơn flower village has thousands of households participating in growing traditional flowers. — Photo thamhiemmekong.com
Running along Highway 1A, passing Long An Province, Mỹ Tho City and Tiền Giang Province, we arrived in Bến Tre City where we crossed the Hàm Lương Bridge on Highway 60, before turning right on Highway 57 and following the asphalt to reach the follower village.
There, we talked to the owners of some follower gardens, learning about the process of cultivating saplings, looking after the colourful flower pots for Tết each year.
In recent years, due to drought and salinity, many strains of flower have become difficult to grow. Only bougainvillea is more resistant, so many farmers have turned to specialise in growing this ornamental plant.
In the past, bougainvillea had only one red colour. But now, people grow many types, including imported varieties. Skilled people can grow bushes in five different colours and sell them at a good price. Depending on each type, small pots cost VNĐ100,000–VNĐ200,000 (US$4.30-$8.60), large pots cost millions of Vietnamese đồng.
This year, Nguyễn Thị Mười, 52, and his family in Lân Đông Hamlet, Phú Sơn Commune, sold more than 1,000 bougainvillea pots, earning a profit of more than VNĐ150 million ($6,500). Mười said that a new flower crop will start again as soon as the flower pots of the old crop are lifted from the field.
Farmers buy each seed embryo for about VNĐ15,000 (60 US cents). After about eight months of care, they start putting flowers in pots to shape. Around the beginning of October, the bougainvillea begins to bud and then the gardeners must be very careful in taking care to keep the flowers blooming in time of Tết.
People in Phú Sơn Commune said that in recent years, people have also begun selling flowers on e-commerce websites and social media. Farmers can sell more goods in a leisurely manner this way. Although bougainvillea can be sold all year round, people want to sell during the Lunar New Year festival for better prices.
On the weekends, especially before Tết, young people come to Cái Mơn flower village to take pictures. — Photo vietnammoi.vn
Huỳnh Thanh Tâm, head of the cooperative for the production of bougainvillea in Lân Đông Hamlet, said that despite the COVID-19 pandemic, most of the products of the cooperative have sold out. Traders ordered several months ago, so farmers are glad and excited.
In addition to bougainvillea, locals are busy packing raspberry chrysanthemum, cockscomb and rose to sell. All roads and fields are covered with flowers. When seen from above, large areas have turned colourful.
Nguyễn Thị Hồng, 56-years-old in Phú Sơn Commune, said that a few months ago, locals were nervous and anxious because of the COVID-19 pandemic. She had to reduce from 5,000 pots of raspberry chrysanthemums to 3,500 pots because she was afraid of not selling much.
The COVID-19 pandemic in the locality has since been basically controlled, so travel and transportation of flowers in the area have recovered. Traders have returned to search and order more ornamental flower plants.
"In the past few weeks, I was very happy because many traders asked to buy flowers. I hope the pandemic is soon controlled so that people can do business and have a safe, joyful Tết", said Hồng.
The highlight of the trip to discover Cái Mơn flower village is a place around the old brick kilns, K26, in Phú Sơn Commune. It is very famous for taking photos. — Photo kenh14.vn
The highlight of the trip to discover Cái Mơn flower village is a place around the old brick kilns, K26, in Phú Sơn Commune. It is very famous for taking photos. Its location is quite beautiful with the layout facing the river, its back is rows of coconut trees and its front are straight beds of chrysanthemums. The two sides are covered with colourful flowers, creating a romantic space. On the weekends, especially on the occasion of Tết, young people often come here to take pictures.
Lữ Duy Tường from HCM City said he really likes visiting the winding village roads lined on both sides with colourful flower gardens.
"Going inside the village, I caught the sight of old brick kilns that were tinged with time and covered with overgrown vines. Right next to the kilns is a large nursery. The scene looked like a painting," said Tường.
Nguyễn Ngọc Trường, 32-years-old and living in Bến Tre, said he is very happy to see the flower village in his homeland expand day-by-day and especially show off its beauty before the 2022 Lunar New Year.
"The people here are very friendly. When you come to check-in, you must ask the garden owner's permission to avoid touching or affecting their flower pots or plants. Because the process of taking care of a flower pot is very hard," said Trường. VNS
Cái Mơn flower village seen from above. — Photo kenh14.vn