The Republic of Korea Disease Control and Prevention Agency (KDCA) has officially removed Vietnam from the list of countries subjected to tightened COVID-19 control measures.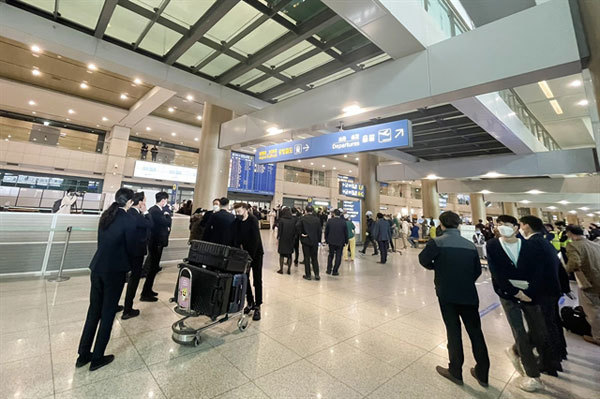 Incheon International Airport in Seoul, South Korea has started to return to normal after South Korea lifted COVID-19 curbs.
The agency said in a statement that during its meeting on March 31, after analysing COVID-19 risks from each country and the number of infections among the arrivals in South Korea, the KDCA decided to remove Vietnam, Myanmar, and Ukraine from the list.On March 18, South Korea issued a decision to list Vietnam among the countries where strengthened medical supervision would be applied as part of its measures to fight the pandemic. This meant from April 1, travellers from Vietnam, vaccinated against COVID-19 or not, will have to take mandatory seven-day quarantine. Flights from Vietnam to South Korea will be allowed to carry passengers equivalent to only 60 per cent of their capacity.On March 11, the South Korean Government decided to scrap the seven-day quarantine requirement on international arrivals from March 21 for fully vaccinated people.But the KDCA's reverse course meant travellers from Vietnam would not be able to enjoy this policy.This decision proved to be very unpopular, as despite high daily case count, Vietnam is keeping the COVID-19 situation under control with an extremely high vaccination rate.
In response to the decision, Vietnamese Tourism Ambassador to the Republic of Korea Ly Xuong Can told Seoul-based Vietnam News Agency correspondent that in recent years, the South Korean community in Vietnam faced many difficulties due to COVID-19 prevention and control regulations which prevented them from returning to their country.The KDCA's decision made it difficult for South Koreans to implement their business and production plans and conduct other activities, said the ambassador.KDCA Commissioner Jeong Eun-kyung said that in the future, South Korea plans to flexibly operate the system for evaluating and deciding quarantine exemption for countries through the monitoring of the risk level in each country, and make suitable adjustments.Source: Vietnam News
Many Korean people have expressed their disappointment at the country's removal of Vietnam out of the list of countries eligible for COVID-19 quarantine exemption.
South Korea, Indonesia and Singapore have relaxed entry restrictions for foreigners, including Vietnamese travelers, to speed up their reopening to the world.