Though many beerhouse owners have had to shut down their shops and others have been struggling to survive the pandemic, Hanoians still believe that bia hoi, or draught beer, a 'specialty' of Hanoi, will never disappear.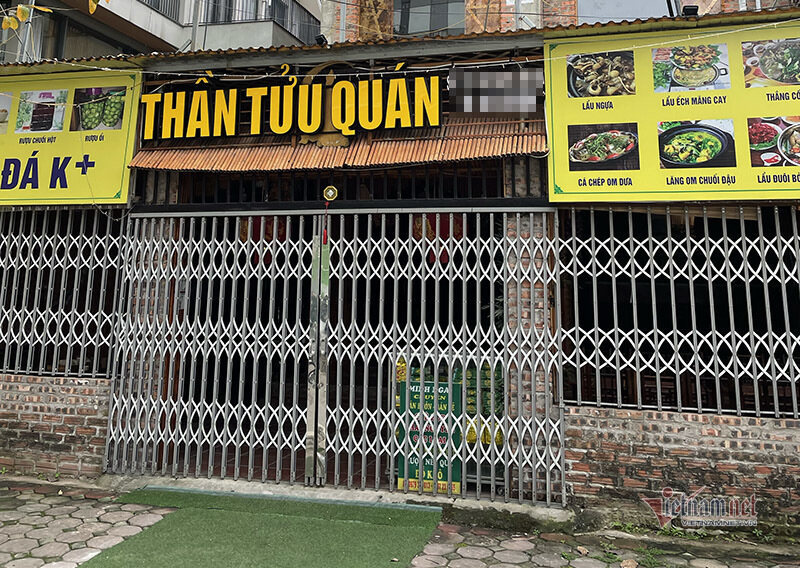 Tidying up a room and rearranging furniture, Lam, the owner of a beerhouse in Linh Dam residential quarter in Hoang Mai district, said he was sad that he has had to restructure his business after a period of difficulties.
In 2017, Lam leased a house in the residential quarter for the shop. Plastic tables and chairs were put in the house and on the pavement as well. There was no air conditioner, but his shop was still full of people every afternoon. Many clients came to drink beer, organized parties, and stayed until midnight.
During football season, Lam rented cine-projectors to serve fans. Hanoians like to gather at beer shops to watch football matches instead of staying at home and watching TV. The prices of dishes and services Lam provided were reasonable, which fit the pockets of many people. Lam always enjoyed large custom, which allowed him to earn enough money to lease the retail premises, pay workers, and make a profit.
When the business was going well, difficulties rushed in. The Government issued a new decree which heavily punishes drunk drivers. As a result, the number of people coming to the shop to drink beer dropped dramatically. To lure people to the shop, Lam encourages drinkers to come the shop with Grab bike (the shop pays a part of the travel fee), giving customers additional beer and telling workers to drive drunk people back to their homes.
When Lam was still struggling to protect his business, the Covid-19 pandemic broke out. All eatery houses and restaurants had to close the doors to serve pandemic prevention and control. In an effort to retain workers, Lam sold take-away beer and delivered beer door to door.
In 2021, when many other types of business resumed operation, beerhouses still could not reopen. As revenue dropped dramatically and take-away sales were ineffective, he had to cut the workforce.
In some periods, restaurants and cafes were allowed to open, but beerhouses were still prohibited. Some beerhouses had to change their names to 'restaurants' to be able to operate.
Now eateries can resume dine-in activities, but have to close at 9 pm.

Though many beerhouse owners have had to shut down their shops and others have been struggling to survive the pandemic, Hanoians still believe that bia hoi, or draught beer, a 'specialty' of Hanoi, will never disappear.
"We have to close the door at 9 pm, so we have lost many clients," he complained.
At present, the beerhouse still can attract customers, but the number of tables and orders has decreased considerably.
He still has to pay for retail premises, electricity and water bills, and pay for workers. So, he has had to scale down the operation.
However, he still hopes that his business will prosper in the upcoming summer.
"We have loyal clients. I even remember clients' names, their habits and their tastes. Bia hoi (draught beer) drunk on street pavement is a 'specialty' of Hanoi. It will never disappear," he said.
Not far from Lam's shop, another shop is closed.
Many Hanoians admit that they no longer have the habit of going to beerhouses after working hours and they don't intend to buy take-away beer to drink at home.
"You need to drink bia hoi at beerhouses, where you can talk with friends for fun and enjoy the atmosphere. There is no fun drinking beer at home. Also, drinkers have to leave at 9 pm, so there is not much time to shoot the breeze with friends," said Dung, a client, adding that some of his favorite beerhouses have had to shut down as revenue is not high enough to cover rent.
Not only small beerhouses, but large chains which have existed for tens of years, are also facing difficulties. Hai Xom and Hieu Beo, for example, have cut tens of shops because of poor sales. All of them are struggling to overcome difficulties and are waiting for the golden days in the past to come back.
On Le Trong Tan street in Thanh Xuan district, a big beerhouse is struggling to survive. Though it is located in an advantageous position, it cannot attract many customers and sells ready-made food to improve revenue.
Because of Covid-19 and Decree 100 which imposes heavy fines on drunk drivers, many beerhouses cannot maintain stable operations. The rent and pay for workers are a burden on beerhouse owners. However, they are still trying to survive and hope that business will be better in summer.
Long, the manager of a beerhouse in Tay Ho district, said the beerhouses which still operate are those which don't have to pay rent (shops are in their houses). In order to exist, many beerhouses have had to change into restaurants, serving many dishes to satisfy customers.
However, despite difficulties, Long believes that bia hoi, the specialty and habit of Hanoians, won't disappear, but will continue and develop as a recognition of Hanoi's culinary culture.
Duy Anh
The financial comparison site Finder has published a list of 10 cities in the world where travelers can enjoy the most affordable glasses of beer, including HCM City, Vietnam's largest metropolis.
The owners of many beer houses in HCM City are preparing for reopening but will serve soft drinks only as requested by state agencies.