About 800 Vietnamese people have been safely evacuated to Romania from Ukraine as of March 6 morning, according to incomplete data.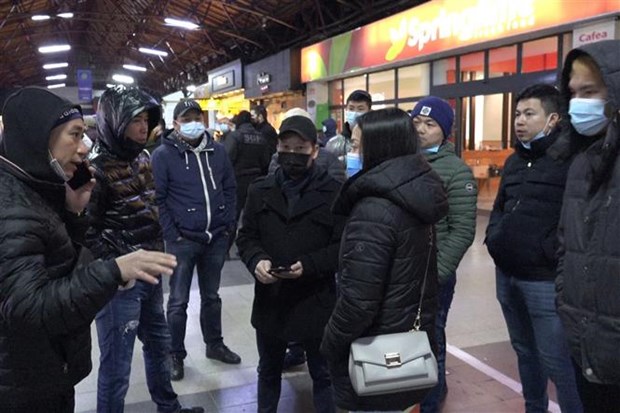 Vietnamese citizens from Ukraine arrive at a station in Bucarest, the capital of Romania. (Photo: VNA)
However, the actual number may be higher because many people do not contact the Vietnamese Embassy or Vietnamese associations in Romania.
Earlier on March 3, Vietnamese Ambassador to Romania Dang Tran Phong and Pham Duy Hung, Vice Chairman of the Association of Vietnamese People in Romania, went to Moldova to work with representatives of the Ministry of Foreign Affairs of the host country to receive 120 Vietnamese people to Romania where they are waiting for a direct flight to Hanoi.
The embassy has helped bring a total of 190 people from Moldova to Romania safely during the first "repatriation" journey.
The embassy and the Association of Vietnamese People in Romania have supported hundreds of Vietnamese nationals from Ukraine to enter Romania to wait for a flight to Vietnam or to go to other countries.
To facilitate entry into Romania, the embassy and Vietnamese Ministry of Foreign Affairs have informed those who want to evacuate from Ukraine with necessary information on the media as well as on social networks. The embassy also helped solve all the problems relating to lacking identity papers for them.
In recent days, not only the Vietnamese Embassy in Romania but also those in neighbouring countries, including Poland, Hungary, Slovakia and Moldova have been doing their best to assist Vietnamese people to evacuate from fighting zones and provide them with temporary accommodations and necessities.
Two flights repatriating Vietnamese people from Ukraine are expected to depart from Romania and Poland this week. One flight, conducted by national flag carrier Vietnam Airlines, is scheduled to depart from Romania on March 7 transporting 283 Vietnamese citizens. It is expected to arrive at Noi Bai International Airport in Hanoi at noon on March 8.
The other flight, conducted by Bamboo Airlines, will depart from Poland on March 9 with 270 passengers onboard. It is scheduled to arrive at the Noi Bai airport on March 10 in the morning.
The Ministry of Foreign Affairs will coordinate with relevant ministries and agencies in continuing to evacuate Vietnamese people and family members from dangerous areas in Ukraine to neighboring countries, and bring those in need back home./.
Source: VNA