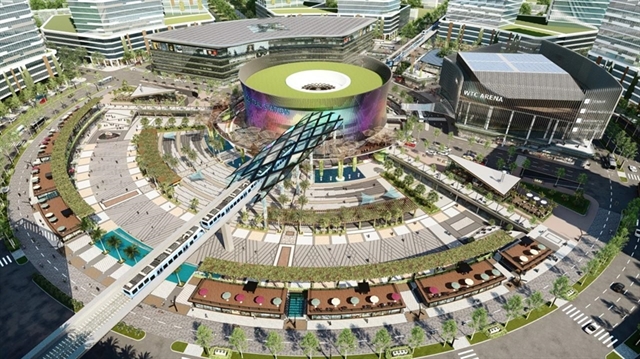 The model of the smart city known as the World Trade Center Bình Dương New City is being developed in southern Bình Dương Province. — Photo: wtcbinhduong.vn

HÀ NỘI — While sustainable smart cities are considered a solution to sustain international business investments, for Việt Nam experts have advised local cities and provinces to prioritise building them to attract FDI.
According to the World Bank, Việt Nam is amongst the fastest-growing economies globally, with an average GDP growth rate of 6.31 per cent from 2000 to 2020, adding that it has been an attractive destination for international businesses for the last 30 years due to its rapid economic reforms, rich resources and high population.
Talking to Việt Nam News, RMIT University Senior Program Manager for International Business and Master of International Business Erhan Atay said: "Việt Nam is finding itself in a new era of globalisation that requires a different approach to sustain its attractiveness for international business. "
He explained that while earlier forms of globalisation were mostly about the trade of labour-intensive, tangible manufactured items across borders, new globalisation is about providing integrated and intangible digital services to companies and individuals. This can be called "digital globalisation."
"New business models rely on IT-based applications and instant information sharing. The information flows help organisations and individuals establish new local, regional, national and international connections in trade, finance and society. All such links may help trade actors to expand their trade volume," he said.
Atay remarked that the competition between countries and cities was increasing day by day. Each region has to "up its game" to attract investors, especially as global organisations are now more selective.
"International investors will consider new factors when choosing where to invest. These include how digitalised the destination is, how sustainable the economy is, and how social the environment is. These factors will outweigh traditional investment decisions such as cheap labour, rich resources and high population," said the RMIT professor.
"In the new era, sustainable smart cities that enable the transfer of data, technology, ideas and best practices, while providing a liveable and sustainable environment, may affect the investment decisions of international business actors."
Bùi Tuyến, technical director and senior advisor of international engineering advisory company Aurecon Việt Nam said: "Sustainable smart city initiatives will be an important criterion for new FDI investments."
"Robust digital infrastructure is particularly important for smart cities to function. That means a focus on solutions such as wireless networks, smart water and energy management, wastewater recycling, intelligent transport system and automated parking management, among others."
RMIT University's Atay added: "HCM City, Hà Nội, Đà Nẵng, Nha Trang and Bình Dương are carrying out administrative reforms to initiate and accelerate smart city projects to attract more foreign investors.
"Việt Nam should accelerate its sustainable smart city investments to maintain its high growth rates in the last 30 years, be a centre of attraction for foreign investors, and, above all, offer a high quality of life to its residents."
Among those actively working to have smart cities, Bình Dương has carried out the Smart City Project for the last four years and is now working with the project in the so-called Bình Dương Innovation Region.
Earlier this year, in the framework of the ICF Smart21 Summit, the World Smart Community Forum has announced the list of 21 cities and regions with typical smart city development strategies in the world. Bình Dương was the only locality in Việt Nam to be honoured in this list for the last three consecutive years.
The secretary of the Provincial Party Committee Trần Văn Nam said: "The project of Bình Dương Innovation Region will create an ecosystem that promotes the culture of entrepreneurship and innovation, attracting investment projects that bring high added value, gradually turning the province into a smart city, in which, the key projects that are considered as the bright spots of the region are the World Trade Center Bình Dương New City."
He said the new city would be a "door" for the local business community to connect with the world by supporting and accompanying businesses to develop trade and services and promote trade, thereby contributing to economic restructuring to bring more added value.
According to the Ministry of Planning and Investment, FDI registered in Việt Nam reached US$26.46 billion as of November 20, up 0.1 per cent year-on-year, adding that total additional registered capital stood at over US$8 billion, an annual rise of 26.7 per cent.
In the first 11 months, $14.1 billion was poured into 1,577 newly-licensed projects, up 3.76 per cent in value but down 31.8 per cent in volume over the same period last year.
The remaining investment was used for capital contribution and share purchases in a total 3,466 transactions. — VNS