The Co Tu ethnic people of Tay Giang district in the central province of Quang Nam have a special 'wine' called Tr'din.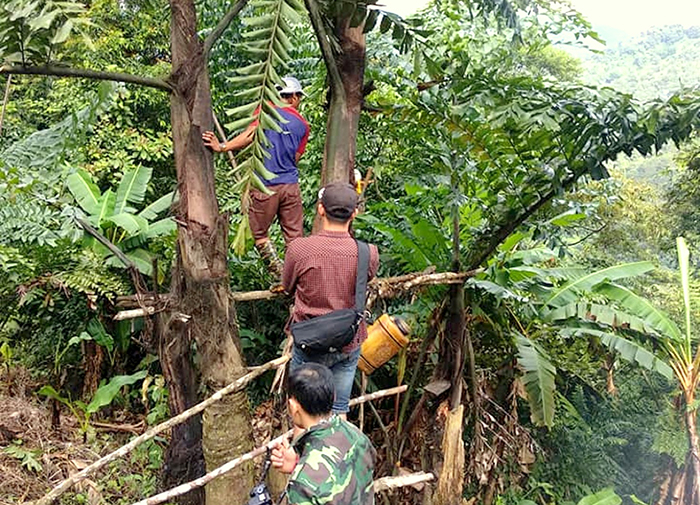 Extracting resin from Tr'din tree trunks.
The four bordering villages of Tr'hy, Ch'om, A Xan and Gary of Tay Giang district, Quang Nam province are the home to a special tree called Tr'din. The resin coming out of this tree has been used to make excellent wine.
Mr. Bh'ling Khoi from Tr'hy commune, Tay Giang district led us to find wine trees about 5km from the border gate. On the tree trunks are already hanging plastic cans, which are connected to the trunks by a bamboo tube. Resin coming from the trunk drips down the tube into the plastic can. Khoi said that this is a unique drink of the Co Tu people.
He said that the Co Tu people also have T'vat and Ayang wine, which are also delicious and nutritious drinks from trees of the same names, but 'the best wine of the Truong Son mountains' is still Tr'din wine, extracted from the Tr'din tree. In the spring and summer, the Co Tu people drink T'vat wine; In autumn and winter, they drink Tr'din wine. The villages of Co Tu people in the mountainous region of Quang Nam have T'vat trees everywhere, but Tr'din trees are only found in Tay Giang, which is close to the Vietnam-Laos border.
Tr'din trees often grow in humid condition, namely areas near creeks or streams. The resin from the Tr'din tree is milky white in color and has a sweet taste like sugar.
A person with experience in making Tr'din wine can tell if a tree has hit the right time for its wine to be extracted just from looking. After deciding which trees can be harvested, they make stairs to climb up the trees using bambusa balcooa (a kind of bamboo originated from the Indian subcontinent to Indochina) to cut the trunks and install the resin extracting systems.
To make the wine, they take the bark of the dragonfly tree, which has two types: apang and zuon, peel, dry then soak them in Tr'din resin, and let them ferment. The resulting wine has a slightly acrid champagne-like aroma that numbs the tip of the tongue. However, according to the natives, it is not easy to make Tr'din wine, it takes a professional who has experience in identifying harvestable trees and looking for spots on the tree trunk to cut holes.
Wine from heaven, love from people
Makeshift bamboo ladders used in extracting resin.
Mr. Bh'ling Khoi told us that the villagers go to get resin and make wine in groups of close friends or family. Making wine also shows the spirit of solidarity and attachment of the people.
Not only Mr. Khoi but the people of Co Tu are always proud that Tr'din wine is 'heaven's wine'. Mr. Bh'ling Dan proudly talked about the specialty of his village, saying: 'Tr'din wine is like the soul of the forest and the people here. Everyone loves Tr'din wine. The best thing about Tr'din wine is that it doesn't make you drunk. On the contrary, it is even good for your health!'
Tr'din wine has a cloudy color like soy sauce, smells like beer and the yeasty feel of alcohol, but doesn't 'burn' your throat and doesn't make you drunk. That is why that there is no limitation to the use of Tr'din wine. On festivals, celebrations, weddings or harvest season, Tr'din wine is the staple drink.
Tourists also love Tr'din wine and even compare it to champagne. This has incentivized the Co Tu people to make it more well-known and readily available outside of Area 7. In order to make this wine more available and introduce it to more people, many localities have propagated and planted Tr'din trees outside of the four villages. In order to have distilled water, the Co Tu people also uproot young Tr'din trees and bring them home to plant or sow seeds.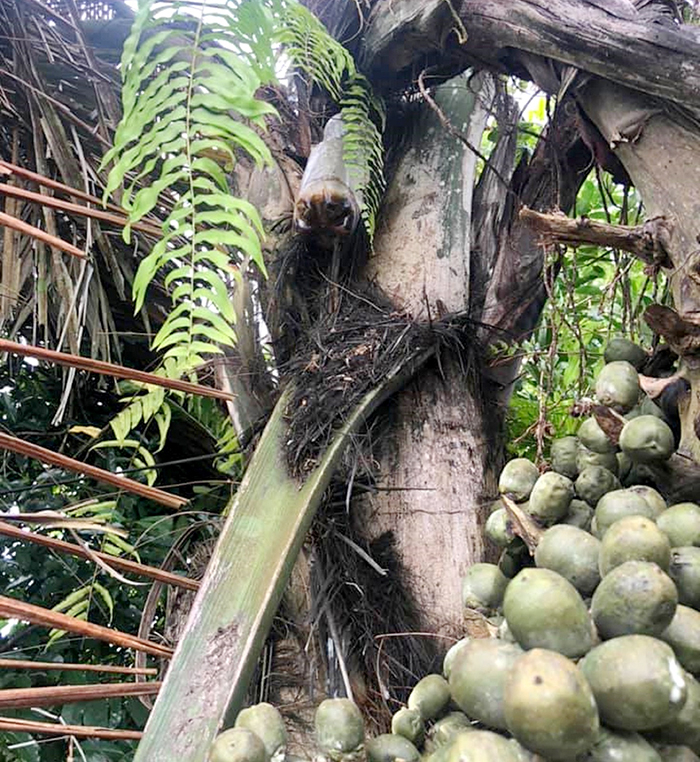 Tr'din is a member of the palm tree family.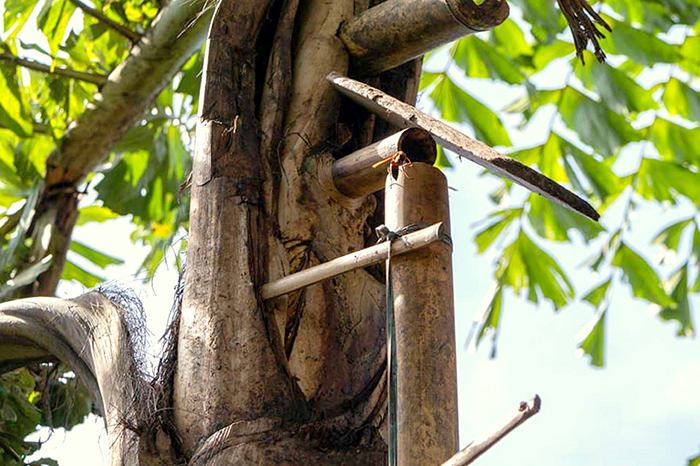 Bamboo tubes used in extracting resin.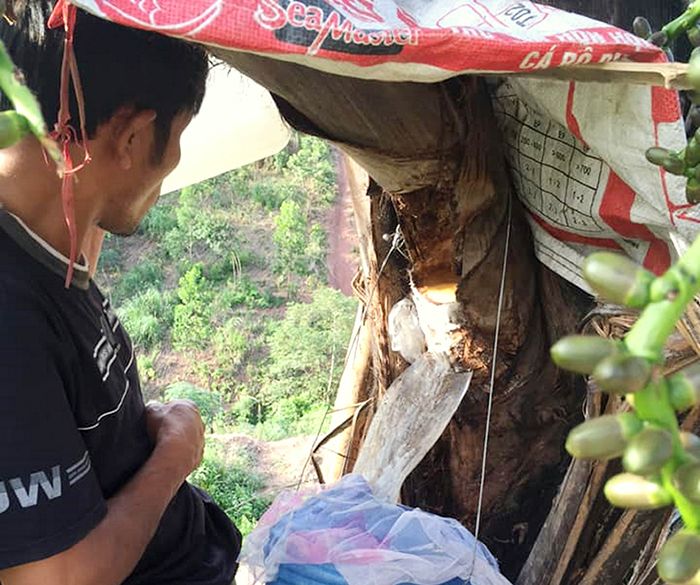 A Tr'din tree giving 'wine'.
Le Ha
Beautiful landscapes and unique local culture are what make Dong Giang Tea Hill in Quang Nam Province fascinating to travelers.