The number of children contracting Covid-19 has begun increasing. Hospitals have reported a number of severe, critical and fatal cases among children.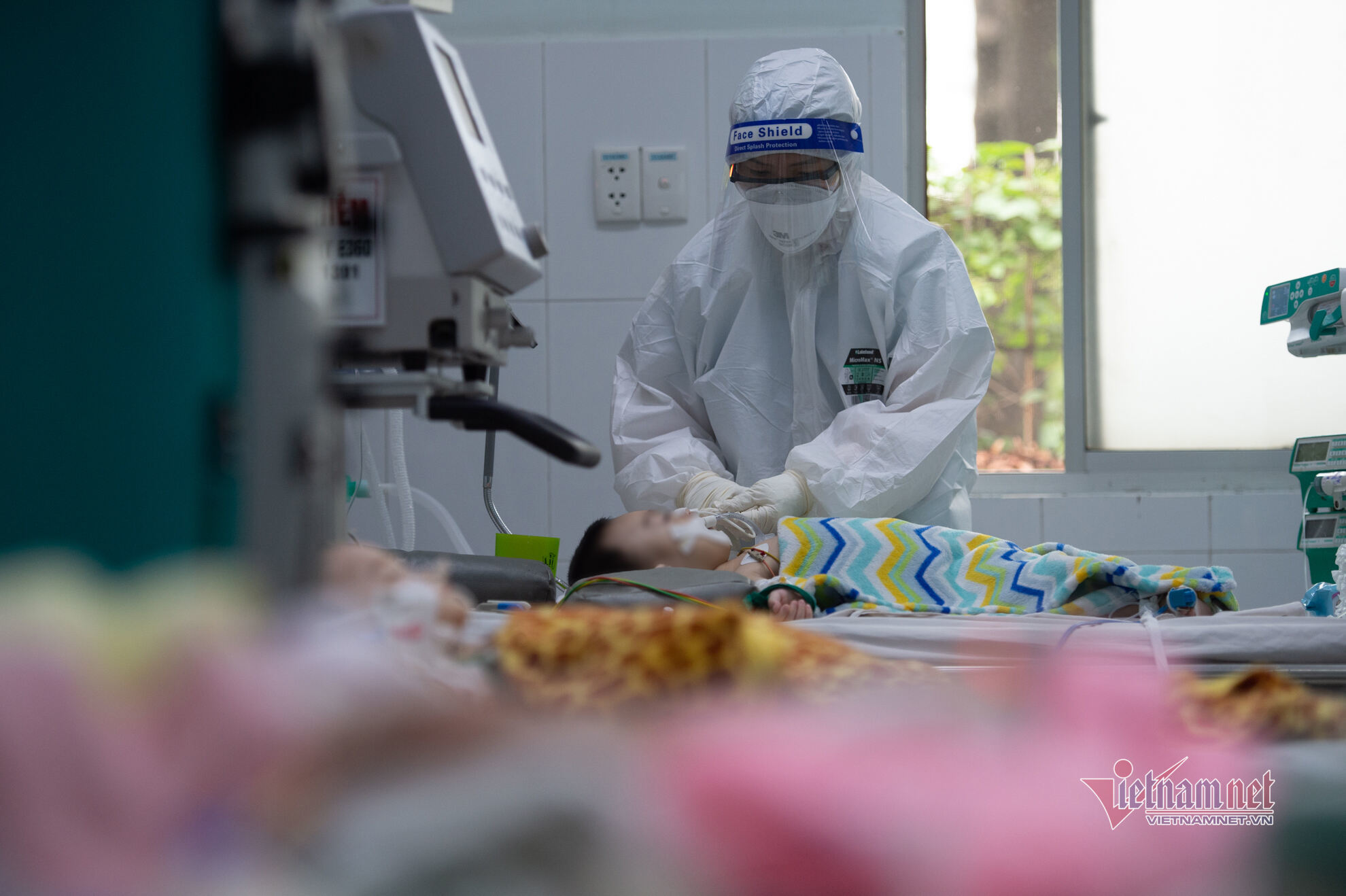 Nguyen Trong Khoa, Deputy Director of the Department of Medical Examination and Treatment under the Ministry of Health (MOH), on February 16, 2022 reported that 2.5 million Covid-19 cases had been confirmed as of February 14. More than 2.2 million had been cured. There have been 39,432 deaths (1.5 percent).
The number of children with Covid-19 accounts for 19.2 percent of total infections. Of this, 4.8 percent of infections are those aged 13-17, 8 percent aged 6-12, 2.8 percent aged 3-5 and 3.6 percent aged 0-2. Meanwhile, the death rate is 0.42 percent.
In HCM City, as of February 7, 32,429 out of 516,163 Covid-19 patients were children aged below 16, which accounted for 6.3 percent. Forty-eight deaths of total deaths of 20,379 are children.
Khoa also provided figures reported by the National Children's Hospital. As of February 7, 611 cases had been diagnosed as Covid-19. Of this, 545 had been transferred to local medical units, 51 cases had recovered and 10 cases had been under treatment.
The hospital has reported five deaths, including three neonatal babies, a one-month old and a six-month old from Bac Ninh.
At the Central Hospital for Tropical Diseases, 6,484 had been reported, including 617 aged below 16. Of 1,436 severe cases, there have been 21 children (3.4 percent). There were 470 deaths and no deaths among children.
Regarding vaccinations for kids, as of February 7, the total number of jabs provided had reached 16,328,693. The number of children aged 12-17 who got the first jab was 8,460,065, while 7,868,628 children aged 12-17 got second jab. 88 cases suffered from severe complications and 61,423 cases had common reactions.
The statistics showed that the number of child deaths was very small. Among the cases being treated at hospitals, mild cases accounted for 68 percent and most of the children had no serious symptoms, while 28.7 percent of the children had moderate symptoms, and severe cases accounted for 3.4 percent.
"The figures show that it's necessary to pay high attention to newborns and patients with underlying diseases, because if infected, these groups are more likely to die."
Khoa said the death rate among children is low. As Vietnam has reopened and communications have come back to normal, the number of infections among children will be high, which may lead to a higher number of deaths.
Phan Huu Phuc from the National Children's Hospital noted that the proportion of children with severe symptoms has been relatively low in the last two years, However, worries have been raised in recent months, when the new variant appeared. The number of child infections has begun increasing and there have been some severe cases and deaths at his hospital.
"We know that children born prematurely and children with underlying health conditions are more likely to turn severe than other children," he said.
"However, some children with low risks still turn severe," he said, adding that one of the worrying complications is MIS-C (Multisystem Inflammatory Syndrome in Children).
Doctors Nguyen Lan Hieu and Le Nhat Cuong from the Hanoi Medical University Hospital showed the methods of treating children at a conference on the handling, care and treatment of children with Covid-19.
Hieu said Covid has been present for the last two years and the number of children contracting Covid-19 is on the rise. The symptoms in children are milder than in adults.
Hieu cited some factors which may make child patients severely ill, including premature birth, low birth weight; diabetes, metabolic disorders, genetic abnormalities, obesity; chronic respiratory disease, bronchial asthma; congenital heart disease; congenital acquired immunodeficiency (HIV, long-term corticosteroid therapy); chronic kidney disease and cancer, and hematology diseases.
The treating and caring for children with Covid at home, according to Hieu, is done to promptly detect severe symptoms, treat common symptoms and avoid cross-infection in the family. The benefits of home treatment are that children can be cared for by relatives and don't have to change their living environment, which avoid psychological impact.
Vietnam is considering vaccinating children aged 3-11 after WHO said the pros of vaccinating children aged 3-11 outweigh the cons.
Ngoc Trang
About 490,000 children in Vietnam were confirmed to have contracted coronavirus since the beginning of the pandemic, according to deputy health minister Nguyen Truong Son.
The Government has approved the procurement of 21.9 million doses of the Pfizer Covid vaccine for children aged between five and 11.