Air and rail carriers, which have suffered heavily from Covid-19, have had to carry cargo to earn extra money. But sea shipping lines are experiencing brighter days.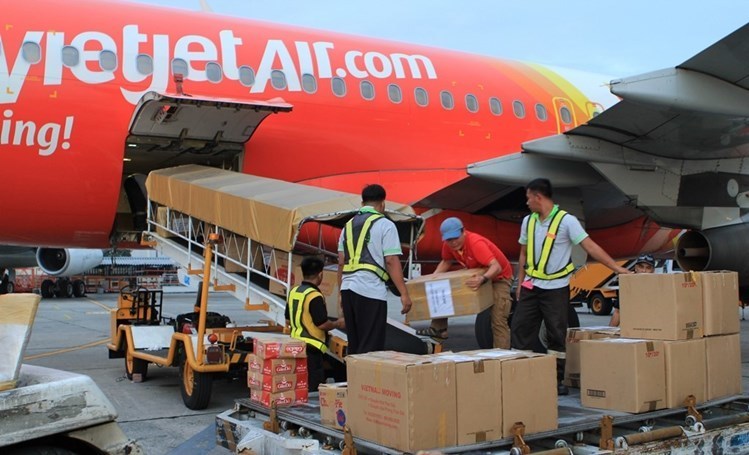 In 2021, in addition to providing 'rescue flights' bringing Vietnamese citizens home, air carriers also carried cargo to survive the pandemic.
They carried 912,000 tons of goods in the first nine months of 2021, an increase of 19 percent over the same period the year before. While international transportation output increased by 25 percent, domestic transportation decreased by 9 percent.
Vietnam Airlines, for example, carried Bac Giang litchis to HCM City and Japan. This helped Bac Giang farmers sell litchis during the pandemic and kept the airline busy.
A representative of Vietjet Air said in addition to rescue flights, the airline transported cargo, which helped it overcome difficulties.
The railway sector, like airlines, suffered heavily from Covid because of the sharp fall in passengers. Vu Minh Anh, President of the Vietnam Railways Corporation (VNR), said in 2022, it would continue to focus on cargo transport.
VNR also developed more services, such as North-South container trains, and cold container trains carrying fruits and food. It focused on goods in IZs, factories and seaports with connections with national railways.
In terms of international freight trains, VNR is applying measures to remove bottlenecks in policies to increase the transport output of routes Hai Phong – Lao Cai, Hekou -Kunming and Hanoi – Dong Dang – Pingxiang – Nanning to other localities in China and third countries; and carry exports to Russia and Europe by rail.
Meanwhile, shipping lines made the highest ever profits in 2021. Vinamarine's Deputy Director Nguyen Dinh Viet said despite Covid-19, the total volume of goods going through Vietnam's seaports increased by 2 percent over 2020 to 703 million tons.
This included 184 million tons of exports, up by 4 percent, and 303 million tons of domestic goods, up by 5 percent. As for container goods, the figure was estimated at 24 million TEUs, up by 6 percent.
The total transportation output of the Vietnamese fleet was estimated to reach 156.5 million, up by 2 percent, of which the container goods output was 3 million TEUs, up by 12 percent.
Ships with Vietnamese flags handled nearly 100 percent of domestic sea transport. The international transportation output also grew sharply by 54 percent to 5 million tons.
VIMC, which was on the verge of bankruptcy, made a breakthrough over the last two years. It reported estimated profit of VND3.75 trillion, of which seaport services brought 67 percent of profit, maritime service 26 percent and shipping 7 percent.
Vu Diep
Since ministries have not agreed on a capital allocation mechanism, companies have not been able to sign railway maintenance contracts.
International transport through rail carriage to European countries via China grew rapidly in 2021. However, the advantages of this transport have not been fully exploited because of poor infrastructure.