There were reports that Samsung had relocated two smartphone production lines of its business partners from Vietnam to the Republic of Korea (RoK) to ensure a smooth supply chain.
Samsung Electronics confirmed that it has not moved its overall overseas production location to RoK nor is this an activity to increase smartphone production.
The move aimed to avoid uncertainty in overseas manufacturing bases amid the COVID-19 pandemic, which would affect the operations of its smartphone factory in Vietnam, the group explained.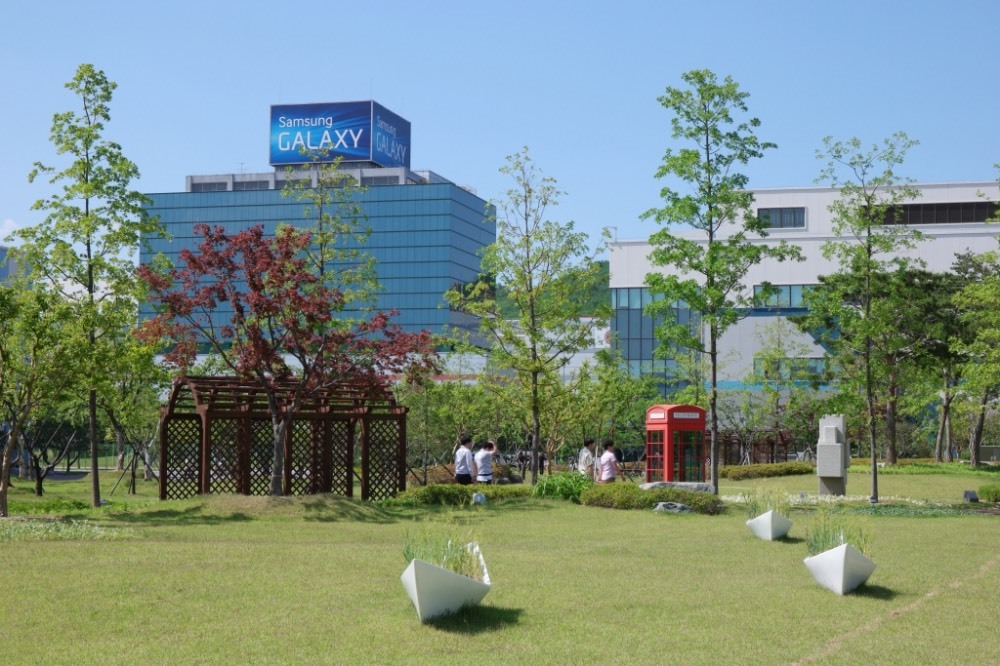 Samsung complex campus in Gumi, RoK. (Photo: Samsung)
"In order to ensure stable production of foldable smartphones, a number of component production lines according to the process of Vietnamese partners were moved to Gumi in late August and September 2021," Samsung told the press.
In late August and September of last year, Samsung moved two production lines for smartphone components of its business partner in Thai Nguyen province, Vietnam, to a factory in Gumi, North Gyeongsang Province, RoK.
This move, according to Business Korea, was because a number of overseas production plants – including in Vietnam – were interrupted due to the Covid-19 pandemic.
Currently, factories in Bac Ninh and Thai Nguyen provinces of Vietnam account for about 60% of the total output of about 300 million Samsung smartphones per year.
Gumi, Samsung's only manufacturing facility in South Korea, acts as a control tower that applies the company's new technologies before it is expanded to factories overseas.
Although shifting the production lines to the Gumi factory increases costs for the company, analysts say Samsung had to take action to manage the supply chain and ensure production capacity.
Vietnam – Samsung's largest production base
Samsung leaders have affirmed their commitment to long-term investment and business in Vietnam.
In its business report for 2021, Samsung Vietnam recorded growth in revenue and exports compared to 2020.
Its revenue reached 74.2 billion USD, up 14% compared to 2020, and export turnover was 65.5 billion USD, up 16% compared to 2020.
Samsung has launched world-famous products. Samsung's strategic phone lines manufactured in Vietnam such as Galaxy Z Fold 3 and Galazy Z Flip 3 have made a major contribution to Samsung Vietnam's revenue.
In 2021, Samsung's folding phone models sold over 4 million units worldwide, up four times compared to 2020. According to market research firm Counterpoint research, of the total market share of Samsung phones in the US, sales of folding phones rose from 0.6% in 2020 to 12% in 2021.
According to Samsung, from April to June 2021, Samsung Vietnam's factories and local suppliers had to apply strict pandemic prevention measures, so Samsung encountered some difficulties in supplying components and accessories.
Samsung leaders praised the efforts of Vietnamese as well as Korean employees who were willing to stay at the factory under the "3 on-site" mode to maintain stable production activities.
Samsung Vietnam worked closely with local authorities in Bac Giang and Vinh Phuc to solve problems related to goods transport and human resource movement to ensure uninterrupted supply of components.
Currently, more than 50% of global Samsung phone production is produced in Vietnam. Smart mobile products manufactured at Samsung factories in Vietnam are exported to 128 countries and territories.
By the end of 2021, Samsung Vietnam's total accumulated investment capital was 18 billion USD, reaching 102% of the approved investment capital in 2020 of 17.7 billion USD.
Most recently, Samsung invested an additional 920 million USD in Thai Nguyen Province, raising the investment capital in Samsung Electro – Mechanics factory in Thai Nguyen from 1.35 billion USD to 2.27 billion USD.
Samsung Electro-Mechanics' factory in Thai Nguyen aims to manufacture and assemble HDI high density printed circuit boards, components and spare parts for telecommunications equipment, high-tech mobile devices, and other electrical and electronic products.
Samsung emphasized in official statements that Vietnam is not only the largest global production base of this world's largest electronics group, but also will become a strategic center for research and development (R&D).
Samsung is currently building a new Research and Development Center in Hanoi, with an investment scale of up to 220 million USD, to improve medium- and long-term research and development capacity in Vietnam in fields such as artificial intelligence (AI), Big Data, and Internet of Things (IoT).
Hai Dang – Mai Lan
The Ministry of Industry and Trade and Samsung Vietnam on February 22 signed a Memorandum of Understanding on cooperation in smart factory development.
The Vietnamese Government always creates the best possible conditions for businesses and investors, including Samsung, to expand operations in Vietnam, Prime Minister Pham Minh Chinh affirmed on January 20.