People in Ho Chi Minh City are flocking to try out the city's new public bicycle rental program for free during its first few days of operation.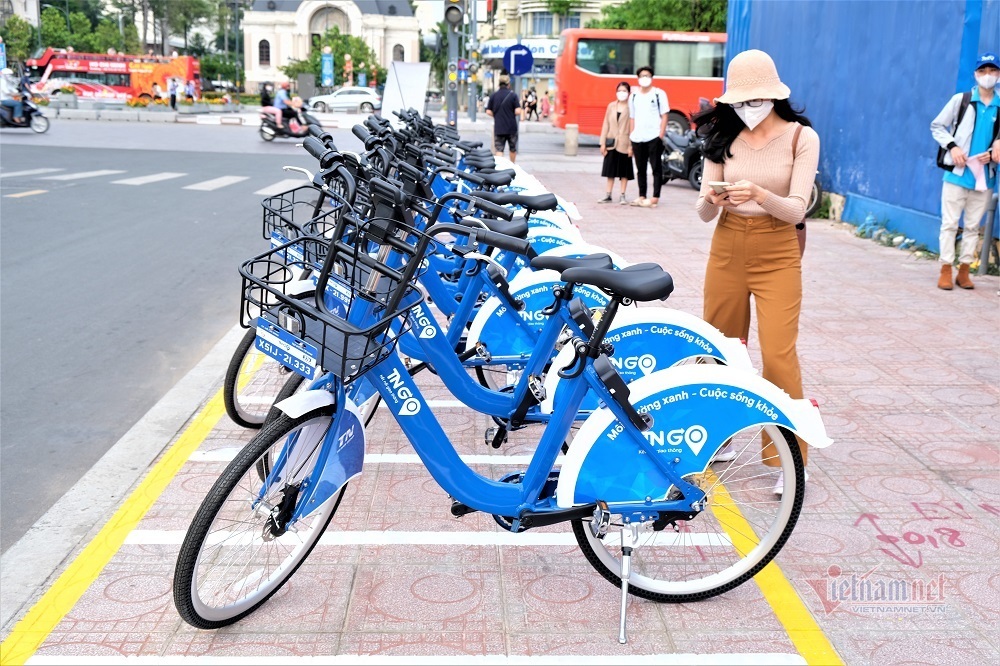 A parking area for a public bike-rental facility. photo: Tran Chung
Concerns regarding its long-term viability, however, have been raised after the collapse of a comparable model in Hanoi many years ago.
Modern anti-theft technology
This was Thao Tram's first opportunity to try out the city's public bicycle rental program. She thinks that a grea riding a bicycle is good for health. And for the city, this is an environmentally friendly way to reduce pollution.
A free public bicycle rental service will be available from December 4 to 10 at a station on the sidewalk of Le Loi Street (District 1).
There are 43 public bicycle parking places in central Ho Chi Minh City, according to the representative of the investor, Mr. Do Ba Quan. A total of 500 bicycles have been imported, and businesses are getting ready to put up signage and set up parking spaces. At least 5 bikes can be parked at each location, and the maximum is 15. The points must have broad walkways so as not to interfere with traffic and the economic activities of residents.
Fare is 10,000 VND per 60 minutes. Renters at first, are given 15 minutes of free use. A variety of tickets are also being calculated by operators. There are an average of 70-100 persons that are testing it out each day. Rental bicycles for the general public are scheduled to be available in December.
People just need to download and install the free app from the service provider's app on one's smartphone to rent a bicycle. Then, create a one-time account by providing accurate personal information and depositing money into your account. There is a bicycle rental facility nearby that can be found using the app. The bike may be unlocked with a scan code in the program. People secure their bikes at the end of their excursion by putting it back in the allocated parking spot.
The bikes have been equipped with cutting-edge electronics that allow them to be tracked everywhere they go. In order to keep track of illegally moving bicycles, the service provider's office employs an in-house crew. For example, if the bike is not unlocked but continues to operate, it will be identified as invalid after only five seconds and prompt action will be taken.
Avoid Hanoi's mistake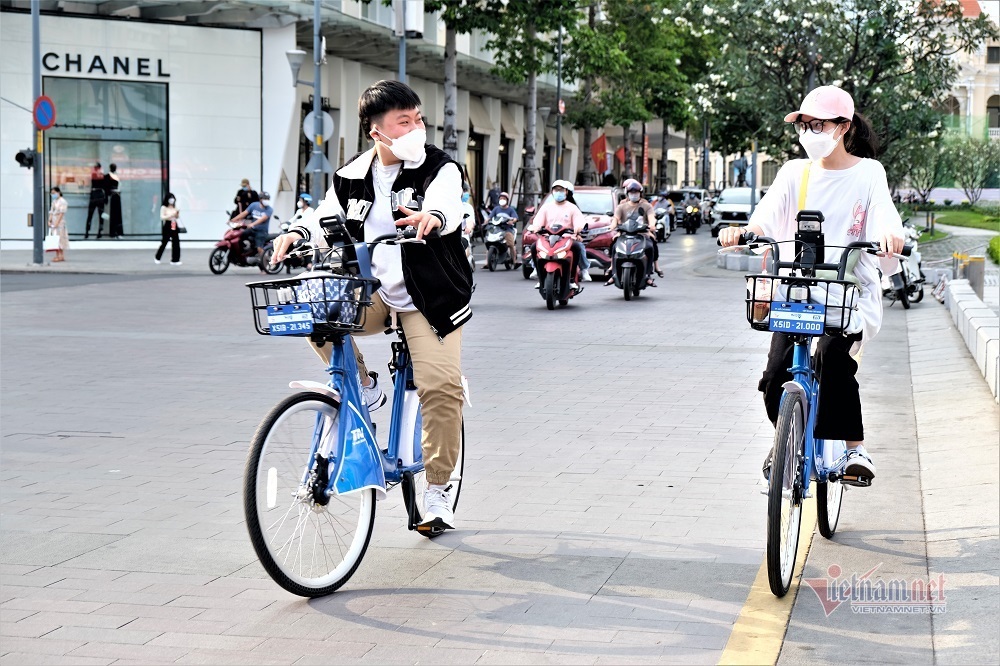 People in Ho Chi Minh City like to use this 'green' bicycle service. photo: Tran Chung
According to the HCM City Department of Transport, the pilot public bicycle rental in the city center will limit personal vehicles and increase the number of people using public transport.
This 'green service', however, still takes time to respond to inquiries after putting it into action. Hanoi tried a public bicycle service pilot in 2014, but it failed because the approach didn't satisfy the demands of riders, according to a report that year.
With this plan in place, Hanoi anticipated a more environmentally-friendly city that is less congested and less polluted. However, rental locations operated only a short time before they had to shut down, owing to lack of clients.
For concerns as to how to avoid making the same mistake as in Hanoi, the investor's representative explained that studies and inquiries have been conducted in various countries. This style is a great fit for civilized cities. Businesses in Ho Chi Minh City believe the concept will be both effective and convenient. Also, to enhance one's health after lockdown, many young people now prefer to ride bicycles.
As a client, Thu Hanh (Thu Duc City) predicted that the city's public bike rental business will become popular if demand for bicycles increased. However, due to a lack of designated bicycle lanes in the city, this mode of transport will be limited in its use. People will still ride motorcycles if a designated lane is not available. Otherwise, they will ride their bicycles at a time when there is less traffic.
"Cycling is becoming increasingly common as public transport improves. I find this service in the central area only suitable for people who want to go for a walk or travel around the city rather than go to work," said Hanh.
Tran Chung
Cycling has become increasingly popular post-outbreak. Ho Chi Minh City's bike rental service has consequently been occupied with serving many customers.
Cycling is a great way to stay active and cut your carbon footprint. Many cities around the world are encouraging the broader use of this green mode of transport.