Vietnam is a safe tourist destination without any restrictions for Russian visitors, according to recommendations by the Federal Agency for Tourism of Russia.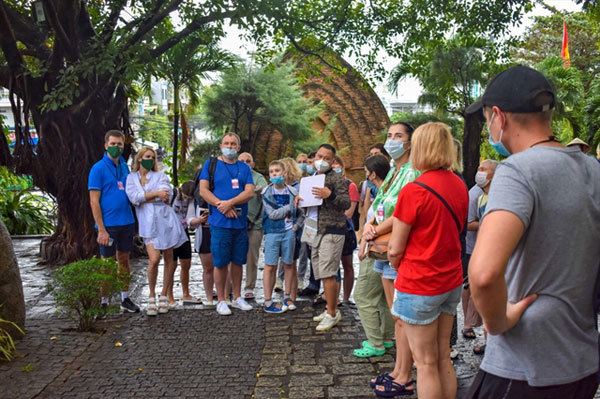 Russian tourists visiting Vietnam. — Photo courtesy of Anex Tour Viet Nam
The recommendations were announced by the nation's Ministry of Foreign Affairs on March 2 regarding locals travelling abroad as many countries are imposing sanctions and restrictions on Moscow following the special military operation it launched against Ukraine.
Russian authorities advise citizens not to travel to countries that have imposed sanctions and restrictions on Russia, because staying there can bring risks to their return to the homeland in a timely and safe manner. The tourism agency believes that some destinations, including several Latin American countries, are no longer available to local tourists due to restrictions on airspace by the EU and Canada.
It also recommended tour operators suspend the sale of tours to countries that have imposed sanctions on Russia, as well as to Caribbean nations because related air routes have to go through the closed airspace of the EU and Canada.
Vietnam has been calling for de-escalation, dialogue and peaceful resolution in the Ukraine-Russia conflict, but has not introduced sanctions against Russia.
Vietnam plans to fully reopen international tourism activities from March 15 after over two years of disruptions due to COVID-19.
Pre-pandemic, Russia contributed a significant part to the tourism market in Vietnam, and they were also among the first to be welcomed back to Vietnam under the pilot COVID-19 vaccine passport programme.
The Ukraine situation has rattled many tourism and hospitality businesses who are expecting a robust revival, especially in the south-central coastal localities like Nha Trang (Khanh Hoa) or Ba Ria-Vung Tau, which are popular destinations among Russian tourists.
Vietnam no longer on Germany's list of countries at high Covid risk
The Germany-based Robert Koch Institute (RKI) on March 1, removed 60 countries and territories, including Vietnam, from the list of destinations at a high risk of Covid-19 transmission.
The Düsseldorf International Airport in Germany was deserted on December 20, 2020. Germany on March 1, removed 60 countries and territories, including Vietnam, from the list of destinations at a high risk of Covid-19 transmission. – Photo: VNA
Those coming to Germany from Vietnam will no longer have to comply with relevant stringent regulations.
The German national public health institute said that as the Omicron variant has become dominant, its probability to worsen the health conditions of Omicron-hit patients is proving to be less serious than previous variants.
This new regulation will take effect from March 3.
However, the classification as a high-risk area will still be reserved for places where there is a high incidence linked to the spread of a coronavirus variant with higher virulence compared to Omicron.
Vietnam was classified by Germany as one of the high Covid risk areas from August 15 last year. Accordingly, those entering Germany from Vietnam had to take a pre-departure Covid PCR test, make an online health declaration, and be quarantined for 10 days after their entry.
Source: VNS/SGT
Some travel companies in Vietnam are worried that the worsening Russia-Ukraine crisis will negatively impact the tourism industry as Russia is one of the major source markets of Vietnam's tourism industry.
With negative COVID-19 tests, fully vaccinated foreign tourists may freely travel in Vietnam after only one day of isolation following entry, according to the Ministry of Health's proposed regulations.