Inconsistent quarantine policies and Covid patients' statistics are making it difficult for the aviation and tourism sectors to reopen.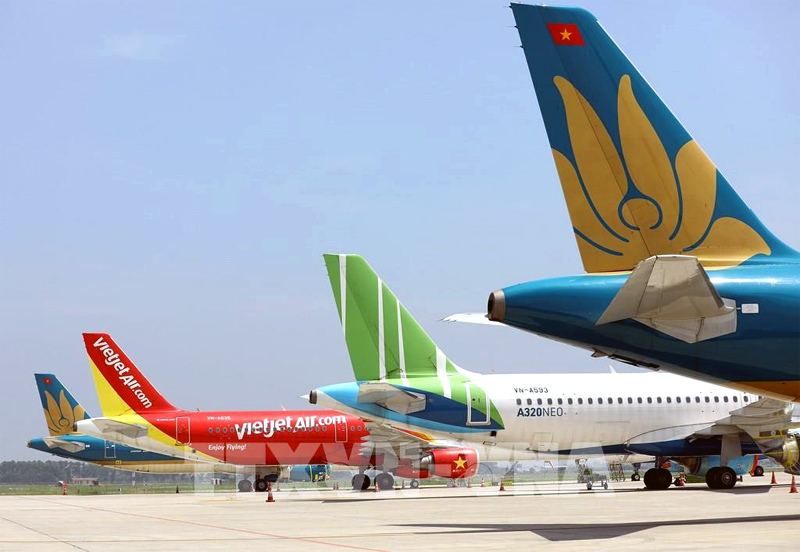 Vietnam resumed international routine air routes on January 1, 2022. Some markets have agreed to reopen air routes with Vietnam. Domestic air carriers have begun selling air tickets. However, only a few flights could take off on the first day of 2022.
HCM City – Phnom Penh was the only air route reopened on January 1. Vietnam Airlines provided one-way flights from HCM City to Phnom Penh at VND2.5 million and from Phnom Penh to HCM City at VND5.3 million, including taxes and fees.
The national flag air carrier Vietnam Airlines announced that it has been selling tickets for flights to Cambodia, Japan and the US since December 29.
For flights to Japan, Vietnam Airlines is selling tickets for one-way Hanoi – Tokyo flights departing on January 5 at VND11.7 million at minimum, and VND15.6 million for flights from Tokyo to Hanoi.
Vietjet Air flights took off one day later, on January 6, with airfare of VND6.6 million and VND9.8 percent, respectively.
Regarding air routes to Taipei, Bamboo Airways' first flight is expected to take off on January 5, with airfares of VND4.5 million and 12.5 million for one-way flights from Taipei to Vietnam.
Meanwhile, Vietjet Air set airfare of VND6.8 million for flights from Taipei to Hanoi on January 8, and VND12.2 million from Taipei to HCM City. Vietnam Airlines has not sold air tickets for the route yet.
Vietnam Airlines continues to provide non-stop commercial flights to the US. The flights to be provided on January 9 have airfares of VND21.2 million from HCM City to San Francisco and VND45 million from San Francisco to HCM City.

Inconsistent quarantine policies and Covid patients' statistics are making it difficult for the aviation and tourism sectors to reopen.
Since January 1, 2022, Vietnam has reopened five international air routes to Japan, Taiwan (China), Singapore, Cambodia and the US. Vietnam also wants to fly internationally on the remaining four out of nine air routes, including Thailand, South Korea, China and Laos, but still cannot do this.
Difficult to reopen international air routes
In a report to the Prime Minister, the Ministry of Transport (MOT) proposed the implementation of the second phase of the plan on reopening routine international flights on January 1, 2022 to France, Germany, Russia and Australia, and increasing the flight frequency on some Asian routes, including Japan, Taiwan and South Korea.
However, the reopening is not feasible because of regulations on quarantine requirements and the new Omicron variant.
According to MOT, Omicron infected patients have been found in all nine markets connecting with Vietnam in the pilot period. Japan is still restricting visitors, while South Korea requires a 10-day quarantine for visitors.
In Vietnam, under current regulations, passengers are required to have rapid tests before getting onboard. MOT requests airlines to continue negotiating with partners on implementation. In Japan and the US, passengers also have tests at airports.
However, policies applied by different localities are not the same. Hanoi People's Committee on December 27 stipulated that passengers from Omicron-hit countries must have concentrated quarantine, even if they are fully vaccinated or recovered from Covid-19. But there is no further information about how to organize concentrated quarantine, including locations and procedures.
Meanwhile, removing the requirement on concentrated quarantine on visitors is one of the compulsory conditions to reopen regular international commercial routes. Hanoi's requirement on concentrated quarantine will be a technical barrier making it impossible to implement international routine flights.
The HCMCity Healthcare Department has asked airport authorities to provide the lists of passengers on every flight to CDC (Centers for Disease Control and Prevention) HCM City and their information, including addresses of their stay in Vietnam, at least 24 hours before entry to Vietnam. Visitors have to provide this information on PC Covid and Igo VN apps. Airlines also have the responsibility of supervising the work.
Remove requirement on quarantine
Never before has the resumption of international routine flights been so expected. As many as 150,000 overseas Vietnamese around the world are waiting to fly to the homeland to celebrate Tet holiday.
A parent in Hanoi whose son is studying in South Africa complained that he won't fly to Vietnam this Tet after her failure to seek help in procedures.
"Resuming flights between Vietnam and the US? Both the countries have Omicron patients. Concentrated quarantine? There has been no guidance about this," she said, adding that more barriers have hindered the resumption of international air routes.
"So, you have to have 'voluntary repatriation' with the sky high cost of VND60-80 million, or fly to Cambodia and then return to Vietnam by land," she said.
Luong Hoai Nam, an aviation and tourism expert, said vaccinations can change the situation of the fight against Covid-19.
The closure makes it more costly for overseas Vietnamese to return to the homeland, and for foreign investors to come to Vietnam, while airlines and tourism companies cannot grasp the great opportunities to recover.
MOT has asked localities to observe the guidance by the Ministry of Health (MOH) and not impose any additional requirements.
Ng. Ha
The Civil Aviation Authority of Vietnam said Hanoi and HCM City's COVID-19 requirements for foreign arrivals are not conducive to the planned resumption of regular international flights next year.
The Civil Aviation Authority of Vietnam (CAAV) has proposed the Ministry of Transport increase the frequency of flights to Japan, the Republic of Korea (RoK), and Taiwan (China), given the great demand for returning home among overseas Vietnamese.