Real estate developers are eyeing the central region, and planning to develop large projects there, according to DKRA Vietnam.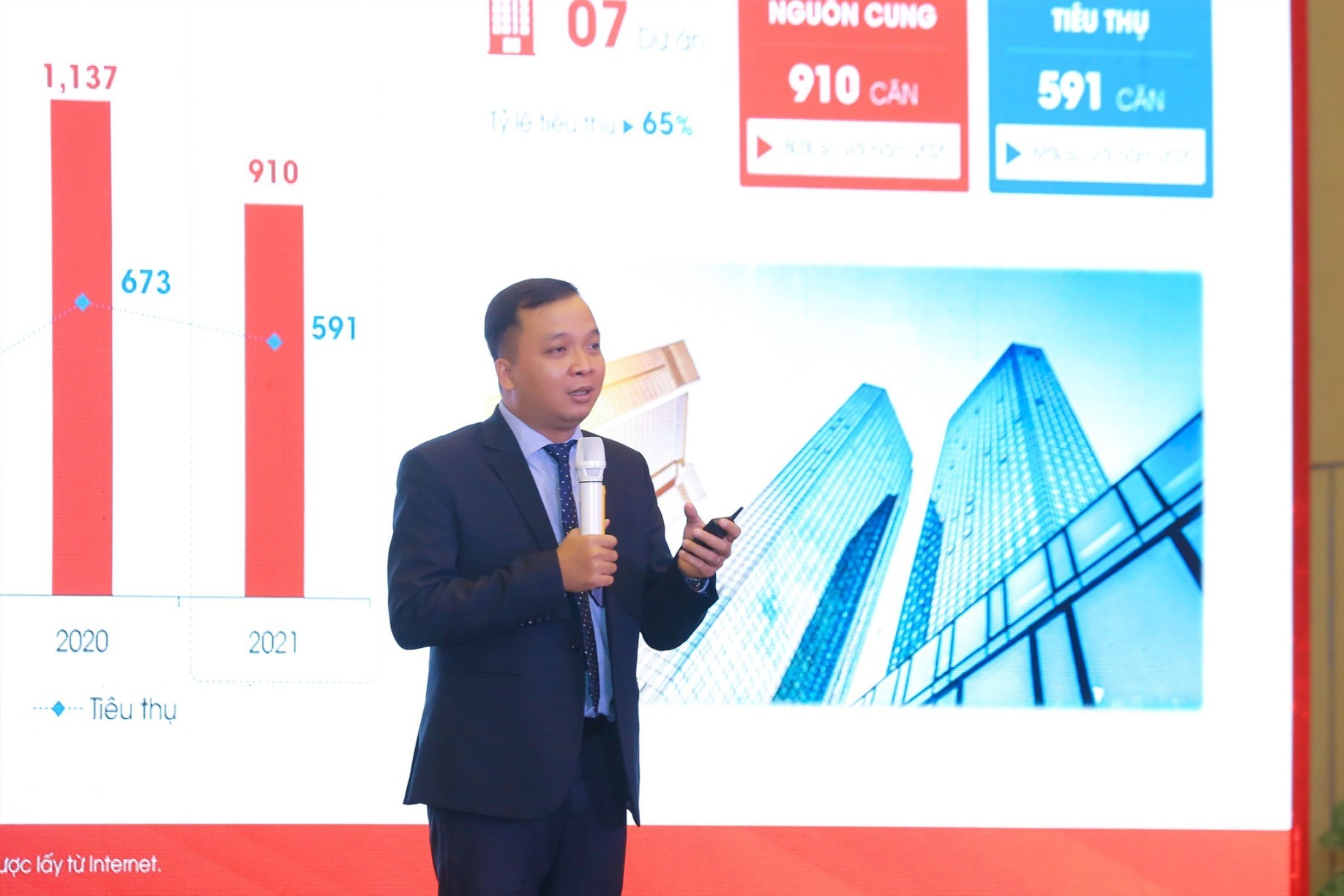 Vo Hong Thang from DKRA Vietnam
A report by DKRA Vietnam on the 2021 real estate market in the central region (Hue-Da Nang – Quang Nam) showed a decline in the resort real estate segment, while the townhouse, villa and land segments showed positive factors. This is considered a sign for 2022 when recovery in nearly all segments, from apartment, townhouses and villas and resort real estate, are expected.
According to DKRA Vietnam, the new supply and demand in the land market segment may be higher in 2022 than 2021, mostly in Quang Nam. Meanwhile, the supply and demand in Thua Thien – Hue and Da Nang may continue to be low.
As for apartments, the new supply in 2022 is expected to be the same as 2021 or see slight increase, about 1,200-1,500 products. New projects are mostly in Da Nang City, while Quang Nam may not have new supplies. The selling prices and the liquidity of the secondary market may recover when provinces and cities step by step recover their economies and tourism activities resume.
The new supply in townhouse and villa segment would be stable, the same as 2021. Thua Thien – Hue may continue to lead in new supply, while the scarcity may continue to be seen in Da Nang.
Regarding resort real estate, the new supply may increase in 2022. Da Nang will continue leading in new supply, while a shortage may be seen in Thua Thien – Hue. The rental entrustment under profit sharing is expected to be applied by many investors.
Vo Hong Thang, Head of R&D Division of DKRA Vietnam, noted that after a period of quiet because of Covid-19, since late 2021 and early 2022, there have been some signs showing the beginning of a new period in the real estate markets of Hue, DaNang and Quang Nam. Many investors now are heading for the central region.
Meanwhile, Ngo Viet Nam Son, a respected architect, said that with good conditions in geographical position, tourism potential and transport infrastructure, Hue, Da Nang and Quang Nam can create a new driving force for the entire region with the establishment of associate urban clusters. Da Nang is positioned as a place for high-end and resort real estate.
It is expected that Thua Thien – Hue will become a centrally run city by 2025. The province has been accelerating the gentrification of urban infrastructure and focusing on drawing a map for real estate development to attract investments. In addition to 'Hue Xua' (ancient Hue), Thua Thien – Hue would have 'Hue Moi' (new Hue city) with modern and civilized urban area with multi-storey houses, international commercial services and good infrastructure conditions.
Thus, analysts believe the establishment of an associated urban cluster of Hue – Da Nang – Quang Nam is inevitable. The three areas will join forces to increase their contribution to the country's economy, commensurate with their potential.
According to DKRA Vietnam, Quang Nam is leading in land supply, while Thua Thien -Hue is leading in supply of townhouses and villas. Da Nang sees the supply and consumption of new apartments increasing sharply compared with the pre-2020 period. In resort real estate segment, the new supply continues to be scarce.
In the land segment in 2021, the Hue – Da Nang – Quang Nam market saw 17 projects put on sale with the total supply of 1,670 products. Meanwhile, 1,138 products, or 68 percent of total new supply, were sold.
Meanwhile, the apartment segment saw seven projects, with 910 products, put on sale last year. All projects were in Da Nang.
The new supply of townhouses and villas in Hue – Da Nang – Quang Nam has increased sharply. In 2021, 1,036 products from 11 projects were put on sale, an increase of 3.7 times compared with the year before (280 products).
Meanwhile, short supply has been reported for the resort real estate market. Only 177 resort villas were reported for 2021, while the consumption was just 24 percent (42 products) of total new supply.
Experts all predict that the Da Nang real estate market will continue to attract large investors who will develop high-end projects once tourism recovers.
Nguyen Hien
Real estate developers are spending more time preparing documents for investment and many projects are under legal examination or inspection, contributing to a housing shortage.
More M&A transactions are imminent in the property market and real estate prices are likely to escalate this year, industry insiders said.