In 2022, the continued absence of affordable housing will cause the real estate market to be unstable and risky, experts say.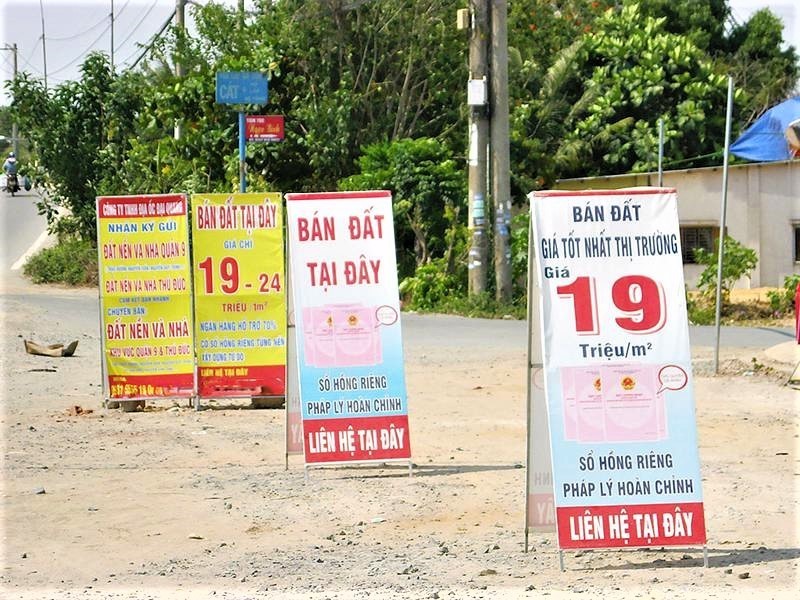 Demand for land in all large cities and provinces have rebounded strongly
The Q4 2021 report by Cho Tot Nha showed that demand for land in all large cities and provinces have rebounded strongly after the pandemic lockdown.
Areas near HCM City have seen great strides in the number of people seeking to purchase land, with searches after the pandemic higher than the pre-lockdown period. The number of searches increased by 182 percent in Ba Ria – Vung Tau compared with Q3, by 134 percent in Dong Nai. And as demand increases, the residential land prices in the localities have increased by 2-6 percent.
There are three areas in HCM City most attractive to investors – districts 12, 9 and ThuDuc City with demand increases 2.5, 2.1 and 1.9 times, respectively.
CBRE Vietnam's Duong Thuy Dung said at VRES 2021 that despite the pandemic, the real estate prices in many segments continue rising. The selling prices of apartments, for example, have increased by 17 percent in Hanoi and 17 percent in HCM City.
As for townhouses and villas, the prices of villas have increased by 13 percent in Hanoi, townhouses by 4 percent and commercial townhouses 3 percent. The figures are 3 percent, 17 percent and 6 percent, respectively.
According to Nguyen Quoc Anh, Deputy CEO of Batdongsan, the real estate demand is still high in 2022. A survey conducted by the company found that 92 percent of people will continue to invest in real estate this year, 77 percent want to have more real estate and 44 percent will buy real estate in one or two years.
Nguyen Hoang, R&D Director of DKRA, predicted that if the pandemic developments don't worsen, the real estate market will see more positive signs compared with 2021, in both new supply and purchasing power.
The land in localities adjacent to HCM City and large cities will still be the top priority for buyers. However, the new supply may not be abundant because local authorities are tightening the division of land plots for sale.
Apartments are expected to be major products of the real estate market in HCM City and Binh Duong, while townhouses, villas and shophouses will be major products in Dong Nai and Long An.
Regarding the retail premise market segment, some said the retail premise rents were too high before the pandemic. During the pandemic, the demand in the market was low because of lockdowns.
Resort real estate depends on the development of tourism. It's highly possible that the tourism industry will only obtain full recovery by 2023.
As for luxury products, new record prices of VND400-500 million per sqm, or $20,000-30,000, have been reported.
Thuan Phong
The luxury and mid-priced apartment segments will continue to lead the market in 2022, while affordable apartments will remain scarce.
While affordable apartments are no longer seen in Hanoi and HCM City, apartments priced at hundreds of billions of dong are becoming popular.