Two male students in Quang Tri have invented a robot which takes samples for Covid-19 testing. The production cost was only VND20 million.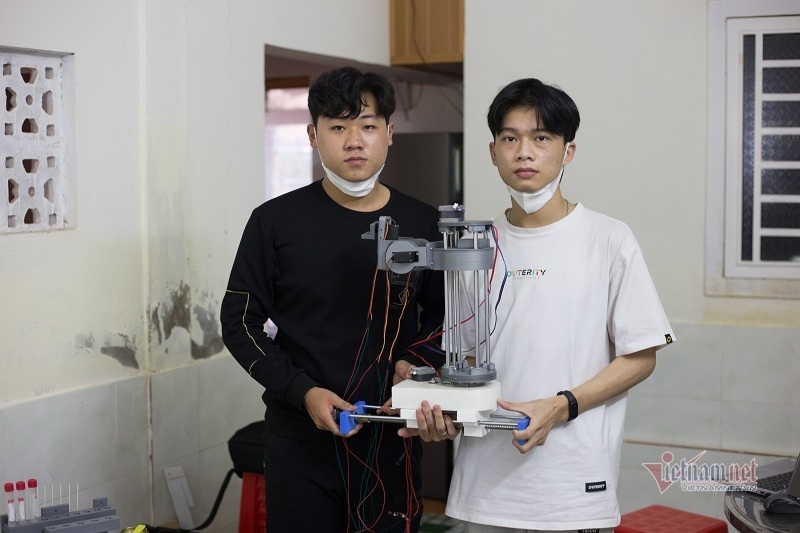 Students create robot that takes samples for Covid-19 tests
The robot won first prize at the science and technology contest for high school students held by the Quang Tri Education and Training Department in the 2021-2022 academic year.
The robot that takes samples for Covid-19 testing was invented by Tran Quoc Hung and Thai Viet Y, both born in 2005. It won praise from the jury board and was chosen to attend the national competition.
The students are 11th graders at Le Quy Don High School for the Gifted in Dong Ha City in Quang Tri province, majoring in information technology.
They decided to create a sampling robot after noticing difficulties in taking samples for tests amid the complicated pandemic developments and high number of infections.
"We decided to create a robot which take samples safely and avoids cross-infections among people, thus easing the physical burden on medical workers," Hung said. "With the support of teachers, we set to work on the robot."
After school hours, they gathered at Hung's home. They sometimes had to stay up all night to fix problems.
Hung said the operating mechanism of the robot starts by using PC Covid app or by an identity card that scans a QR Code on the robot to store information.
After that, a person needs to put their face close to the sampling chamber. The robot will recognize them and put samplers into their noses to take samples.
Using a force sensor, the robot can automatically take fluid samples within 5 seconds as instructed by MOH. After that, the fluid is put into a testing machine for analysis.
Though the students had financial support from the school and though they have scholarships, they still had to ask for more money from Hung's grandmother to buy components to assemble the machine. They ordered the components on the internet. The total production cost of the robot was VND20 million.
The grandmother said that family members encouraged the students to develop the robot as they could see their passion and efforts to contribute to the fight against the pandemic.
The robot is being equipped with more features to prepare for the national science and technology competition for high school students.
Le Thi Huong, Director of Quang Tri Education and Training Department, said the robot was a very creative idea.
"With the passion of the two students and the support of teachers, I believe that the robot, once used in reality, will help a lot in the fight against the pandemic," she said.
Quang Thanh – Bao Lam
Tran Duong Chinh, a 12th grader majoring in physics of the Hung Vuong High School for the Gifted, has become the first student from Phu Tho province to win a gold medal at the European Physics Olympiad (EuPhO).