Prof Ngo Bao Chau, a Vietnamese mathematician who was awarded the Fields Medal in 2010, told VietNamNet that he is a visiting lecturer at the Institute for Advanced Study in Mathematics of HIT in China.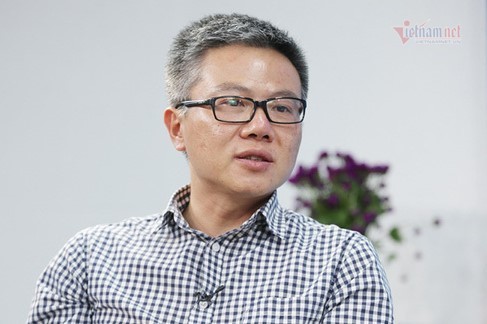 Prof Ngo Bao Chau
Rumors circulated that Chau, with the Chinese name Wu Baozhu 吴宝珠, is a head professor at the institute, not a guest or visiting lecturer.
However, Chau has denied that he is a permanent member of the staff of the institute.
He told VietNamNet that some years ago, he went to Harbin several times to give lectures. During one of the visits, the head of the institute gave him an official reception and a campaign medal, and informed that he was always welcome to work at the school as a visiting lecturer.
He gives lectures at many universities all over the world and cooperates with many schools and institutes. The trips to Harbin are the same.
In general, when he lectures somewhere, he returns there again to ensure that his work can bring results. Chau accepted the invitation of the institute's leader, intending to return two or three more times and cooperate with a mathematician there.
However, because of the pandemic, he still cannot return there. For the time being, Chau has many projects and he is not sure if he can return to Harbin in the near future.
Chau also denied that he has a Chinese name.
The university reported an official meeting between Chau and the leader in Chinese language. Chinese usually transcribe foreigners' names into Chinese. With Google translation, this turned into a fake piece of news.
Chau has said many times that it information on social media that he is a member of the Institute for Advanced Study in Mathematics of HIT, has a Chinese name (Baozhu) and is an official member of the institute's personnel is false.
"I'm not a regular member of any university in China. In general, I don't intend to work for long term in any place in China. I just go to work as visiting lecturer and cooperate in scientific research," he said.
Chau said that he is now a regular member of the University of Chicago, and his responsibility in Vietnam is science director of the Institute for Vietnam Advanced Study in Mathematics.
In 2020-2025, he will be a visiting lecturer at College de France and the work will involve short-term trips.
The Harbin Institute of Technology (HIT) was established in 1920. It is a prestigious research university in China.
Thanh Hung – Doan Hung
When appointed as a professor, Prof Ngo Bao Chau, the Fields medalist, thought he would be in more comfortable circumstances.