On 'tuyen dung giao vien mam non, bao mau tai TP HCM' (job vacancies for preschool teachers, babysitters), one can find announcements to recruit workers with offered salaries of VND6-14 million.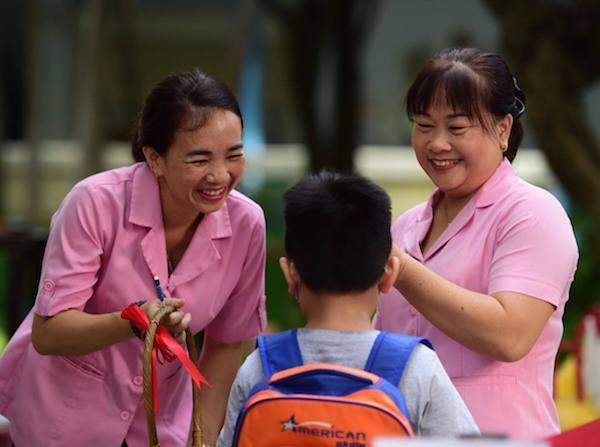 It's expected that from February 14, preschools in HCM City, Dong Nai and other provinces will reopen their doors to welcome children back. After more than half a year of closure because of Covid-19, many preschools are seriously lacking teachers because many teachers left for hometowns and have not returned, though HCM City, Dong Nai and other provinces are back to normal. Other teachers chose another job during school closures.
Vu Thi Anh Thy, owner of Dam Ri Preschool, confirmed that she needed to recruit 10 teachers with attractive salaries of at least VND7 million a month.
"I tried to pay basic salary during lockdown days to retain workers, but many of them still decided to return to their hometowns and they don't want to come back," she said.
Thy said she is seeking workers through different channels on websites and Facebook, as well as help from friends.
She confirmed that the facilities and staff are ready to receive children on February 14.
Previously, there were three teachers for every class, but now two teachers will take care of one class. Thy estimates that only 50 percent of children will come back, so the existing workforce is enough. But in the long term, she will have to recruit more teachers.
She proposed that the State allow non-state intermediate schools (2-year training) and junior colleges (3-year training) to train and produce preschool teachers in order to ease the current teacher shortage.
On the public Internet forum, one can find many ads about preschool teacher recruitment. One preschool in Binh Thanh district wants teachers aged 22-45 who can work immediately and have experience caring for children aged three months to five years. They offer attractive salaries of VND6-14 million, and travel and lunch allowance. They also promise to give training to teachers for free.
But there is only person seeking a job. She said she graduated from an intermediate school and wants a job in district 7 or 8. Dozens of comments have been posted with mobile phones and addresses for her to contact.
According to Luong Thi Hong Diep from HCM City Education and Training Department, nearly 3,200 preschools had to suspend operation for 3-6 months.
Duong Van Dan, head of district 8's education sub-department, said public school teachers still received salaries, so the schools don't lack teachers. However, the district needs to recruit teachers to replace the ones retiring or leaving.
Minh Anh
Thousands of teachers at private kindergarten schools across the country are struggling to earn a living after nearly seven months of closure due to the COVID-19 pandemic.
The biggest amount of money that Nguyen Thuy Hien, a primary school teacher, working as a teacher for 28 years, has received for Tet was VND500,000.