Speaking at the close of the online conference between the Government and localities on Jan 5, Prime Minister Pham Minh Chinh pointed out 10 achievements, five external risks and six internal challenges.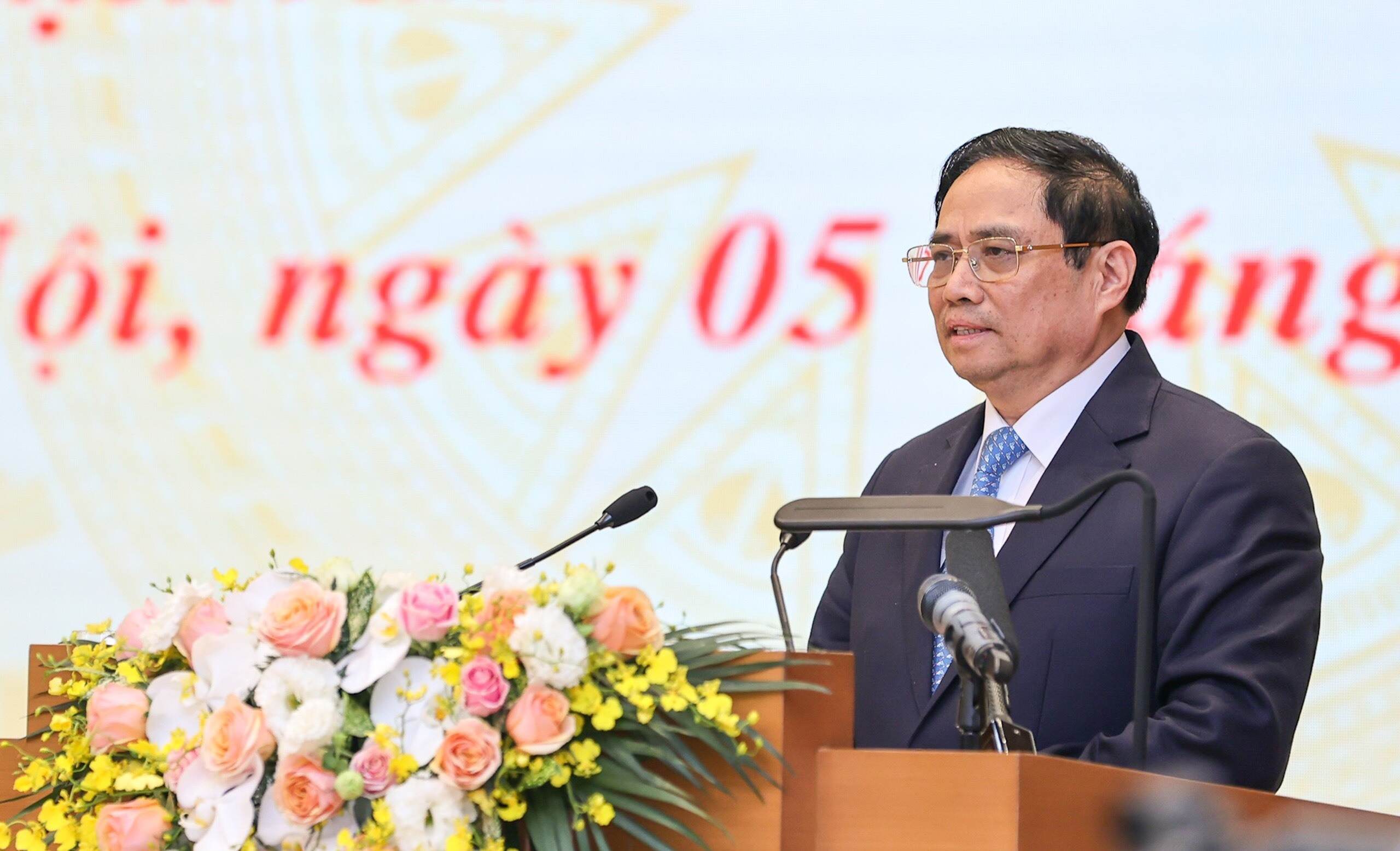 Prime Minister Pham Minh Chinh
Vaccine diplomacy
Of the 10 'bright spots' in the socio-economic panorama, Chinh emphasized the success in controlling the pandemic, accelerating vaccine diplomacy and the vaccination campaign; adjustment of the anti-pandemic strategy; and issuance of support packages to facilitate socio-economic recovery.
The Government switched to a new strategy of safely and flexibly adapting to circumstances, and effectively controlling the pandemic as shown in Resolution 128; and facilitating socio-economic activities.
Another 'bright spot' was the recovery of the economy in the fourth quarter of the year with the growth rate of 5.22 percent compared with the same period last year, an encouraging result in the context of the pandemic. The macro-economy is stable and inflation is controlled, at 1.84 percent, the lowest level in the last six years.
"The good result has affirmed Vietnam's efforts in controlling inflation, ensuring a goods supply-demand balance, and stabilizing prices in the context of input material price increases over the globe," Chinh said.
FDI (foreign direct investment) has recovered despite the complicated developments of the pandemic. Foreign investors registered $31.15 billion of investment in 2021, an increase of 9.2 percent over the same period last year, which showed that foreign investors still have confidence in Vietnam's investment environment.
"In August and September, the Government received proposals from investors daily. After 10 dialogues with the Prime Minister, they could see the progressive attitude and efforts to satisfy their requirements in the context of difficulties," Chinh said.
"Also, we were transparent, expressing our views and with the spirit of sharing benefits and risks," he said.
Exports are an outstanding achievement with import-export turnover of over $668 billion, an increase of 22.6 percent over the year before, which adds Vietnam to the list of countries with a large trading scale.

Exports are an outstanding achievement with import-export turnover of over $668 billion, an increase of 22.6 percent over the year before, which adds Vietnam to the list of countries with a large trading scale.
Regarding digital transformation, great achievements have been gained, though they are still below expectations.
Reports by some international institutions show that Vietnam ranks third in ASEAN, after Indonesia and Thailand, and 14th out of 50 Asian countries in terms of the internet economy.
Vietnam's internet economy was estimated to have value of $21 billion in 2021, or 5.8 percent GDP, an increase of 31 percent over 2020. In terms of innovation, Vietnam ranks third in SE Asia, after Indonesia and Singapore, in attracting investments to fintechs, which accounts for 11 percent of total investment capital in the region. Roughly $4 billion worth of capital have been poured into the firms, triple that in 2020.
Developing culture, ensuring social security and supporting the poor are also important. VND71.5 trillion has been disbursed to help 742,000 employers and 42.8 million workers, while 158,000 tons of rice has been distributed to people in need.
"In previous years, we gave aid to one million people every year under the social security program, and this was a difficult work. Meanwhile, we organized social security for 42.8 million in 2021 alone. This was the outcome of the great efforts of the whole political system," Chinh said.
Fight against embezzlement has been conducted seriously.
"At Government meetings, the Prime Minister always emphasized the need to fight against embezzlement, wrongdoings, waste and group interests in fighting the pandemic. Wrongdoings must be handled strictly in accordance with the laws," he said.
Another bright spot is the stable socio-political situation, national defense and security, social order and safety; foreign affairs activities also gained important results. He emphasized the success of the vaccine diplomacy strategy, which helped speed up the vaccination campaign in Vietnam.
"We have been doing everything we can to obtain vaccines to vaccinate people for free. This allowed us to implement Resolution 128 which changed the motto in fighting the pandemic," he said.
Reopening
Chinh at the meeting pointed out five external risks in 2021-2022, including the complicated developments of the pandemic, uneven vaccine approach, and unequal economic recovery.
Alongside this is the pressure from price increases. Some countries have begun narrowing support packages and raising interest rates.
The head of the government also pointed to six internal challenges, including the budget deficit, the difficulties being faced by enterprises, and bad debt risks.
Regarding the tasks for the time to come, Chinh stated the theme for 2022: "Unity and discipline, proactive adaptation, safety and efficiency, recovery and development."
It's necessary to regulate work based on the real situation and in a flexible, drastic and creative way; and uphold the spirit of self-reliance and rely on internal strength, while external resources also play an important role.
Chinh stressed that Vietnam needs to fight the pandemic flexibly to be able to recover and develop the society and economy, and vaccinations are extremely important.
"In order to reopen and restore activities, there is no other choice than vaccinating people at a skyrocketing speed. Once vaccination coverage expands, treatment drugs are licensed and people's awareness are heightened, we will feel secure when reopening," he said.
The Prime Minister lauded HCM City's daring decision on boldly reopening socio-economic activities when the number of infections, severe cases and deaths began to decrease sharply.
He asked not to organize activities with large crowds, especially on the Lunar New Year; and strictly handle violating organizations and individuals.
In economic recovery and development solutions, Prime Minister urged completion of national-level, regional and provincial planning.
"There mustn't be haste in planning. It's necessary to ensure publicity and transparency, with the national interests being put at a top priority, and strictly fight wrongdoings and violations," he said.
"The more difficult, complicated, and sensitive the situation is, the more we need to be united, mobilizing collective wisdom, working together and striving together to achieve higher results in 2021," he said.
Thu Hang – Hong Nhi
Vietnam has regarded people as the centre, subject and driving force and target of development, PM Pham Minh Chinh told a plenary session of the third annual high-level forum on the fourth industrial revolution in Hanoi on December 6.
Efforts must be exerted so nobody is left without food, clothes or shelter after the recent floods, Prime Minister Pham Minh Chinh ordered on December 5.