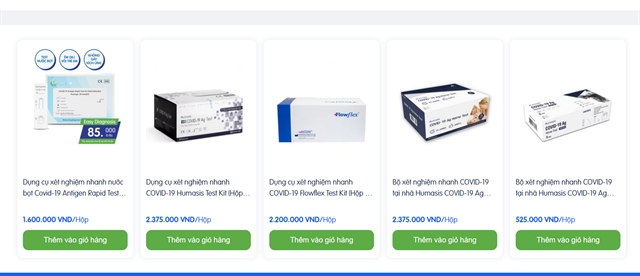 Screen grab of COVID-19 rapid tests offered by a local pharmacy. — VNS Photo
HÀ NỘI — The price of COVID-19 test kits have been increasing due to a drastic increase of daily infected cases in Hà Nội.
A survey of several pharmacies in Hà Nội's by Vietnam News Agency showed that sales of coronavirus tests had dramatically risen and there was a big difference in the prices among pharmacies.
Pharmacy representatives said that it was because of the differences in purchase prices and shop rental costs in different areas that made the selling prices so different.
There are many types of test kits sold on the market with different prices depending on the manufacturing origin such as China, Turkey and South Korea.
At Long Châu pharmacy network, the RapidFor test kit from Turkey is sold for VNĐ85,000 (US$3.72) per kit while the Humasis COVID-19 Ag Home test kit made by South Korea is priced at VNĐ110,000 per kit.
At the Pharmacity network, a box of five quick test kits of Humasis COVID-19 Ag Home Test is sold at VNĐ525,000, and a kit of South Korea-made Biocredit COVID-19 Ag was VNĐ68,000.
Meanwhile, Biocredit COVID-19 Ag kits sold on e-commerce exchanges such as Lazada and Tiki are priced at VNĐ75,000- 88,000 per kit.
On the website of Hapulico Wholesale Drug Market, many types of rapid test kits are quite cheap, such as Standard-q test kit (South Korea) at VNĐ56,000, and Labnovation test kit (China) at VNĐ52,000.
A representative of a pharmacy on Huế Street in Hai Bà Trưng District said that in recent days, sales of test kits had increased rapidly.
On average, the pharmacy sells about 100-120 test kits of Rapid Antigen Test made by South Korea every day.
Nguyễn Ngọc Anh, a resident in Đống Đa District, said: "Like many other families, I had to keep COVID test kits at home since the city allowed students return to school and changed the quarantine duration of F0 and F1."
"Many students became F0 or F1 when going back to school so I test my children at home regularly."
Earlier this week, Ngọc Anh bought a saliva kit test of EasyDiagnosis at VNĐ65,000 and a nasal fluid test kit at VNĐ60,000.
But two days later, each kit increased by VNĐ15,000.
Chu Xuân Kiên, head of Hà Nội's Market Control Department, said sales of drugs and test kits were bustling.
The items were not only sold at pharmacies but by many individuals on social networks, Kiên said.
Trading on social networks makes the inspection and handling of violations difficult, Kiên said.
To prevent people from taking advantage of the increased demand for test kits to make a profit, the department asked the market management teams of districts to co-ordinate with medical inspectors to check the observance of the law on management and business of COVID-19 test kits at business establishments, as well as medical examination and treatment facilities in the city, he said.
To control the trading of test kits on social networks, the Market Control General Department issued an official letter to provinces and cities nationwide on monitoring test kit prices and cases where people take advantage by speculating and hoarding goods.
Medicinal herbs in short supply
In addition to the rapid price increase of test kits, medicinal herbs such as lemongrass, ginger and basil are rising in price as some people believe they help with the symptoms of COVID.
Nguyễn Thị Nghĩa, owner of a herb shop in Nguyễn Công Trứ Market in Hai Bà Trưng District said that in recent days a lot of people asked to buy medicinal leaves, ginger, lemongrass, basil and bamboo roots.
Consumption increased by two to three times compared to before and the prices of the items were also up, she said.
People steam the herbs to help with symptoms.
According to Dr Nguyễn Gia Bình, ex-head of the intensive care department of Bạch Mai Hospital, a study in Germany showed temperature increases inhibited the multiplicative ability of SARS-CoV-2 on respiratory epithelial cells. Herbal steam baths have been used by many people accordingly.
Using herbs containing essential oils such as lemongrass, ginger, lemon, bamboo leaves, grapefruit leaves, and basil leaves is thought to be very effective when having a cold, flu, or nasopharyngeal disease. This is why herbal products are expensive recently. — VNS