A more open mechanism is needed to create resources and driving forces for socio-economic development amid the safe and flexible adaptation to the pandemic.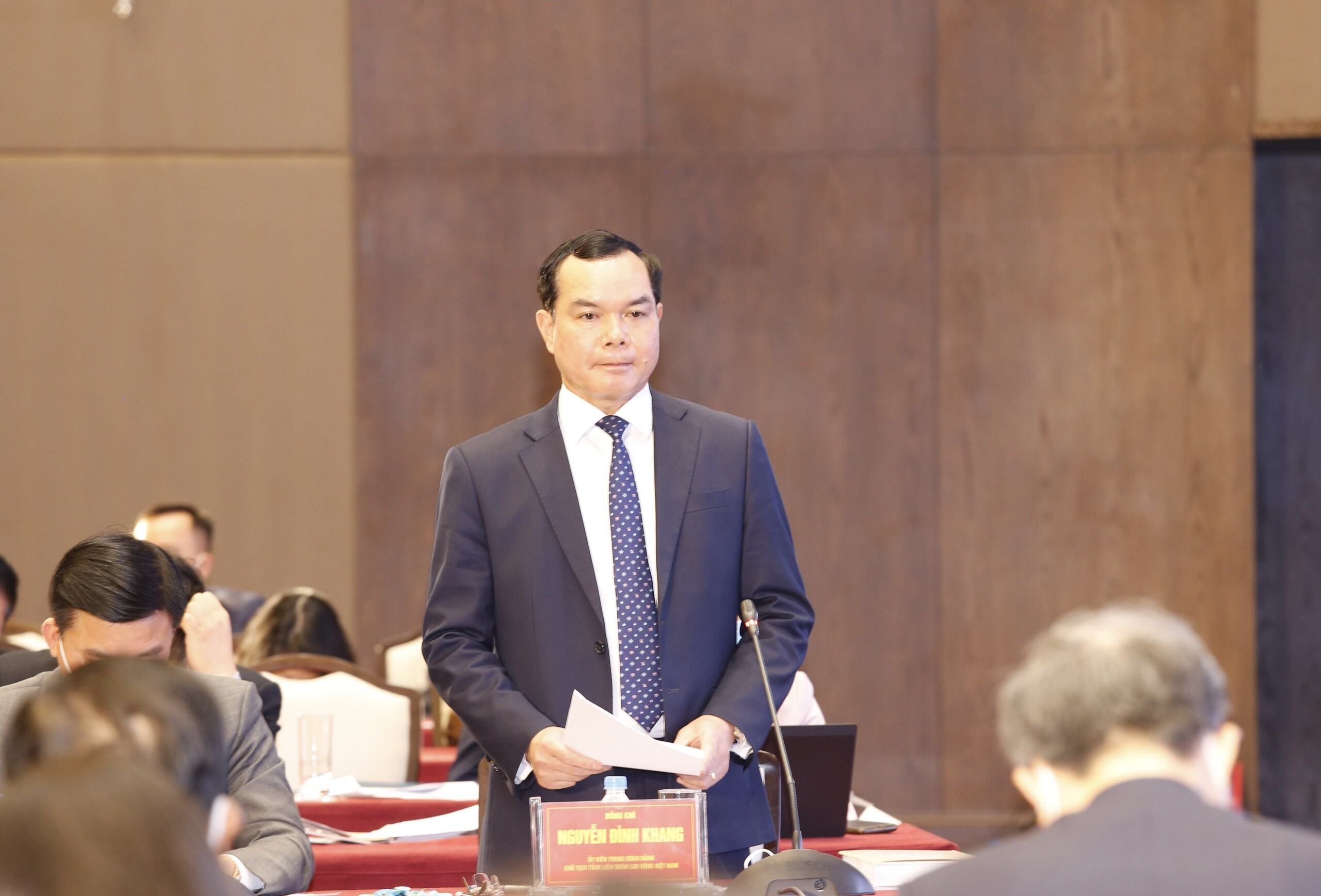 Chair of the Vietnam Labor Federation Nguyen Dinh Khang
Removing overlapping regulations
Nguyen Van Thao, former Vice Chairman of the Central Theoretical Council, said in order to recover, the state should first attach importance to improving institutions and removing obstacles. In particular, it needs to eliminate overlapping, contradictory, and unreasonable regulations, and administrative procedures that cause discrimination, and hinder investment and business.
He said that the State also needs to renovate management and improve efficiency in using land and resources which are currently being wasted. It should make investments in important projects, especially digital infrastructure development,
At the same time, it's necessary to strengthen discipline in organizing implementation, raise the responsibility of each agency and each civil servant in all working positions, and strictly handle all violations.
"We have to prevent monopolies, and prevent and handle cronyism and collusion among officials, businesses and public servants who commit wrongdoings," he said.
Nguyen Duc Kien, head of the Prime Minister's Economic Advisory Board, said specific policies are needed. The Government's view is that it undertaking difficult tasks and creating favorable conditions for businesses and people to restore production and business.
"We used to be absolutists, but humans are not machines. Some people may receive the first-class Labor Medal today and stand behind bars tomorrow," he said, adding that in a market economy, the State needs to create favorable conditions for enterprises, and that if state agencies scrutinize enterprises only to find their faults, no business will be able to develop.
Deputy Minister of Industry and Trade Do Thang Hai also commented that institutions help remove obstacles. He noted that local authorities at different levels, and enterprises, especially state owned enterprises (SOEs), dare not develop new ideas for fear they may be sanctioned, despite policies that protect enterprising cadres who 'dare to say' and 'dare to do'.
Exploiting human resources more effectively
Meanwhile, former Deputy Chair of National Assembly Phung Quoc Hien stressed the need to solve existing obstacles within the shortest possible time.
For example, there are signs of the monetary policy, and credit and fiscal policy nearly hitting the safety line, including capital mobilization capability, credit quality and bad debts.
"Therefore, I don't agree with the opinion that we still have financial and fiscal space," Hien said.
He said that the stock, corporate bond, real estate and gold markets are heating up abnormally and there are signs of financial bubbles.
"The VN Index was 1,458 points on March 27. Meanwhile, the gold prices are abnormally high. The war between Russia and Ukraine, climate change and economic uncertainties have also affected Vietnam," he said.
He said it was necessary to focus on solving existing problems to make national finance healthy, and remove obstacles from mega projects and bad banks. If not, problems will 'waste the blood of the economy'.
He also believes that all finance funds should be examined and funds which don't work effectively eliminated, such as funds which are not used for the right purposes. There are 80 operational funds, but many of them are ineffective.
Particularly, he stressed the need to speed up disbursement to stimulate the economy. The goal is that VND350 trillion can be consumed in 2022-2023.
Meanwhile, Chair of the Vietnam Labor Federation Nguyen Dinh Khang expressed his concern about black credit.
Because of Covid-19, many workers have become redundant and have had to use savings to cover their basic needs. The minimum wage and actual incomes of workers have not increased over the last two years.
Meanwhile, the income of workers has decreased by 10 percent over the last three years. As a result, workers have had to borrow money from black credit sources.
Khang stressed that it's necessary to simplify procedures so that workers can access support and stabilize their lives.
Thu Hang
Vietnam has marked an obvious advance in providing public services. Instead of going directly to state agencies for marriage, birth, land use right and temporary residence registration, people can now sit at home and follow procedures online.
Business environment reform has been slowing down over the last two years. Some bad regulations that were removed because they hindered the development of enterprises have been revived.