The nation incentivizes Singaporean businesses to continue to expand their investment locally, while also considering investment promotion a priority moving forward, especially with regard to clean energy and sustainable development.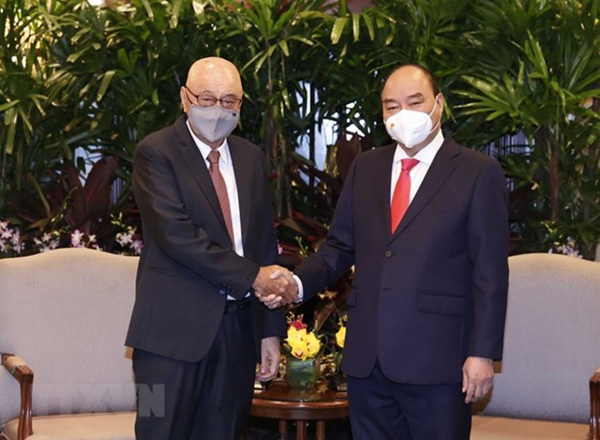 State President Nguyen Xuan Phuc (R) receives Ang Kong Hua, leader of Sembcorp Industries Group. (Photo: VNA)
President Nguyen Xuan Phuc made this affirmation during receptions held on the morning of February 25 for leaders of several leading Singaporean groups involved in energy and urban development, real estate, and industrial park infrastructure, as part of his current State visit to the city-island nation.
Upon receiving Wong Kim Yin, chairman and CEO of Sembcorp Industries Group of Singapore, which deploys 10 Vietnam-Singapore Industrial Park (VSIP) projects based in seven Vietnamese localities with a total investment of US$15.4 billion, the Vietnamese State leader hailed their investment in many local VSIP projects. This has contributed to attracting many domestic and foreign investors with a high occupancy rate, thereby creating many jobs for Vietnamese people.
He went on to express his wish to see Sembcorp expand VSIP models in other localities such as Quang Tri and Quang Nam, as well as investing in phase 2 in Quang Ngai and Nghe An.
The President also anticipates that Sembcorp will increase investment in the fields with high science and technology content and innovation in the Vietnamese market, especially relating to green and sustainable development. He also affirmed that the Vietnamese side will strive to create all favourable conditions for Sembcorp to successfully invest in the nation.
In response, Sembcorp leaders showed their elation at the country's strong and comprehensive development, particularly regarding efforts to constantly improve the business investment environment and to comply with the agreement adopted at the 26th session of the Conference of the Parties (COP26) of the UN Framework Convention on Climate Change (UNFCCC). They told President Phuc that the group will accompany Vietnam in this field, especially in renewable energy, as well as the development of green and sustainable industrial parks.
Receiving Loh Chin Hua, CEO of Kappel Group, President Phuc spoke glowingly of the group's effective investment in the Vietnamese market, including co-operation with major partners such as Sovico, as well as proposing the group invest in renewable energy, clean energy, infrastructure, and smart cities.
President Nguyen Xuan Phuc received Loh Chin Hua, CEO of Keppel Group. (Photo: VNA)
Loh Chin Hua, said that the group invests in the Vietnamese market through a number of different companies such as Kappel Land and Sovico – Phu Long, whilst it currently has more than 20 projects with a total registered capital of more than US$3 billion.
Agreeing with President Phuc's suggestion on investing in sustainable urbanisation and renewable energy development, Chin Hua went on to say that the group is currently carrying out a number of real estate projects in the country towards developing model urban, smart, and green cities.
At the meeting with Nina Yang, CEO of Surbana Jurong City Global Group, and Lee Cheong Min, chairman of CMIA Capital Partners, President Phuc expressed his great appreciation for both firms' ideas for investment cooperation in high-tech agri-food eco-urban area with a scale of 100,000 people.
These represent two businesses that are co-operating to invest in a multi-purpose project covering a total area of 1,000 hectares in Ho Chi Minh City worth US$1.2 billion over the next decade. The purpose of the project is to build urban green industry and ecological areas, whilst also developing ecological agriculture from farm to fork.
The Vietnamese State leader therefore suggested that businesses work with competent Vietnamese agencies to support procedures for project implementation.
During the meeting with Lim Ming Yan, chairman of Singapore Business Federation (SBF), President Phuc welcomed the Federation for connecting co-operation between the two countries' businesses, thereby contributing to raising bilateral trade turnover to US$8.5 billion last year and Singaporean investment in Vietnam to US$66 billion.
The nation encourages Singaporean businesses to invest in infrastructure, energy, manufacturing, high-quality agriculture, information technology, smart cities, financial services, and banking, President Phuc told Lim Ming Yan.
Upon highlighting investment promotion as a priority moving forward, the President suggested that the SBF continue to serve as a bridge promoting Singaporean investment as a means of contributing to taking relations between the two countries to new heights.
Source: VOV
Vietnam's commitment at COP26 was appreciated by leaders of countries and big corporations around the world.
As many as 100 intellectuals and experts from 15 countries will work together to find approaches and solutions to build a globally connected, sustainable Vietnam.