President Nguyen Xuan Phuc and the high-ranking Vietnamese delegation began their State visit to Cambodia from December 21-22, at the invitation of King of Cambodia Preah Bat Samdech Preah Boromneath Norodom Sihamoni.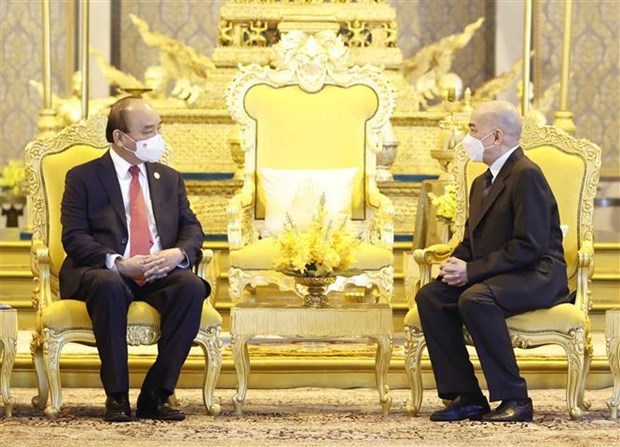 President Nguyen Xuan Phuc (L) and King of Cambodia Norodom Sihamoni.
It is the first visit to Cambodia by head of the Vietnamese State following the 13th National Party Congress.
At a meeting between the Vietnamese President and the Cambodian King following the welcome ceremony on December 21 morning, King Sihamoni said the visit demonstrates the Vietnamese State and President's appreciation for close ties between Vietnam and Cambodia.
He expressed his belief that it will make important contributions to further strengthening fine neighbourliness, traditional friendship, comprehensive cooperation and long-term sustainability between the two countries.
The King vowed to continue supporting bilateral traditional friendship and congratulated Vietnam on its achievements in both internal and external affairs, helping the country improve its position in the region and the world.
President Phuc, for his part, affirmed that the Vietnamese State and people always treasure and forever remember sentiments and invaluable support that the late King Norodom Sihanuk, King Norodom Sihamoni and fraternal Cambodian people have provided for Vietnam in the cause of national liberation in the past and national development at present.
Both sides vowed to give the top priority to and do their best to foster bilateral relationship. They also expressed delight at activities to be held during the Vietnam – Cambodia, Cambodia – Vietnam Friendship Year 2022 on the occasion of the 55th anniversary of bilateral diplomatic ties next year.
President Phuc invited King Sihamoni to visit Vietnam in an appropriate time. The host accepted the invitation with pleasure.
In the evening the same day, King Sihamoni hosted a banquet for President Phuc and his entourage.
Source: VNA