Although the economy has shown signs of recovery since Q4-2021, a look at the unemployment rate index, the quality of laborers as well as their income, all paint a gloomy picture for the labor market.
That's why many companies are looking for solutions to ensure enough laborers for production after Tet.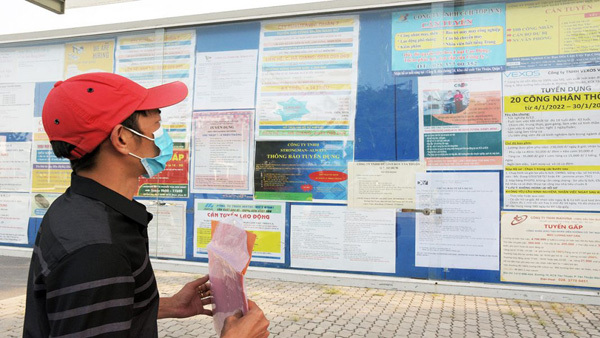 A man looks for recruiting information at an industrial park in HCM City. – SGT Photo: Le Vu
Reality shows that every year, the economic growth rate in the first quarter is often lower than that of the last three quarters. After the Tet holiday, many companies usually face a shortage of laborers, a major problem for production companies. If they do not have a good support policy to retain laborers, they face challenges recruiting new employees to offset the shortage.
According to the General Statistics Office (GSO), over 2.2 million migrant workers left the big cities for their hometowns at the height of the 4th wave of the Covid-19 pandemic last year. Data of the GSO showed that as of December 15, 2021, some 524,000 workers left HCMC for their hometowns, while 447,000 people left Hanoi. The southern cities and provinces (except HCMC) saw 600,000 migrant workers return to their home provinces and more than 676,000 others to other localities. The GSO said most of them were informal workers severely affected by stringent social distancing and lockdown measures to curb the spread of Covid-19 in the big cities.
A good policy to lure laborers
To entice laborers returning after Tet, many companies have sought to find solutions, such as increasing salaries, offering bonuses, giving tickets to employees, hiring a bus to take them to their hometowns for Tet and even offering money to those who return to their workplaces as planned.
Nguyen Dang Hien, general director of Tan Quang Minh Manufacture and Trading Company (Bidrico), said finding enough laborers after Tet was a problem for many companies. Every year, employees do not return to their factories on time. This year, it is predicted that they will stay in their hometowns longer than previous years, partly as their families could have Covid-19 or they might be afraid of catching a Covid infection while traveling by train or bus.
He went on to say that to retain employees, his company continued to pay their salaries and bonuses. Senior employees are eligible for an advanced salary of VND5-10 million for their Tet expenditures. "If employees are well taken care of with an attractive remuneration, they will stay with their company for a long time and return to their factories," Hien said.
Pham Xuan Hong, chairman of Saigon 3 Garment JSC, said his company resumed operations from February 8. Most garment companies were worried about labor resources after the Tet holiday as orders need to be fulfilled from now until the middle of this year. After the fourth Covid-19 pandemic outbreak, some 10% of garment workers left HCMC for their hometowns and have yet to return. The situation is similar after Tet. That's why many businesses worry that this year's situation may be worse.
"Last year, profits decreased and business was critically damaged by Covid-19. We still tried to offer some 1.7 months of salary to our employees. We also gave Tet gifts to their families so they would stay with us," Hong said.
An HR official of a food company in HCMC said that a business with regular work will make workers feel more secure. To retain workers, businesses should pay at a level where workers can live with their income, along with insurance, education, and healthcare policies. Last year, his company set aside a budget to support workers. Each one was given two months of salary, plus seniority bonuses. In addition, his company gave Tet presents and booked a bus to take workers to their hometowns and then bring them back to work.
50,000 laborers needed after Tet
Many businesses are facing a shortage of laborers, partly because some of them have not returned, some have got Covid, while others have temporarily left their jobs to look after their children and help them study online. Covid-19 has yet to be put under control in many localities, which means the shortage of laborers is foreseeable.
The Department of Labor, Invalids and Social Affairs in HCMC recently estimated that the city would need some 50,000 laborers after Tet, mainly in the commercial sector, leather shoes, mechanical electronics, refrigeration, textiles, and food processing industries. The department ordered employment centers and relevant agencies to compile a list of laborers going home for Tet to help them return to work.
Right after Tet, the HCMC Employment Services Center and the Center for Youth Employment Services will host recruitment days, working as a bridge to connect and introduce laborers in localities to companies in HCMC.
According to the Center of Forecasting Manpower Needs and Labor Market Information HCMC, many companies have kick-started their recruitment plan to serve their business expansion. At the same time, several laborers from provinces will soon return to their workplaces as the pandemic has been brought under control and students have returned to school. The labor market is expected to move positively and recover soon.
Before Tet, the National Assembly passed a resolution on fiscal and monetary policies supporting the socio-economic rehabilitation and development program. Accordingly, the State will set aside a total of VND6,600 billion to support laborers working in industrial parks, export processing zones, and key economic areas with their rent.
The aid package is expected to be attractive enough to lure laborers to return to their factories. The problem lies in quickly translating the policy into reality because there are no guidelines for implementation and it involves complicated procedures. In other words, the policy will not be deployed if localities do not join hands with companies to resolve the shortage of laborers.
Source: SGT
An economic recovery package worth VND350 trillion, the largest package so far, to be disbursed in 2022 and 2023, offers many supportive measures. Workers experiencing difficulties can borrow money to buy or rent social housing.
A support package worth 6.6 trillion VND (290.4 million USD) will be spent on providing housing rental subsidies for labourers who are working in industrial parks (IPs), export processing zones (EPZs) and key economic regions.